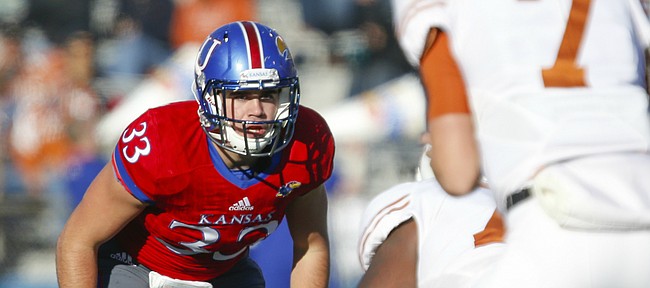 It almost didn't make sense to David Beaty. Sure, Texas kept handing the ball off to its massive junior running back D'Onta Foreman — the Kansas football head coach expected that much. What amazed Beaty this past weekend was how often Foreman's carries ended with Keith Loneker Jr., KU's would-be backup linebacker, bringing the nation's leading rusher to the ground.
Loneker, a 6-foot-2 sophomore, made a career-high 16 tackles in the Jayhawks' 24-21 upset victory in his third career start. Ten of his 11 solo stops came against Foreman — including on fourth-and-five, with just more than a minute left in the fourth quarter.
"Loneker shouldn't be doin' what he's doin'," Beaty marveled of the linebacker who replaced injured Marcquis Roberts in the starting lineup two weeks ago. "That dude, I don't know how he's doin' that, and I mean that as a compliment."
A Lawrence native and Free State High graduate, Loneker's college football career began down the road at Baker University, where he earned NAIA freshman All-America honors in 2014. After transferring to KU and redshirting the following year, he made his first start against TCU in early October and came away with seven total tackles.
Since then, defensive coordinator Clint Bowen has seen Loneker steadily progress with increased repetitions and opportunities.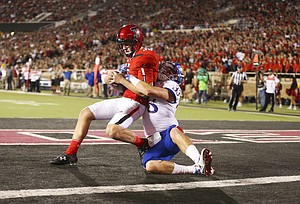 "He's seeing things faster, he's reacting faster, playing with better leverage — all those little things that go into the linebacker play, which is a tough position to play because things are right in your face in a hurry and offenses are making things difficult on them. So he's learning how to play," Bowen said of Loneker, who doubled his career-mark for tackles against Texas, a week after making eight against Iowa State.
Beaty stood in awe of Loneker's performance, in part because the unheralded sophomore, listed at 221 pounds, might not look like a typical Big 12 linebacker. Loneker said he makes up ground with his video study, which provides him with a lot of "answers" when he is on the field making plays.
"Obviously, I'm probably 10, 15 pounds less than what I need to be," he admitted, adding his measurements don't hurt his approach to the game. "But, yeah, it helps me being able to study and understand, so I can think quicker and give me that extra little step faster."
Entering KU's season finale at rival Kansas State on Saturday (11 a.m. kickoff, FOX Sports 1), Loneker, mostly as a reserve, has produced 37 total tackles, a tackle for loss, four pass breakups and a quarterback hurry. Oh, yeah, and a safety on special teams, when he tackled Texas Tech punter Erik Baughman after a fumble. Bowen has seen enough out of Loneker to know he's more than an NAIA transfer playing above his head.
"The kid does have athletic ability and can run and has talent," Bowen said. "He's stepped in there and done a nice job every time we've put him in a situation to do it."
Kansas (2-9 overall, 1-7 Big 12) will need Loneker and fellow starting linebacker Courtney Arnick — a senior who replaced Joe Dineen, another injured Jayhawk, in the starting lineup — peaking in the season finale at K-State (6-4, 4-3). The Wildcats utilize both running back Charles Jones and quarterback Jesse Ertz in their rushing attack. Loneker and Arnick will have to recognize formations and backfield sets and identify where fullback Winston Dimel is headed on every snap in order to make all the correct reads.
Loneker grew up rooting for KU — thanks to his father, Keith Loneker Sr., a former offensive lineman in the program — and he's excited to play in the Sunflower Showdown. Still, the ever-improving sophomore seems business-like in his approach (though he admits to trading some good-natured jabs recently with K-State's starting left tackle, Scott Frantz, a former Free State teammate).
"Every week we come into is a big week, especially last week with Foreman," Loneker said. "But now this team throws in their quarterback more (as a rusher), so it puts a little bit more strain on you. We've just got to come out with the same mindset we do every week and get ready to play."
Perhaps Saturday in Manhattan Beaty won't be so surprised by Loneker's production.
"He is a tough, hard-nosed, terrific Lawrencian. He is a great kid," Beaty said of Loneker. "I can't say enough good things about his heart, and those kids, they love him and they trust him."