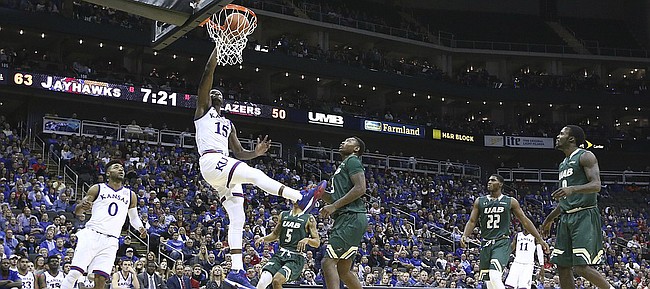 No. 5 Kansas Jayhawks (3-1) vs. Georgia Bulldogs (3-1)
Time: 9 p.m. | Location: Sprint Center, Kansas City, Missouri
TV: ESPN2 | Radio: IMG Jayhawk Radio Network
Log on to KUsports.com for our live game blog coverage and follow the KUsports.com staff on Twitter: @KUSports @mctait @TomKeeganLJW & @bentonasmith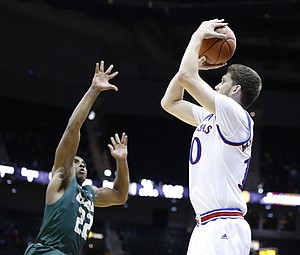 Keys for Kansas
1. Depth will be crucial
This was the game that Kansas coach Bill Self said he was worried about last weekend, after his team's home-opening victory over Siena.
Tonight's showdown with Georgia will mark the Jayhawks' third game in five days and the fifth game for Kansas in the last 12 days.
Georgia, though also 3-1, has enjoyed a little more distance between its games. The Bulldogs will be playing their third game in the past six days. And even though that's just one extra day, that one day can mean a lot in the way of rest and/or preparation.
After playing Friday, Kansas was off on Saturday and had a light practice on Sunday before tipping off in the CBE Classic on Monday night.
Beyond that, the Jayhawks' three top scorers played 33 minutes or more in Monday's win over UAB, while Georgia had just one player reach that total in its win over George Washington.
Kansas certainly has better depth and more talented players coming off of its bench, and the Jayhawks could need to lean on those guys to get by a UGA team picked to finish near the top of the SEC standings this season.
Look for Lagerald Vick to bounce back with a strong game and for Sviatoslav Mykhailiuk (15 points in 23 minutes) and Udoka Azubuike (7 rebounds, 2 blocks in 16 minutes) to build on their strong efforts from Monday night.
2. Hit the boards
This emphasis on rebounding seems like it could be a theme of this Kansas team all season, but it will be particularly important against the Bulldogs, who have out-rebounded opponents by 40 so far this season and are getting an average of 10 a night on the offensive glass.
Self talked after KU's win over UAB about needing production from his post players and you can bet he was talking about rebounding, as KU's starting frontcourt of Landen Lucas and Carlton Bragg Jr. grabbed 11 total rebounds to go along with seven points in the win over UAB.
Self said Azubuike would get more opportunities going forward and tonight seems like a great night for him to get more minutes. Conditioning continues to be an area of emphasis for Azubuike, but he played just 16 minutes on Monday, which means he should be ready for a bigger load, if needed, tonight against Georgia.
Five different Bulldogs grabbed five or more rebounds in their win over George Washington, including a game-high 11 coming from junior guard Juwan Parker.
So even though the emphasis may be on the bigs, KU will need to rebound from all five positions in this one.
3. Free throw focus
Self said after Monday's game, in not much of a joking manner, that "We have to figure out a way to make it to the free throw line and when we do it'd be nice if some guys made some every now and then."
The Jayhawks are shooting just a shade over 60 percent from the free throw line in 102 attempts and have three players in their regular rotation shooting 50 percent or worse.
It's not every day that you see free throw shooting as a true key to a game, given that free throws are just that, free, and are kind of like not turning the ball over in football — it's always important.
But given KU's struggles from the line thus far and the fact that the head coach chose to emphasize it after the most recent game, makes this an important area for tonight's game.
Kansas is doing a good enough job getting to the line (25 trips per game), but now the Jayhawks need to start making more. That could help make some of these games a little more comfortable on the scoreboard and could allow Self to give some of his front-line guys more of a rest in order to keep them fresh.
Mega Matchup
Georgia forward Yante Maten vs. KU's bigs
Maten fouled out in 31 minutes of UGA's win over George Washington on Monday night and Georgia coach Mark Fox said it might have been the best thing to happen to his team because he believes the Dawgs need to learn how to win without the 6-8, 244-pound bruiser on the floor. "Everyday when we scrimmage five-on-five, there's a team he's not on," said Fox of making sure his guys are comfortable playing without Maten. "I think our other guys are confident in what they do and certainly it was key for us to play well without him because he is a very good player." Maten leads Georgia with 21 points and 8.5 rebounds per game averages. He also is shooting .574 from the floor and .708 from the free throw line, making the KU frontcourt's ability to limit and match his production a key to this one.
Jayhawk Pulse
One of the beautiful parts about Josh Jackson's 22-point explosion during KU's Monday victory over UAB is that it's not hard to look back and see how it could have been much, much more.
Jackson was good from the jump in that one and appears to be getting more and more comfortable by the minute, both with the college game and his role on this team. The sooner he gets there, the sooner the rest of the pieces can fall in line behind him.
That's not to say that Frank Mason or Devonte' Graham are going to take a back seat to Jackson, but he can do things that neither of those guys can do and those things provide Kansas with a huge advantage on both offense and defense.
Playing back-to-back nights, though tough in some ways, could be the best thing to happen to Jackson, who, no doubt, will be eager to get back on the court tonight after finally staying out of foul trouble and turning in his best game as a Jayhawk to date just 24 hours earlier.
Probable Starters
No. 5 Kansas
G – Frank Mason III, 5-11, 190, Sr.
G – Devonte' Graham, 6-2, 185, Jr.
G – Josh Jackson, 6-8, 207, Fr.
F – Carlton Bragg Jr., 6-10, 240, Soph.
F – Landen Lucas, 6-10, 250, Sr.
Georgia
G – J.J. Frazier, 5-10, 155, Sr.
G – Juwan Parker, 6-4, 205, Jr.
G – William Jackson II, 6-4, 185, Soph.
F – Derek Ogbeide, 6-8, 245, Soph.
F – Yante Maten, 6-8, 244, Jr.