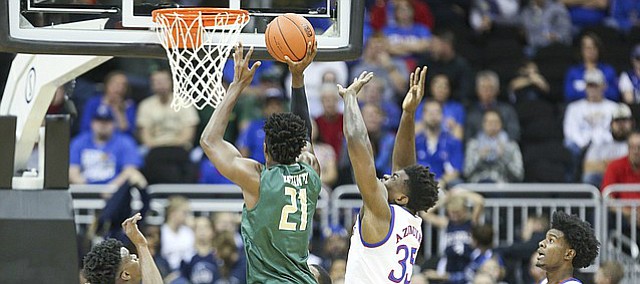 Kansas City, Mo. — The sooner Udoka Azubuike builds up his stamina and learns to play without piling up fouls so quickly, the sooner Kansas can become a team that does more than dominate teams from the perimeter.
Frank Mason III, Devonté Graham and Josh Jackson give the Jayhawks a wildly athletic, aggressive perimeter trio capable of outplaying anyone that any school can throw at them.
As expected, things are not quite coming together as quickly closer to the basket. Azubuike is the one big man with a blend of tremendous potential, which Carlton Bragg has to not quite the same degree, and the strength to mix it up inside, which Landen Lucas brings to the equation.
The more you watch Azubuike plant his 7-foot, 270-pound body near the basket, the more clear it becomes he is the team's best rebounder and the most impervious to the sort of contact that sometimes throws Bragg off kilter.
Photo Gallery
Kansas v. UAB (CBE Classic)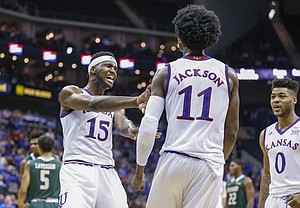 View a gallery of images from the Jayhawks' Monday night game against the Blazers at Sprint Center.
Early in KU's 83-63 Monday night victory against UAB, Josh Jackson and others set up Bragg with beautiful passes on the block, but the sophomore forward wasn't able to turn them into dunks or short banks. All the clutter near the hoop seems to mess with Bragg, sometimes keeping him from catching passes cleanly, other times throwing off his balance. Sometimes, even the threat of contact appears to make the long, soft-shooting, high-leaping forward blink.
In contrast, Azubuike is so large that he might not even feel some of the shoves and bumps that throw off Bragg and of late frustrate Lucas. Based on Lucas' reactions in earlier games, he must have wondered why in some instances the same degree of contact that resulted in fouls called on him, didn't get called when he was on the receiving end.
Lucas and Bragg combined for three rebounds in 21 first-half minutes Monday and Azubuike played seven minutes before the break and had five boards, all at the defensive end.
"He's going to get more opportunities," Kansas coach Bill Self said of the freshman from Nigeria. "This isn't being negative, but we're not getting production from our bigs. We get excited when our bigs get three baskets and two of them were totally uncontested, didn't have to earn them. So there's no reason we can't get him out there, get him an opportunity to do some things."
It's never as simple as just playing the more talented athlete.
"Now we lose some stuff when Dok's in there with Landen's intellect and things like that, but he has a way to get rebounds, especially on the defensive end, better than anybody on our team, so he deserves an opportunity to be out there a little more," Self said.
Azubuike's promise was on display in the first half, his inexperience at times after that.
He watched the opening six minutes of the second half and upon checking in, quickly was fed the ball on the left block on consecutive possessions. He hesitated both times, didn't look quite sure exactly what to do next. A guard slapped the ball out of his hands the first time for a turnover. The next time, he held it without making a move, and held it some more, eventually feeding it back out to the perimeter.
Podcast episode
Kansas basketball coach Bill Self talks about his team's quick start in an eventual 83-63 victory over UAB in the CBE Hall of Fame Classic, Josh Jackson's career high 22 points and much more.
A few minutes later, Azubuike flashed his potential, sweeping across the lane, going from left to right and putting up a hook shot. It went in, and, huffing and puffing harder than anyone on the floor and presumably in the building, he made the free throw.
At the other end, he was whistled for his third foul, complained to the ref, and was told by Graham and Mason to stop griping.
Azubuike's shocked expression as he interlocked his fingers on top of his head to rest suggested he didn't like the call on his fourth foul, which came in his 13th minute, any better. But with Graham standing right next to him, he kept his mouth shut. Progress.
Azubuike plays with such great effort and seems so eager to please that he looks as if he so badly wants it all to come together right this second. It doesn't work that way, of course, but the desire that makes him so badly want it all right now will serve him well. Before the season ends, the positive contributions will outweigh the moments of frustration, his confidence will soar and the Jayhawks will become more balanced, even better.
After Azubuike's 12-rebound effort helped Kansas to defeat Duke in New York, Jackson weighed in on the team's heaviest player.
"His potential's just through the roof," Jackson said. "Once we get him remembering plays and just moving his feet a little faster, he's going to be a monster."
The future monster totaled three points, seven rebounds, two blocked shots, three turnovers and four fouls in 16 minutes. Watching him learn how to play the game he seems to enjoy so much will grow more rewarding by the month and it's already a blast.
• — • For a preview of what to expect in tonight's CBE title game match-up between KU and Georgia, join our Gameday Chat with Matt Tait to talk KU-Georgia. Submit questions early or join the live chat at 2 p.m. central time. • — •
— See what people were saying about the game during KUsports.com's live coverage.
---
More news and notes from Kansas vs. UAB
---