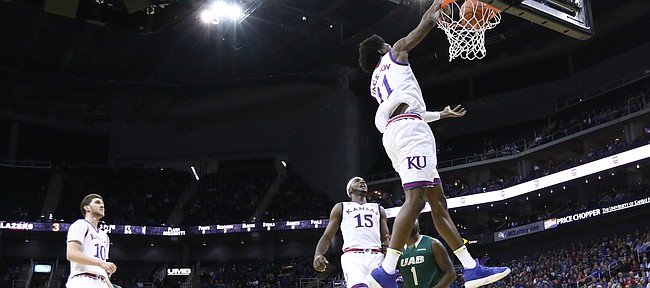 Kansas City, Mo. — Unable to play more than 27 minutes in the first three games of his college career, Kansas freshman Josh Jackson stayed away from silly fouls and stayed on the floor for 33 minutes en route to helping the fifth-ranked Jayhawks run past UAB, 83-63, Monday night at Sprint Center.
Jackson's extended stay on the Sprint Center floor came to the chagrin of the building's rims.
Energized by an early rhythm and free to drive the lane because of KU's strong outside shooting, Jackson relentlessly attacked the basket on Monday night, finishing with a game-high 22 points to go along with seven rebounds, three assists and three steals.
Almost all of Jackson's highlight-reel dunks made his long right arm resemble a slingshot let loose from its highest point, and each was delivered with a purpose not yet seen this season.
Photo Gallery
Kansas v. UAB (CBE Classic)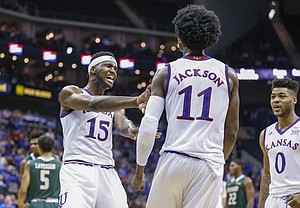 View a gallery of images from the Jayhawks' Monday night game against the Blazers at Sprint Center.
"Well, I've heard (Oklahoma City Thunder All-Star) Russell Westbrook say, 'I dunk the ball so hard so nobody challenges me when I go to the basket,' so that's what I'm trying to do," Jackson said.
Only once did a UAB player choose to challenge Jackson's high-flying act. And all that did was give 6-9 UAB forward Tosin Mehinti an up-close look at Jackson's Size 14 shoe and another foul in the book.
That particular dunk, which included a free throw and came with 4:14 to play, served as an exclamation point for Jackson's performance. It gave the KU freshman his 20th point of the night, but was far from the moment KU coach Bill Self recalled first when talking about his ultra-talented and ever-improving freshman.
"I mean, yeah, I like it when guys dunk," Self admitted. "But he's a player. The best play he made of the night was the last pass he made to Svi (Mykhailiuk). He's going left-handed off a ball screen and throws a left-handed hook pass to a guy wide open. That was the best play he made tonight but it's not gonna be on SportsCenter."
That's exactly where KU junior Devonté Graham (16 points on 6-of-12 shooting) believed Jackson's final flush should wind up.
"SC Top 10," said Graham, without looking up.
The first two minutes of Monday's victory included every element that had plagued the Jayhawks (3-1) at one time or another so far this season.
Podcast episode
Kansas basketball coach Bill Self talks about his team's quick start in an eventual 83-63 victory over UAB in the CBE Hall of Fame Classic, Josh Jackson's career high 22 points and much more.
Jackson playing smart and staying on the floor? Check. Jayhawks hitting the glass with great effort? Check. KU connecting on a couple of shots from three-point range? Check and check.
In a game marked by runs from both teams, the Jayhawks delivered the two most important spurts and overpowered the Blazers at the start of each half. Kansas jumped out to a 25-3 run in the first half and turned a 39-30 halftime lead into a 48-30 advantage in the first few minutes of the second.
"I think we played really well," Graham said of the first 10 minutes of the game. "Everybody's mind was right. We came in the game focused, just trying to do the little things that we've been watching on film that we hadn't been doing well."
UAB (2-2) responded to both KU runs with plenty of fight, but that initial hole was simply too big to overcome.
And Jackson was a big reason for that.
After playing the first seven minutes without fouling, Jackson was whistled for his first with 12:22 to play in the first half. A minute and 35 seconds later came foul No. 2. But No. 3 never came.
"It felt really good," said Jackson of staying on the floor. "That's one of the things me and the coaches have been talking about a little bit, me committing silly fouls that take me out of the game. I just tried to play with my hands wide and my feet and stay out of foul trouble.
As if there were any question about how eager Jackson was to truly breakout, the KU freshman opened Monday's game with a tenacity and energy he only had shown in spurts thus far.
While everyone else appeared to be playing a normal game in the first few minutes, Jackson appeared to be playing a game of "Watch What I Can Do." But all of it came within the framework of KU's offense and most of it came in wildly entertaining fashion.
He delivered two rim-rattling dunks in the first eight minutes, picked up a couple of steals and helped spark KU's transition attack whenever possible. Even his missed connections carried decent entertainment value. After breaking down the UAB defense and getting into the lane on one drive, Jackson passed on the chance to hurt the rim and instead floated a soft lob toward Carlton Bragg Jr., who was crashing on the baseline. Bragg saw the pass late and UAB gained possession and went the other way.
Later, in the second half as Graham was whistled for a player control foul, Jackson quite literally soared above Graham's sprawled out body and hammered a dunk with his right hand. The points didn't count but the oohs and ahhs were very real.
Other than Jackson's highlights and KU's big runs, the Jayhawks delivered in other ways on Monday night. KU made 12-of-27 three-pointers — Mykhailiuk was 4-of-5, Graham 4-of-9 and Frank Mason III 3-of-6 — and played the kind of defense Self likes to see. At least at times.
"We played well and our defense was better," Self said of the early going. "And then as good as we played for eight minutes, we played that poorly for about eight minutes.... It was a good win, but certainly we have a lot of room for improvement."
It also added to KU's confidence playing in a building it could play as many as eight games in by season's end, including a few in the Big 12 Tournament and two in the NCAA Tournament.
"I haven't really thought much about that," Self said. "I think maybe we take that for granted, that we know we get a chance to play in this building. I love the building."
The Jayhawks will be back in it tonight at 9 p.m., battling Georgia for their third CBE title in three tries.
• — • For a preview of what to expect in tonight's match-up, join our Gameday Chat with Matt Tait to talk KU-Georgia. Submit questions early or join the live chat at 2 p.m. central time. • — •
— See what people were saying about the game during KUsports.com's live coverage.
---
More news and notes from Kansas vs. UAB
---