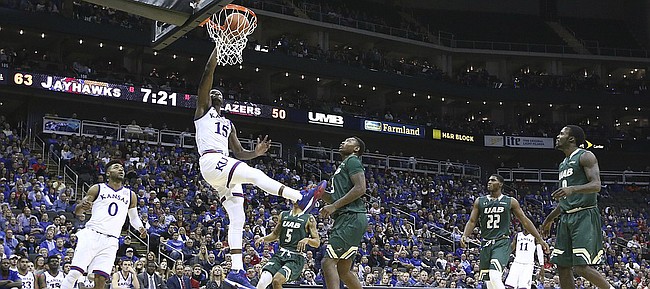 Kansas City, Mo. — It's the SEC and the Big 12 in the championship game of the 2016 CBE Classic.
Because of its 83-63 victory over UAB on Monday night, the Kansas men's basketball team at 9 p.m. tonight will take on Georgia, an 81-73 winner over George Washington in the early game at Sprint Center.
The Bulldogs (3-1) trailed by one at halftime but outscored GW 46-37 in the second half to advance to Tuesday's title tilt.
Georgia was led by the tandem of J.J. Frazier and Yante Maten, who each scored 18 points in the victory. Maten, a 6-foot-8, 240-pound junior, played 31 minutes and made seven of 13 shots from the floor. Frazier, a 5-10, 155-pound senior guard, hit 5-of-13 from the floor, including 2-of-6 from three-point range in 35 minutes.
Photo Gallery
Kansas v. UAB (CBE Classic)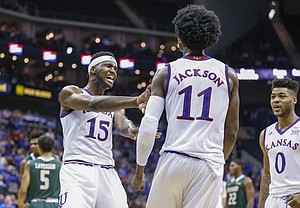 View a gallery of images from the Jayhawks' Monday night game against the Blazers at Sprint Center.
After opening its season with a 10-point loss at Clemson, Georgia enters tonight's contest with Kansas having won three straight games over UNC-Asheville (KU's Friday night opponent), Furman and George Washington.
KU leads the all-time series with Georgia, 3-0, with the most recent victory coming at the Great Alaska Shootout in 1999. Georgia coach Mark Fox, however, has tasted success against the Jayhawks during his career.
In December of 2005, Fox led Nevada into Allen Fieldhouse and handed KU coach Bill Self just the third home loss of his career to that point.
Fox, 47, who originally hails from Garden City, is 129-104 in eight seasons at Georgia.
"I am a graduate of the University of Kansas so I obviously (was) rooting for Kansas (against UAB)," Fox said. "The only time I don't is when they're playing our team.... Kansas is the benchmark for great basketball. There's KU and there's UK and they're both blue and they're both terrific. But I have the utmost respect for the history and tradition of Kansas basketball, because I grew up watching it."
CBE History
KU's inclusion in this year's CBE Hall of Fame Classic marks the third time the Jayhawks have played in this event and first since winning it in 2012.
Podcast episode
Kansas basketball coach Bill Self talks about his team's quick start in an eventual 83-63 victory over UAB in the CBE Hall of Fame Classic, Josh Jackson's career high 22 points and much more.
Kansas is 8-1 all-time in the CBE Classic, with a 5-0 record in host contests at Allen Fieldhouse and 3-1 record in bracket play at Sprint Center. KU's lone loss in bracket play came in 2008, when the Jayhawks lost to Syracuse, 89-81, in overtime.
Originally called the Guardians Classic, the event started in 2001 with the championship rounds played in Kansas City at either Kemper Arena or Sprint Center.
Moving on up
A win over No. 1 Duke and a 21-point victory over Siena in the home opener was good enough to bump the Kansas men's basketball team back into the Top 5 in the AP Poll.
One week after falling to No. 7 following a season-opening loss to then-No. 11 Indiana in Hawaii, the Jayhawks (2-1) are back near the top, with 1,284 points, just behind North Carolina (4-0) and just ahead of Duke (4-1).
Kentucky (4-0) moved up to the No. 1 spot and was followed by Villanova (5-0) at No. 2 and Indiana (3-0) at No. 3.
KU's inclusion in this week's AP Poll marks the 144th consecutive poll in which Kansas has been in the Top 25. That streak dates back to the 2008-09 season and is the longest active streak in NCAA Division I.
Jackson honored
For the first of what could be several times this season, Kansas freshman Josh Jackson on Monday was named the Big 12 Conference's Newcomer of the Week for his play in victories over Duke and Siena.
Jackson, a 6-foot-8 guard from Detroit by way of Prolific Prep in Napa, California, shot 12-of-15 from the floor and hit double digits in scoring in both games despite dealing with foul trouble each time out.
Jackson fouled out of the Duke game and picked up four fouls against Siena. The nine fouls in those two games limited his minutes to just 39 total in the two games but did not limit Jackson's impact in either game.
In addition to shooting a high percentage, Jackson contributed seven rebounds, four assists, two blocks and tw steals in the two Kansas victories.
This and that...
KU now leads the series with UAB 3-1.... The Jayhawks' 3-1 start is the 13th such start in the 14-year Bill Self era.... KU is now 32-6 all-time in games played at Sprint Center and 217-80 all-time in Kansas City.... The win pushed KU coach Bill Self's all-time record to 388-84 at Kansas and 595-189 overall.... The win pushed KU's all-time win total to 2,189, second in college basketball history.
• — • For a preview of what to expect in tonight's match-up, join our Gameday Chat with Matt Tait to talk KU-Georgia. Submit questions early or join the live chat at 2 p.m. central time. • — •
— See what people were saying about the game during KUsports.com's live coverage.
---
More news and notes from Kansas vs. UAB
---