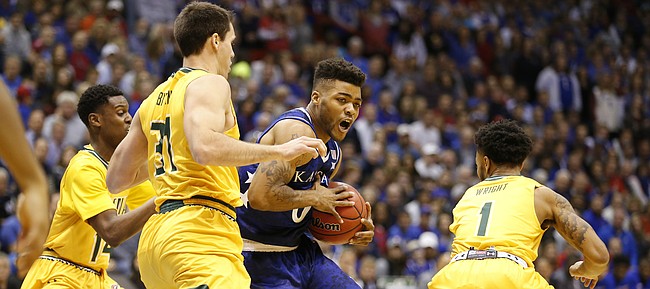 Exhausted in some ways and eager for time to work with his team in practice now that he has seen a taste of what it can do in live games, Kansas basketball coach Bill Self has one eye on tonight's CBE Classic clash with UAB and the other eye on the calendar.
"I'll be glad when Wednesday gets here," Self said. "Because I think we (could stand to) catch our breath a little bit."
Since opening the season Nov. 11 in Honolulu, the Jayhawks have endured a wild stretch of intense games, even more intense travel and little rest or practice time.
Even after Friday's 21-point win over Siena in KU's home opener, the Jayhawks (2-1) took Saturday off and ran through a light practice Sunday in preparation for two games in two days in Kansas City.
A win tonight over UAB — 8:30 p.m., ESPN2 — would put the Jayhawks in the late game on Tuesday against the winner of George Washington vs. Georgia. A loss would land Kansas in Tuesday's 6 p.m. game against the loser of that other match-up.
Self, fully aware that he's unable to do anything about it at this point, said he was less worried about KU's game with UAB and more concerned about where his team's gas gauge would be on Tuesday night.
Although this week's fast start — along with another Friday home game against UNC-Asheville after the CBE — continues the crazy stretch, the players who have been waiting months for these games to get here insist they're not anywhere near run down.
"I wouldn't say we're tired," sophomore Lagerald Vick said, "but we've gotta get some rest in for the next couple games coming up."
Regardless of how things play out, the next few games begin a stretch of self-evaluation for the Jayhawks. High-profile, high-pressure games against Indiana and Duke to open the season put the growth and development process on temporary hold. In games like that, survival — and, of course, victory — account for most of what matters.
Now that those games are in the past, the Jayhawks can get down to the regular business of letting the season play out naturally, complete with growing pains and valuable lessons along the way.
"I don't know that we've learned a lot yet," Self said after the Siena victory. "We're certainly not a team yet. That probably won't happen for awhile. There's a point in every season where teams become teams and we're not close to that. I don't think we have an identity yet. If you're gonna say, 'What do you hang your hat on, is it perimeter shooting, is it rebounding, is it extra possessions, being able to guard the ball, first-shot defense?' I don't know that I would hang my hat on any of that stuff just yet. I still think we're trying to find ourselves."
As for what the Jayhawks will find tonight, in an arena that could feature as many as eight or nine KU games by season's end, the Blazers (2-1) enter the match-up with Kansas on the heels of a bounce-back victory over Troy following a home loss to Furman in the second game of the season.
UAB is led by first-year coach Robert Ehsan, who replaced former Kansas star Jerod Haase after he left for Stanford. The Blazers return four starters from a team that won the Conference USA regular season title with a 16-2 record last season. The 2015-16 season included school records for wins (26), conference wins (16), road victories (10) and consecutive wins (14).
Those facts, along with UAB's opening-round win in the 2015 NCAA Tournament, have made Self and the Jayhawks fully aware that they will have to show up and play well to improve to 3-1.
"The field is good," Self said of the CBE Classic. "It'll be a good test for us. Hopefully fans will turn out and show up."