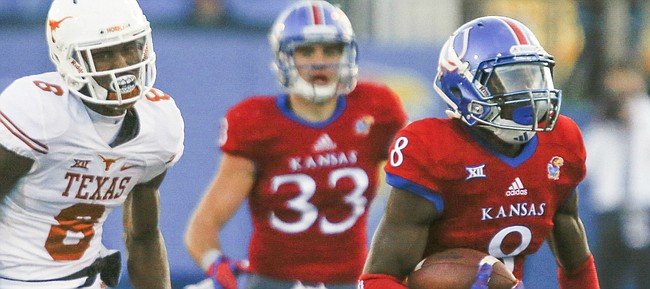 What a difference some takeaways make. Members of the Kansas football team know all too well the pitfalls associated with losing possession. The Jayhawks dropped nine consecutive games, in part because they ranked worst in the nation in surrendering turnovers — a dubious position they still maintain, with 33 on the season.
For at least one Saturday against Texas, though, the KU defense specialized in football abduction (three picks, three fumble recoveries), the offense didn't self-destruct with interceptions and fumbles (only one apiece) and the Jayhawks won a Big 12 game for the first time in two years.
Wouldn't you know it, second-year head coach David Beaty's first conference victory — 24-21 in overtime — came with KU winning the turnover margin for the first time since the season opener against Rhode Island.
"It feels great," Beaty said of watching the defense come up with six takeaways, leading to a plus-four turnover margin for his Jayhawks (2-9 overall, 1-7 Big 12). "It feels really good to cause 'em, because when that happens, typically it's being caused. And our guys caused a bunch of 'em, because I thought they hit (UT QB Shane) Buechele a bunch (Saturday). That was the plan. If we could kind of stop the bleeding a little bit with (Longhorns running back D'Onta) Foreman, then we had to hit Buechele. We had to hit him. He's a young guy, so we had to get some pressure on him and get him uncomfortable early. And if we did, we felt like maybe we could get him to make a mistake or two. But he hasn't done that really in previous games."
TURNOVER COMPARISON BY GAME
*(Jayhawks' turnover margin)
Rhode Island 3, KU 2 (+1)
Ohio 1, KU 3 (-2)
Memphis 0, KU 6 (-6)
Texas Tech 2, KU 2 (0)
TCU 4, KU 4 (0)
Baylor 1, KU 5 (-4)
Oklahoma State 1, KU 3 (-2)
Oklahoma 1, KU 2 (-1)
West Virginia 1, KU 2 (-1)
Iowa State 1, KU 2 (-1)
Texas 6, KU 2 (+4)
SEASON TOTALS
Opponents 21, KU 33 (-12)
Indeed, the KU defense sacked the true freshman QB four times and kept the pressure coming. Buechele passed for just 165 yards on 26 attempts and threw three interceptions.
The Jayhawks certainly didn't look like a team that ranks 124th in FBS in turnover margin (-12 on the season). During one incredible second-quarter stretch against Texas (5-6, 3-5) the Kansas defense took the ball away on four straight Longhorns possessions.
Neither a Denzel Feaster fumble recovery off a Dorance Armstrong strip-sack nor a Fish Smithson interception of a Buechelle deep ball down the east sideline netted ensuing points from the Kansas offense. But the takeaways broke up a punt-fest of a first half and gave the Jayhawks some momentum when neither team could manufacture any.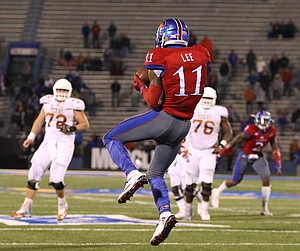 Finally, senior cornerback Brandon Stewart broke the stalemate and did what the offense hadn't to that point — score a touchdown — with a 55-yard interception return.
The ensuing UT series only lasted two plays, once Cameron Rosser stripped the Longhorns' stud running back, D'Onta Foreman, of the ball near midfield.
Though Foreman rushed for 252 yards and two touchdowns on 51 carries, the KU defense stole the ball from the big back again late in the fourth quarter, and Rosser recovered with KU trailing by three.
And, of course, no theft stood out more than freshman Mike Lee's overtime interception.
Senior KU safety Smithson said he'd never felt more excited as a Jayhawk — even on his highlight plays — than when Lee made his clutch takeaway.
"He's kind of like my little bother out there," Smithson said, "and then you see him make a big-time play like that, I'm just proud of myself and proud of him for making that big-time play."
The coaching staff challenged KU's defensive line following a poor second-half showing in a winnable home loss to Iowa State a week earlier. Sophomore defensive end Armstrong said the line responded and the defense played to its potential.
"All year, Coach Bowen (Clint, defensive coordinator) has preached, 'We need takeaways, we need takeaways, we need takeaways.' I guess it just stuck in our head for the entire year," Armstrong said. "It wasn't nothing that we just decided to go do. That's just what we know (we need) to do."
KU sophomore receiver Steven Sims Jr. said the defense has so many play-makers, the takeaway party didn't surprise him. And now a new standard has been set.
"I expect that out of them every week now," a smiling Sims said.