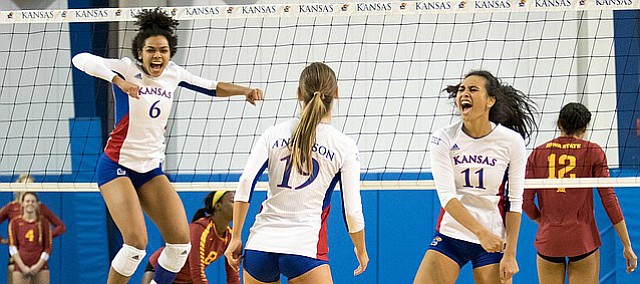 When coach Ray Bechard walked into the locker room to speak to the Kansas volleyball team he uttered the simplest of post-game remarks to his squad.
"We are Big 12 Champs."
What would follow was a long-awaited celebration.
Players proceeded to break out in a choreographed dance. Even Bechard busted out some of his own moves. Throughout the room, phones were out and capturing every second, savoring the moment.
At last, the Jayhawks had earned at least a share of their first-ever Big 12 Conference crown with a victory in Saturday's five-set thriller against Iowa State at Horejsi Family Athletics Center.
"Big 12 Championship, they can't take that away from you," Bechard said. "They put that banner up and that means you are the elite team in the league. In a league that's as good as ours, that's got significance."
And it seemed only fitting that the match to end the team's title drought would go the distance.
In fact, KU's five-set affair with Iowa State (25-18, 25-21, 13-25, 22-25, 15-9) on Senior Day was the epitome of the team's course this season.
"That fifth set was kind of this team in a nutshell for the year," said Bechard who clinched his 350th career win. "When their backs are to the wall, they respond."
The Jayhawks were backed up against the wall, playing without junior All-American Kelsie Payne, who was sidelined with an ankle injury.
And yet, they were still able to steal the first two sets against an Iowa State team that entered Saturday with a six-match winning streak.
After trailing nearly the entire first set, Kansas erased an 18-16 deficit, notching the final nine points claim the first set victory. KU moved to 20-0 this season when winning the first set.
"We have been struggling the first set," senior Tayler Soucie said. "We have been losing the first set and going on from there. But being able to win that first set after starting off was really important for us tonight."
The No. 4-ranked Jayhawks (25-2, 14-1 Big 12) again faltered early but were able to recover and outlast the Cyclones (16-10, 8-6) in a defensive battle in set No. 2. Junior Tori Miller contributed in the back row in Payne's absence and recorded a pair of aces.
Then the team stumbled in the third set and was outplayed in all facets. And though, the next set would feature eight ties and two lead changes, it was the Cyclones who staved the Jayhawks off again to force a fifth-and-final set.
"I think all year we've proven again and again that we're ready to play that first point in the fifth set," senior Cassie Wait said. "You get out to a couple points and you put that team on their heels and that's what we've done so far and we're going to keep with that mantra."
Kansas scored first in set No. 5 after failing to do so the previous four times.
From there, KU never surrendered the lead and played aggressive throughout, moving to 7-0 in five-set matches this year.
However, it wasn't until Iowa State's Jess Schaben delivered an attack straight into the net, that the Jayhawks allowed themselves to celebrate.
Moments later, the players were handed championship towels and shirts. And then the team hoisted the trophy in the air as the arena erupted with cheers from the crowd.
"When the trophy came out, the shirts and the hats came out, that was just a great moment," Soucie said. "I had tears in my eyes and I know a lot of my teammates did too. There is nothing that can take that away."
And to do it on Senior Day made it that much more gratifying for the three seniors: Wait, Soucie and Maggie Anderson. The trio have cemented themselves as the winningest class with a record of 102-22 in their four-year careers.
"To me it's a dream come true," Anderson said. "But like coming here, there was a slim-to-none chance that I could come and play for Coach B. That kind of made me count my blessings every morning that I've been here in Lawrence, and one of those blessings is being on the KU team."
Kansas will have a chance to clinch the Big 12 title outright with a victory in its final match of the regular season at 1 p.m on Saturday at Baylor.