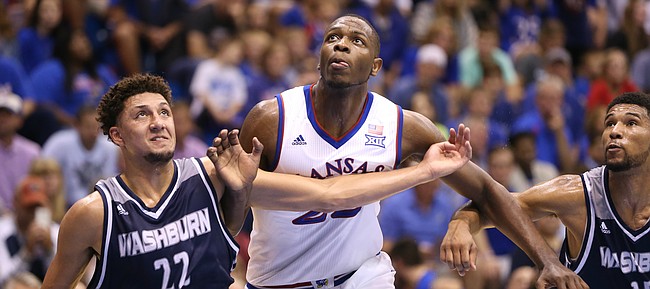 Two games into the season, reserve post player Dwight Coleby still hasn't made his Kansas debut.
A 6-foot-9, 240-pound junior who transferred to Kansas from Ole Miss, Coleby tore the ACL in his left knee in Sept., 2015, and spent his redshirt season undergoing therapy.
He is cleared to play, but as is common with athletes in their first year back from reconstructive knee surgery, he hasn't regained all of his previous form.
Podcast episode
After a 77-75 victory against Duke, Kansas basketball coach Bill Self discusses ways his team can improve its defense and rebounding, and he looks ahead to Siena for the Jayhawks' home opener.
"There's nothing that's kept him from playing from my standpoint," Kansas coach Bill Self said. "We're listing him as healthy. He's practicing every day, it's just that he doesn't have the same bounce and quickness as he had last year prior to injury. He's still working on getting it back. It's not anything I've got against Dwight, but it's really not fair for him or fair for the team if he really can't move to the point that he needs to."
As a sophomore at Ole Miss, Coleby averaged 5.4 points, 4.8 rebounds, 0.9 blocked shots and 16.5 minutes per game. He scored in double figures six times and reached double figures in rebounds once.
Podcast episode
Tom Keegan and Matt Tait break down the Jayhawks through two wild games of the 2016-17 season by using a little word association exercise.
Self has used freshman Udoka Azubuike as the first big man off the bench, behind starters Landen Lucas and Carlton Bragg, and freshman Mitch Lightfoot as the second post-player reserve.
Coleby totaled 20 minutes, eight points and eight rebounds in exhibition games vs. Div. II opponents Washburn and Emporia State.