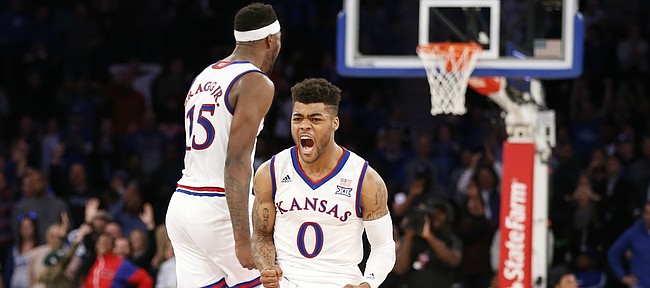 Fresh off of a 51-point explosion against a pair of Top 12 teams in high-profile, high-pressure situations, Kansas point guard Frank Mason finally gets to bring his act home.
And he likely will be greeted by a hero's welcome Friday night at Allen Fieldhouse, where the seventh-ranked Jayhawks (1-1) will face Siena (1-1) of the Metro Atlantic Athletic Association.
Podcast episode
After a 77-75 victory against Duke, Kansas basketball coach Bill Self discusses ways his team can improve its defense and rebounding, and he looks ahead to Siena for the Jayhawks' home opener.
Mason's 51 points in the season's first two games marked the most since Drew Gooden scored 50 to open the 2002-03 season and ranks second in the past 40 years only to the 53 points scored by Carl Henry to open the 1982-83 season.
KU fans have known for years that Mason is a reliable scorer. But Friday's home opener will mark the first time they'll get to see the new-and-improved Mason, who enters the game shooting .485 from the floor and averaging 25.5 points per game.
While those numbers helped KU knock off No. 1 Duke and take No. 11 Indiana to overtime, the best news for the Jayhawks might be that the senior from Petersburg, Virginia, who put Madison Square Garden into a frenzy on Tuesday with a game winner to beat the Blue Devils does not think he's anywhere close to playing his best basketball.
"I don't," Mason said. "I still feel like I can play a lot better. There's a lot of things I can tighten up on the defensive and offensive end. But it's not all about me. It's about my teammates and my coaching staff. I just want to do whatever I can do to make sure we're successful."
KU coach Bill Self loves guys like that. Always has. Always will. Before practice Thursday, he talked about a few of them from the past and added that he thought Mason already had earned the right to have his name mentioned in the same breath as the others.
Podcast episode
Tom Keegan and Matt Tait break down the Jayhawks through two wild games of the 2016-17 season by using a little word association exercise.
"To me, he's already joined it," Self said of the list that included a couple of Jayhawks and players from his previous stops as well. "Sherron (Collins) was a tough, tough guy. People don't know it because he was so emotional, but I don't know if there's been, physically, a tougher player that we've had here than Tyshawn (Taylor). He'd just totally give his body up. Kind of like the Allen Iverson type. All those NBA guys said that Allen Iverson may have been the toughest guy in the league, but if you didn't know that you wouldn't probably wouldn't think that."
Self also lauded former Oral Roberts guard Earl McClellan, Eric Coley from his days at Tulsa and future NBA All-Star Deron Williams, who he coached at Illinois. None of them, though, at least in Self's eyes, have and edge on Mason.
"I think Frank, as far as just a competitor and a pit bull, I don't know if I've ever coached anyone better at competing, especially at game point, than what he is," Self said.
One win away
A victory against Siena would give Self his 207th career victory in Allen Fieldhouse, making him the winningest coach in the history of the 62-year-old building.
Former KU coach Ted Owens was 206-47 at the Fieldhouse during his Kansas career and Self enters the match-up with Siena with a record of 206-9. Roy Williams finished his KU career with 201 home victories in 218 tries and Larry Brown, in just five seasons, was 71-5 at Allen Fieldhouse.
Asked what it would mean to add the title of winningest coach at KU's home gym to his already sparkling resume, Self downplayed the achievement.
"It means that, obviously, Dr. (Phog) Allen didn't coach in it," he joked. "Because he would have that record easily. It'll be nice, but I don't think it's going on anyone's tombstone by any stretch."
Tough test
Siena might not have the national sparkle of programs like Indiana or Duke, but that does not mean that the Jayhawks' home opener will be a cake walk.
The senior-laden Saints return all five starters from last year's squad and feature several veteran players who have played a lot of college ball and do not figure to be intimidated by Allen Fieldhouse or the KU players.
"It's not the team that I was hoping we'd come home to after a long trip," said Self, noting that Siena point guard Marquis Wright and forward Brett Bisping "could play for anybody." "We'll have to be ready, obviously. Hopefully the crowd will be juiced for it."
Injury update
Self said junior guard Devonte' Graham (cramps) and senior forward Landen Lucas (sore foot) both have looked good since returning home from New York.
"They seem fine," Self said of his two starters battling minor injuries. "I talked to Landen at lunch today and he said he felt good. (And Graham is) getting the best attention and experts nationally on his particular situation, so we think we can get that under control."
More like this story on KUsports.com