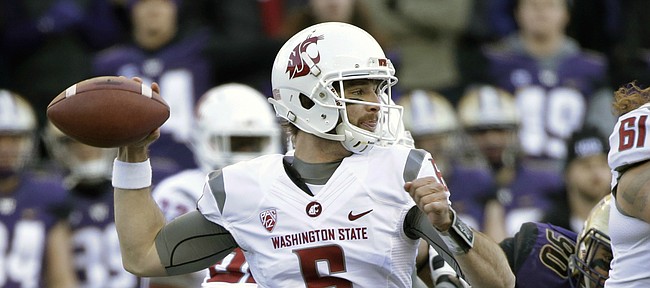 Trying to re-build the Kansas football program currently qualifies as a never-ending endeavor. So while second-year head coach David Beaty and his staff attempt to get their players to execute a game plan worthy of upsetting Texas on Saturday in the Jayhawks' home finale at Memorial Stadium, they'll also spend portions of the weekend pitching KU to a former Pac-12 quarterback.
As reported by Jayhawk Slant, Peyton Bender, who played QB at Washington State in 2015, begins his official visit to Kansas on Friday.
A year ago at this time, Bender began filling in at QB for WSU. He completed 36 of 58 passes for 288 yards and a touchdown, with two interceptions, in a loss at Washington to close the regular season, before No. 1 QB Luke Falk returned to lead the Cougars to a bowl victory.
In five appearances for Washington State — three of them brief — the 6-foot-1 QB from Fort Lauderdale, Fla., completed 58.2 percent of his 91 pass attempts for 498 yards, with three touchdowns and four interceptions.
Bender transferred to Itawamba Community College this past offseason after being ruled academically ineligible at WSU for the 2016 season.
Playing at ICC, in Fulton, Miss., as a third-year sophomore (he redshirted his first year at WSU) Bender threw for 2,733 yards, and 21 touchdowns in nine games, completing 65.1 percent of his passes, with four interceptions.
Now looking to get back to the FBS level, Bender, who spent two years in Mike Leach's Air Raid offense, told Jayhawk Slant he didn't know much about KU football before speaking with Beaty. Since then, he has paid attention to the offense and the Kansas coach's style.
"One of the things that jumps out is they like to throw the ball around," Bender said. "They are considered an Air Raid type of offense. They probably run their offense a little different than some other Air Raids. But as far as what they want to do is chuck the ball around, which interests me. I've seen a few of their games on TV and I have been able to get an idea what they're trying to do."
KU (1-9 overall, 0-7 Big 12), which has started three different quarterbacks in 2016, is averaging 236.3 passing yards a game on 37.9 attempts a week.
Kansas currently has six quarterbacks on its roster: starting redshirt freshman Carter Stanley (one start this year), junior Montell Cozart (eight starts), sophomore Ryan Willis (two starts), true freshman Tyriek Starks, sophomore Keaton Perry and junior Deondre Ford.
Still, Beaty spoke recently of his openness to recruiting a juco or fifth-year transfer quarterback.
"Well, our challenge scholarship-wise is always going to be there, but as we go through the season, our recruiting needs are gonna change, and as of right now," Beaty said in early November, "we're looking at everything. Everything, including quarterback. We'll look for anything and everything to try to make our rooms better."
According to Bender's conversation with Jayhawk Slant, Beaty, who also serves as offensive coordinator and quarterbacks coach, told the recruit he would fit into KU's offensive system.
"He said he likes how I sit in the pocket and how I dissect the defense in terms of what looks they are giving me," Bender related, "and where to go with the football. He said he likes my release and overall (management) of the offense."
As a quarterback at Cardinal Gibbons High, in Fort Lauderdale, Fla., Bender received a three-star rating from Rivals in the Class of 2014. He signed with Leach and Washington State, and also had an offer from Penn State.