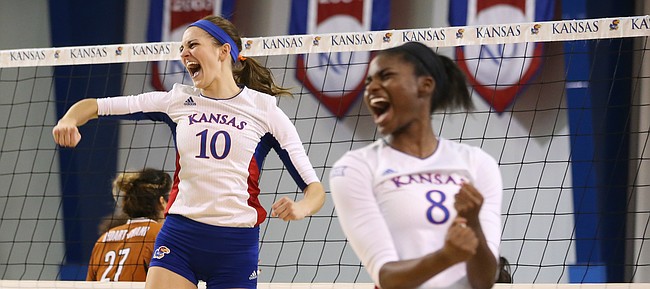 Morgantown, W.Va. — The Kansas volleyball team survived a Wednesday night road match with its one-game lead in the Big 12 standings intact, but it was far from easy and required five sets.
Kansas defeated West Virginia 25-18, 18-25, 25-18, 20-25, 15-8 and played most of the match without All-American right-side hitter Kelsie Payne.
Madison Rigdon compensated for Payne's absence by leading the Jayhawks with 15 kills, adding nine digs and six blocks and freshman Jada Burse kicked in with 11 kills and four blocks.
Payne left the match during the second set after spraining her ankle. Kansas will have a better idea today about Payne's status for Saturday's home finale vs. Iowa State at 11 a.m., according to KU associate athletic director/public affairs Jim Marchiony.
Senior middle blocker Tayler Soucie (seven kills, seven block-assists) and libero Cassie Wait (21 digs, two service aces), along with Maggie Anderson, will be honored before Saturday's match. Junior Ainise Havili (38 assists and 17 digs for her 12th double-double), an All-American setter, played a big role for Kansas (24-2, 13-1), which staved off the upset bid from West Virginia (12-16, 3-11 in the Big 12).
"We absolutely had to earn it tonight because West Virginia played one of their better matches of the season, I thought," Kansas coach Ray Bechard said.