Even if they would have come against two highly-ranked, well-known programs, the Kansas Jayhawks weren't interested in starting the season 0-2.
Following a timeout with 8.2 seconds to play in regulation, senior KU guard Frank Mason nailed a dagger pull-up jumper to beat No. 1 Duke, 77-75, Tuesday night at the Champions Classic, inside New York's Madison Square Garden.
After carrying the Jayhawks (1-1) days earlier in an overtime loss to Indiana, Mason again proved difficult to keep in check, going for 21 points and three assists against the Blue Devils. 
Trailing 34-29 at halftime, after the Jayhawks shot 1-for-11 from three-point range and went though all sorts of foul trouble during the first 20 minutes, No. 7-ranked KU played with much more poise and fire to finish the clash between perennial powers.
The Jayhawks' lead reached double digits briefly in the second half, though they had to hold off the resilient, undermanned Blue Devils in the final minutes.
Photo Gallery
Kansas Basketball v. Duke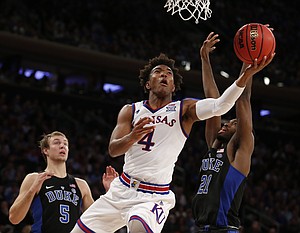 View a gallery of images from the Jayhawks' Tuesday night game against Duke in the Champions Classic at Madison Square Garden.
After Duke's Frank Jackson delivered a four-point play with the help of a Mason foul and got his top-ranked team within four points with 3:04 to play, Carlton Bragg made a jumper from the left corner and Mason finished a three-point play with a drive that drew a foul.
Duke (2-1) tied the game at 75 with another Jackson three with only 15 seconds left before the other Frank came though with the game-winner.
Devonté Graham added 13 points, Josh Jackson, though plagued by fouls, had 15 and Lagerald Vick led the reserves with nine.
Here's a quick look back at some of the action:
• The game turned when: The officials got on Jackson's bad side. Less than two minutes into the second half, Jackson, who already had jumped into a Duke passing lane for a steal and break-away jam after halftime, knocked the ball loose up top again. As the freshman wing fought for the ball and a tie-up, he earned a third personal foul and trip to the bench.
Visually upset by his predicament — of which he somewhat had himself to blame, after slapping the ball out of a Duke player's hands on a dead ball, earning a technical in the first half — Jackson didn't let it negatively impact the rest of his night. Once he returned to the lineup around the 15-minute mark, he came out driven to impact a tight game. The 6-foot-8 freshman drove to the paint to finish a layup, and in the following minutes drilled a three-pointer and a jumper from the top of the key, and KU led 50-43 with 12:00 left.
Although Jackson's foul issues continued later on and he fouled out with 5:08 to play, the Jayhawks fed off Jackson's energy during that crucial stretch, and channeled it on both ends of the floor for much of the second half.

• Offensive highlight: Freshman 7-footer Udoka Azubuike might've earned this honor had he not missed on his one-man fast break in the second half — though he at least gathered his blown bunny and jammed home a much stronger take.
A fast break takes the prize, instead. Earlier in the second half, after Bragg slid over to help on a Luke Kennard drive, the sophomore forward corralled a steal and bounced a pass ahead to Mykhailiuk, who whipped it past Duke's transition defense to a streaking Mason. The Jayhawks' resident tough finisher, Mason went high off the glass for a layup over Grayson Allen. Just an old-fashioned fast break ran to precision by a group inspired to start the second half off strong, following a lackluster, foul-filled first twenty minutes.

• Defensive highlight: Sometimes Mason plays as if he just has to do it all, and in this particular sequence he did. The speedy lead guard swiped the ball from Amile Jefferson, took it the length of the floor and finished with an easy two points, building KU's lead to 62-50.

• Key stat: Rebounds. KU controlled the glass much of the night and finished with a 38-29 edge. Even more important, KU got to that sort of margin with 14 offensive boards.
• Up next: The Jayhawks will be back in Allen Fieldhouse for their regular-season home debut Friday night against Siena, after opening the season with two electric non-conference matchups on neutral floors.