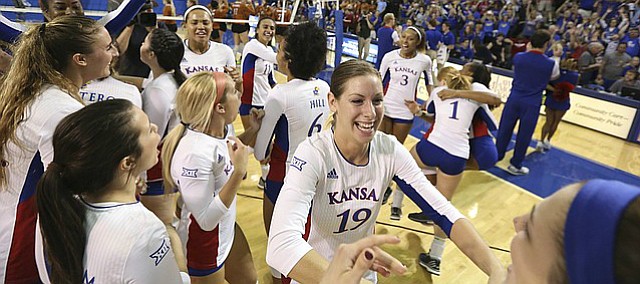 Kansas seniors Maggie Anderson, Tayler Soucie and Cassie Wait, junior Kayla Cheadle and redshirt freshman Patricia Montero received first-team Academic All-Big 12 honors, the conference announced Tuesday. Juniors Ainise Havili, Tori Miller and Madison Rigdon earned second-team recognition.
"This represents a commitment our student-athletes make to performing on the highest level on the court while creating opportunities, from a time management standpoint, to excel in the classroom," Kansas coach Ray Bechard said. "We also owe a great deal of gratitude to Dr. Scott 'Scooter' Ward and his academic support team for all the work they do to ensure that our student-athletes clarify goals, prioritize and execute with success."
Anderson, Soucie and Wait have earned academic honors from the Big 12 three years in a row.
"All three have been exemplary student-athletes in our program and have incredibly bright futures ahead of them," Bechard said. "Maggie has a full-time job lined up after she graduates in December, Tayler is finalizing plans to enroll in a post-graduate physician assistant program, and Cassie began her first year in KU's School of Law this fall."
Havili and Rigdon have earned academic honors from the conference for the past two years.