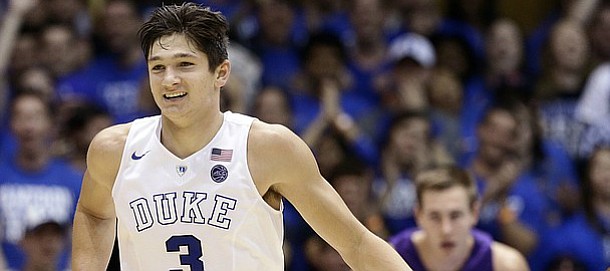 New York — He plays for Duke, college basketball's ultimate love-'em-or-hate-'em program, and video twice captured him tripping an opponent.
Those right there are nice qualifications for villain status, but if he didn't also happen to be the best player in college basketball, nobody would have sorted through countless images of him and of failed Republican presidential candidate Ted Cruz to find a pair that resemble each other. But somebody did, and man did it ever gain a lot of cyber steam.
Grayson Allen was by far the most popular choice as college basketball's preseason player of the year and therefore deserves to be called college basketball's top player until somebody proves otherwise.
The better a Duke player is, the more he is demonized in cartoon-character fashion. For all anybody knows, Allen could be a terrific guy, but that would take all the fun out of it. He's cocky, he plays for Duke and he may or may not be a dirty player. Therefore, college basketball's No. 1 villain plays for the No. 1-ranked team and for the game's most accomplished coach since John Wooden, Mike Krzyzewski.
Duke will have a tough time winning tonight's blue-blood tussle with Kansas at Madison Square Garden without a big game from Allen, a 6-foot-5 junior who won the McDonald's All-American slam-dunk contest the same year that Indiana's James Blackmon Jr. won the three-point shooting contest.
Tonight's game originally shaped up as a showcase for recruits ranked by Rivals No. 1 (Josh Jackson), 2 (Harry Giles), 3 (Jayson Tatum) and 11 (Marques Bolden) but Jackson very well could be the only of the quartet to play because the other three are recovering from injuries.
So the focus shifts to veterans, a nice change of pace in a sport that tends to market its coaches and fabulous freshmen before its upperclassmen.
Allen was a hyped freshman a couple of years ago, but having chosen Duke, he had to wait his turn.
There was that one game against Wake Forest when Allen made 9 of 11 field goals, 4 of 5 threes and 5 of 6 free throws for 27 points.
After that one, teammate Jahlil Okafor called Allen, "aggressive, freak athlete, strong guy."
That game was the exception for Allen, the fourth freshman. He came off the bench and watched Okafor, Justise Winslow and Tyus Jones start and then become NBA first-round draft choices.
Heading into Duke's national-title game vs. Wisconsin, Allen had reached double figure just four times.
Then he exploded in the title game for 10 of his 16 points in the second half. Wisconsin opened a nine-point lead with 13:23 left in the game, Allen scored Duke's next eight points and in less than three minutes from when he started his barrage, it was a one-point game.
Allen knows how to perform in big games and by November standards, games don't get any bigger than the Champions Classic.
Kansas has big-game performers of its own, most notably guards Frank Mason and Devonte Graham.
"I've watched him a lot," Mason said. "They play on TV a lot, so I've had a lot of chances to watch him play. He's a great player, and I'm looking forward to playing him Tuesday."
Mason used some of the same words in describing what makes Allen a tough player to guard that others use about the 5-11 Mason.
"He's always driving the ball downhill, staying in attack mode," Mason said. "He knows how to draw fouls. He's just a smart player with, I think, a lot of different things."
Graham, who outplayed national player of the year Buddy Hield of Oklahoma at both ends in Norman, likely will spend some time guarding Allen, as might Jackson. If Graham were to outplay Hield and Allen in an eight-month stretch, he would have to enter the best-player-in-college-basketball conversation.
"I think Frank said it pretty well," Kansas coach Bill Self said of Allen. "He puts pressure on you most every time he catches the ball. He's a good player off the deck. He's obviously a catch-and-shoot guy, but he's also a guy who can get to the free-throw line as much as anybody. He puts pressure on you the whole time. He's an attack-mode player."
Unlike Hield, who was everybody's Buddy because he was not only so good but so likable in every way, Allen is the sort of player some opposing fans might claim they wouldn't want on their team. They'd be lying, of course, but to say otherwise would be to take all the fun out of it.