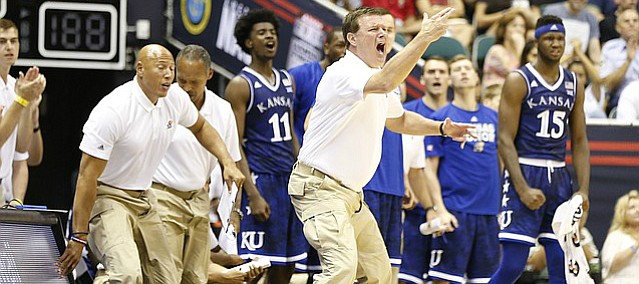 HONOLULU — Moments before boarding the team bus in a rush attempt to head straight to the airport to catch one of three KU flights from Honolulu to New York City, Kansas coach Bill Self found himself lamenting the biggest of a few crucial mistakes — by the Jayhawks and others — that cost Kansas in a 103-99, overtime loss to Indiana in the season-opening Armed Forces Classic.
Self was the first to admit that the Jayhawks did not play very well, but there were a couple of missed calls — in a game that featured 63 fouls whistled by the officials — that Self could not help but recall after the loss.
The first came early, when it was apparent that Indiana did not get a three-point attempt from the deep corner off before the shot clock expired. Self and the KU bench screamed and hollered as the horn sounded, but the whistle never came and the teams played on. The close call led to an easy layup for Indiana, which, in a game that came down to the final few possessions, certainly played a huge role in the outcome.
Photo Gallery
Kansas v. Indiana (Armed Forces Classic)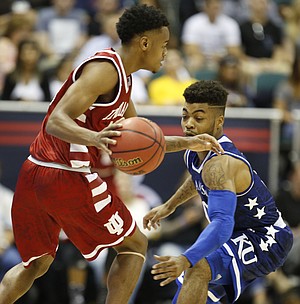 View a photo gallery from the Jayhawks' season opener against Indiana as part of the Armed Forces Classic in Honolulu.
The second was much later, with Kansas trailing in overtime and trying to mount a comeback. As a couple of Kansas misses clanged off the rim, an Indiana player appeared to hop back inbounds from under the basket to recover the loose ball and save possession for the Hoosiers (1-0).
"Yeah, there were two bad plays," Self said. "The shot clock, that was an obvious violation. And then you can't jump from out of bounds inbounds to get the ball to save the ball. That cost us a possession late game, when it was important."
Podcast episode
Bill Self dissects wild, season-opening loss to Indiana at the Armed Forces Classic in Honolulu.
Self made sure to point out, however, that he was not blaming the officials for the loss. There was plenty of blame to pass out within the Kansas locker room to keep him from doing that.
"(Later in overtime), we made a terrible pass," Self said of a frantic push that led to a turnover with 1:45 remaining in OT after an Indiana bucket. "Frank (Mason) pitched it up the floor to Svi (Mykhailiuk) for no reason there in overtime that cost us. But the reality of it is, there's so many possessions, you've gotta be able to guard your man and you gotta pay attention to scouting report. We played like it was the first game."
— See what people were saying about KU's matchup against Indiana during KUsports.com's live coverage.
---
More news and notes from the loss against Indiana
---