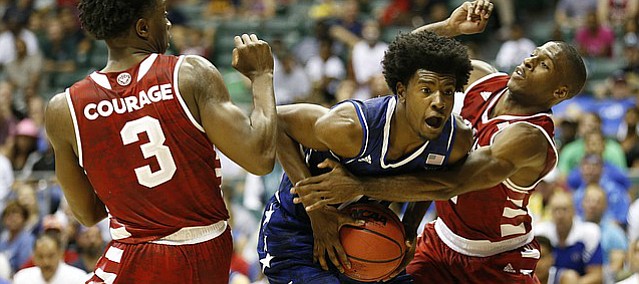 Honolulu — And they say early season losses don't matter in college basketball.
No one in attendance at Hawaii's Stan Sheriff Center Friday night would ever have guessed that, even if Kansas' 103-99 loss in the Armed Forces Classic more often resembled a college football game than the regular season opener for two college basketball bluebloods.
Maybe it was the nostalgia and pride of playing in front of so many men and women of the military on Veteran's Day or the unfathomable idea of opening the season they've been waiting so long to tip off with a loss. Either way, when the game began, KU and Indiana were sporting clean and crisp bright red and blue alternate uniforms to honor the occasion. By game's end, the two teams basically were wearing the same color — sweat.
After 45 grueling minutes, 17 lead changes and the not-so-sweet sound of referee whistles that led to 63 fouls, it was the Hoosiers who left Honolulu with an unblemished record.
"You come all the way over here and you play 45 minutes, you gotta win," KU coach Bill Self said. "And the bottom line is we just didn't do it."
Photo Gallery
Kansas v. Indiana (Armed Forces Classic)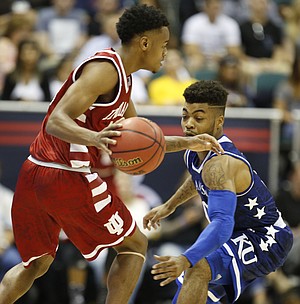 View a photo gallery from the Jayhawks' season opener against Indiana as part of the Armed Forces Classic in Honolulu.
After a couple of miscues and bad breaks, Kansas looked dead in the water with 1:08 to play, when Indiana led by five and went to the free-throw line looking to push the lead to three possessions.
Instead, the Hoosiers missed both free throws and Frank Mason (30 points, 9 assists, 7 rebounds) slipped into his Superman cape to help force overtime. Less than 30 seconds later, after two killer Mason drives to the rim, the game was tied at 87.
"He missed one big one (in overtime), but other than that he was great," Self said of Mason. "Frank's so tough."
Indiana got back to the free-throw line on the very next possession, however, when Devonte' Graham (16 points) fouled out and spent several minutes battling cramps in the corner before heading to the bench. From there, Mason, as he's been known to do, coolly connected on a pair of free throws with 2.3 seconds to play to force the extra period.
No. 3-ranked Kansas fell behind by six in the overtime period, but even that failed to knock the Jayhawks out. After a few more free throws and clutch plays by Mason, Kansas forced two misses by the Hoosiers in the final minute before fouling on a third attempt. Freshman forward De'Ron Davis calmly drilled two free throws to give IU a 99-95 lead and keep KU's comeback bid at arm's length.
So many things factored into the frantic season opener and one was KU's need to rush out the door in order to catch it's flight to New York.
"If we'd have been down two late, we would've shot a three or we would've missed our flight," Self joked. "We would've either won it or lost it."
Podcast episode
Bill Self dissects wild, season-opening loss to Indiana at the Armed Forces Classic in Honolulu.
A lot of the talk leading up to Friday's showdown was how Self's Jayhawks would match-up with No. 11 Indiana's fast and frenetic smaller lineup.
And after talking all week about going small and playing more four-guard lineups, it was the Kansas big men who made the biggest impact early.
Kansas opened the game by forcing Indiana to play its pace. The Jayhawks played strong, aggressive defense throughout the first five minutes — Josh Jackson forced a tie-up on the game's first possession — and completely kept the Hoosiers off of the offensive glass.
Indiana opened the game 2-of-6 from the floor, with the two makes coming on three-pointers from 6-foot-10, 255-pound center Thomas Bryant, who made just five (in 15 attempts) during his stellar freshman season.
The Hoosiers took their first lead at 12-9 midway through the first half on a three-pointer by freshman Curtis Jones. IU scored its first 12 points on three-point baskets and hit 6-of-16 from downtown in the first half.
After slugging it out for 10 minutes and watching Indiana pick up its intensity on the glass, Kansas trailed 33-29 but responded with an 11-0 run that forced the Hoosiers to call timeout.
Mason scored four points and assisted on another bucket during the run and Landen Lucas and Carlton Bragg each picked up easy points at the rim — Bragg's coming in that scrap-and-grind manner after a missed transition lob by Udoka Azubuike with 3:13 to play in the first half.
That run carried the Jayhawks to a 46-42 halftime lead and set the stage for a second half that closely resembled the first, with both teams going back-and-forth and battling through sloppy plays and lead changes. KU opened the final 20 minutes with a quick 5-0 run that built the game's largest lead (51-42) but Indiana responded with back-to-back three-pointers to pull right back into it.
With foul trouble plaguing KU's starters, Self pieced together enough timely substitutions to keep the Hoosiers at bay and showed that, even in his 14th season at Kansas, he's still got the magic touch of dialing up perfectly executed out of bounds plays following timeouts.
Two such plays — a lob to Lucas and another to Lagerald Vick on the next possession — played a huge role in helping Kansas keep the lead. The lob to Vick put the Jayhawks up 63-60 after trailing 60-59 less than a minute earlier. Graham followed with a three-point play to push KU's lead to 66-60, however, in this one, no lead was safe or comfortable and 2:30 later the Jayhawks once again trailed, 68-66, with 9:09 to play.
Despite leading for 23:35 of a possible 45 minutes — IU led for just 12:53 — the Jayhawks (0-1) played most of the second half and overtime from behind and just never could get over the hump, with foul trouble and turnovers making the final surge difficult.
Of course, Indiana's red-hot hand from the outside did not help. The Hoosiers hit 15 of 31 three-point shots (48.4 percent), including back-to-back daggers late in overtime.
"We didn't defend it great," Self said of the three-point shot. "But we didn't count on Thomas Bryant making the first two of the game."
Kansas will get just three days to recover before facing what figures to be an even tougher challenge in No. 1 Duke at the Champions Classic on Tuesday in New York City.
— See what people were saying about KU's matchup against Indiana during KUsports.com's live coverage.
---
More news and notes from the loss against Indiana
---