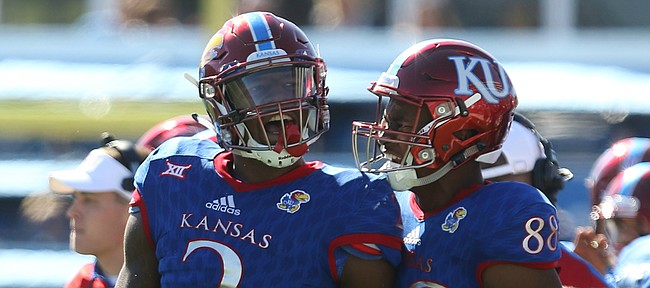 Dorance Armstrong Jr.'s pursuit of opposing quarterbacks makes Big 12 foes respect and fear his ability as an edge rusher. Now the Kansas defensive end's stellar sophomore season has gained him some national recognition.
Armstrong, a 6-foot-4 sophomore from Houston, had his name added to the Ted Hendricks Award watch list this week.
With 8.0 sacks on the season entering Saturday's home game against Iowa State (11 a.m. kickoff, FOX Sports Net), Armstrong ranks second in the Big 12, behind Kansas State senior Jordan Willis (9.0). But Armstrong, with 14.0 tackles for loss, has the first-place edge over Willis (13.5) in that category. Through nine games, Armstrong also has 35 total tackles, five quarterback hurries, two forced fumbles and a fumble recovery.
Earlier this week, head coach David Beaty couldn't say enough about the impact Armstrong has had at KU.
"When you're developing your program or trying to turn a program around, you need to hit on a couple (recruits) every year, a couple really good ones. You need to — it's kind of unrealistic to say that you're going to hit on more than a couple in every class that are just really talented," Beaty said. "But you need to hit on a couple. And Dorance is one that we hit on."
Armstrong had recorded at least one sack in six consecutive games prior to this past week's road loss at West Virginia — he still came away with two tackles for loss, seven total tackles and a forced fumble.
Now listed at 246 pounds, Armstrong's speed as an edge rusher hasn't waned as he's packed on muscle the past couple of years, helping him become one of the most productive defensive linemen in the conference. Still, he said earlier this week he's not satisfied.
"My game could definitely get way better than what it is," Armstrong said. "I think I'm playing pretty good as of right now, but over time I definitely want to be able to do more than I'm doing right now."
The Ted Hendricks Award, for NCAA defensive ends, is named in honor of college football's first three-time first-team All-American. Hendricks played for the University of Miami and for three different franchises during his 15-year NFL career. On-field performance, exceptional winning attitude, leadership abilities, contributions to school and community and academic preparedness are some of the criteria used to determine the winner.
Members of the national media, head coaches, professional scouts and former Hendricks winners are included in the voting committee.
The watch list now includes 24 players and will remain open to changes through the next two weeks. At that time, a final watch list will be announced. The Ted Hendricks Award winner will be revealed on Dec. 7, after the conclusion of the regular season.