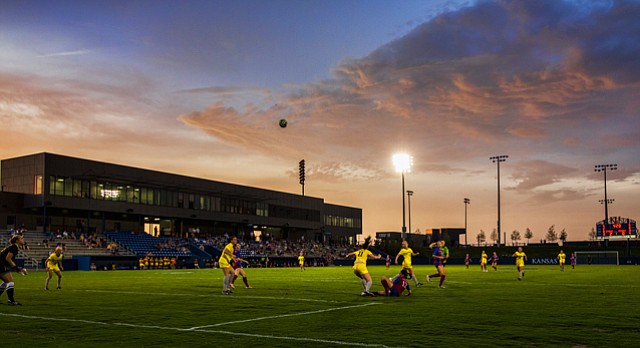 More than just soccer fans will make their way to Rock Chalk Park for a 1 p.m. Sunday match on the pitch. Those who are so loyal to their school and harbor so much animosity for their most loathed rival, you know, people who have no striped patters or blue and gold articles of clothing hanging in their closets will be motivated to show up to root for the Kansas soccer team.
For the second time in three years, the Jayhawks will play host to Missouri, now an SEC school, in a first-round NCAA tournament match.
Kansas (10-5-4) is making its seventh NCAA tournament appearance, as is Missouri (11-6-2), which has appeared 26 times in the NCAA men's basketball tournament but remains in search of its first Final Four appearance in that sport.
Back to soccer. Tickets are available online and at the Rock Chalk Park box office.
"Obviously we're thrilled to get this great opportunity," Kansas head coach Mark Francis said. "To be able to host an NCAA Tournament game at a venue like Rock Chalk Park is huge for us and we couldn't be more excited and ready to go. I know there's still a little sting left over from when they (Missouri) got us in the first round two years ago, so I think our girls will definitely go into this one with something a little extra. It should be a great game."
Kansas joined West Virginia, Oklahoma, Oklahoma State, West Virginia, Texas Tech and TCU as representatives from the Big 12 when the field of 64 was announced Monday via an NCAA.com selection show.
The Jayhawks had won back-to-back matches against Baylor and Iowa State before falling to TCU in the first round of the Big 12 tournament Wednesday at Swope Park Soccer Village in Kansas City, Mo.
Kansas lost to Missouri, 3-1, in the first round of the 2014 NCAA tournament — which was the first postseason match ever played in Rock Chalk Park.
The winner of the Border War match will move on to face either North Carolina or Liberty. The Tar Heels are the No. 2-seeded team in the Jayhawks' region.
The 2016 College Cup will take place Dec. 2 and 4 in San Jose, Calif.