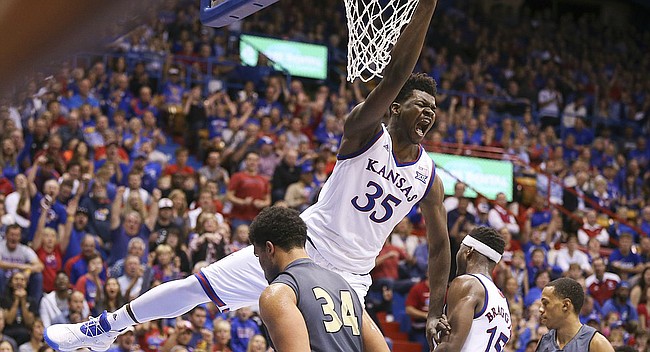 If Washburn played the role for Kansas of a sparring partner with a strong chin, Emporia State stood in for a heavy bag, repeatedly slammed without the means to fight back.
Just as ranking a prize fighter after seeing him beat up on a stationary object makes no sense, judging heavyweight college basketball programs based on how they perform vs. Emporia State reveals little.
But that doesn't mean it's not an enjoyable exhibition to watch, particularly when the basketball has been lobbed in the air and KU freshman center Udoka Azubuike, a 17-year-old, 7-footer with extra-long arms, sure hands and an ability to track the ball well, is in the vicinity.
Kansas dunked the ball a dozen times during Sunday night's 102-64 rout of Emporia State, and half of those were flushed by Azubuike, including four in the second half.
His favorite?
"Pretty much the dunk where I just caught it out of nowhere and I just got the crowd hyped up," Azubuike said. "That was nice."
Photo Gallery
Kansas basketball v. Emporia State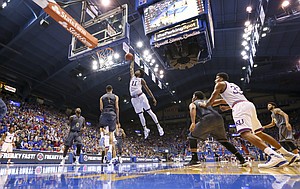 View a photo gallery from Sunday nights exhibition between the Jayhawks and Hornets at Allen Fieldhouse.
Yes, it was. So is Azubuike.
He has years to go before earning mention in the same breath as fellow Nigerians, Houston Rockets Hall of Famer Hakeem Olajuwon and former Chiefs running back Christian Okoye, but he shares their humble, likable natures. And Azubuike has the potential to become quite famous himself.
"He's someone that not very many people can match as far as a big body and athleticism," Kansas coach Bill Self said. "If he could continue to get better, hopefully by conference season, or midway through conference season, he could be really a good player because right now he's so green and raw."
Such rare raw material in so many ways.
And his humble nature will enable him to improve steadily because he won't veer off the path by fantasizing about taking his game to the perimeter. To do so would be to stray from where he has the biggest advantage.
Podcast episode
After a 104-62 exhibition victory over Emporia State in the final tune-up before the regular season, Kansas basketball coach Bill Self discusses his team's rebounding edge, four-guard lineups and strong play from freshman Udoka Azubuike.
Teammate Carlton Bragg shared that Azubuike recently, "reached up and touched the rim when his feet were still on the ground," and added that he never played with someone who so enjoys dunking.
"You throw it anywhere and he'll go and get it," Bragg said. "He can jump really high, and the other day he was touching the rim and his feet were still on the ground."
Self praised Azubuike's effort Sunday, but also put it in context.
"Udoka is really one of the better lob catchers around. He's good at that," Self said. "I think he can be a really good player, but we shouldn't be giddy about catching lobs because in reality when you get into league play or the next week that we play (vs. Indiana and Duke), those plays aren't going to be available to you as much. You're going to have to earn your points, but he's getting better at that, too."
Ideally, a few stepping stones between Emporia State and Indiana would be nice, but when you can touch the rim without getting off your feet, nobody is going to feel sorry for you getting tossed into the ring against heavyweights so soon. It will be interesting to see how he handles the early challenges.
— See what people were saying about KU's matchup against Emporia State during KUsports.com's live coverage.
---
More news and notes from the exhibition win over Emporia State
---