The list of Jayhawks who showed improvement from last week's exhibition opener to Sunday's 104-62 victory over Emporia State at Allen Fieldhouse was long. And the areas in which Bill Self's players improved were many.
But few Jayhawks made the Carl-Lewis leap from "eh" to "oh" like junior guard Sviatoslav Mykhailiuk. And the biggest reason for it was because Mykhailiuk did a little bit of everything instead of relying mostly on his jump shot.
"I've been here two years and I know what coach wants from us and how we need to play," said Mykhailiuk following No. 3 KU's final tune-up for Friday's regular season opener against Indiana in Honolulu. "I was trying to be aggressive, trying to rebound the ball, trying to play defense. I'm just trying to do a little bit of everything, whatever to help the team win."
Photo Gallery
Kansas basketball v. Emporia State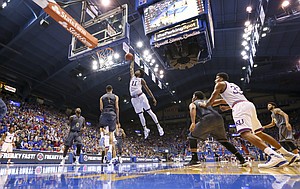 View a photo gallery from Sunday nights exhibition between the Jayhawks and Hornets at Allen Fieldhouse.
Although he has progressed slowly throughout his Kansas career, the arrived-in-Lawrence-at-age-16-and-still-is-just-19 Mykhailiuk too often has allowed himself to fall into the role of jump shooter and little else. Not in this one.
Sure, the junior continued to knock down shots — 4-of-5 in the first half and 5-of-9 for the game, including 2-of-4 from three-point range — but he also made it a point to impact Sunday's game against overmatched ESU in other ways, as well. By halftime he had 12 points, three rebounds, three assists and one block — in just nine minutes — and his final stat line looked just as pretty yet still did not fully illustrate just how much Mykhailiuk contributed: 16 points, four rebounds, three assists, two blocks in 21 minutes.
"Frank (Mason has) probably been our best," said Self assessing his team's individual performances during the two exhibitions. "But Svi's been right there being one of our better players. I thought he played well and he showed some athletic ability tonight."
A single possession midway through Sunday's second half best demonstrated the role Mykhailiuk played so well against the Hornets. He was equal parts unselfish, aggressive and under control and mixed in all of the intangibles Self loves to see.
After catching the ball at the top of the key on a ball reversal, Mykhailiuk faked a shot and fired a pass to the post. Floating instead of standing and watching, Mykhailiuk drifted in front of the KU bench, where he received a kick-out pass for an even better look. This one he took. It missed, but Mykhailiuk kept playing. After chasing the offensive rebound, he raced back in transition defense, stalked his man to the basket and blocked a shot from behind. All of this with Kansas leading 73-43 with just under 11 minutes to play in the blowout victory.
"That's what coach has been trying to get him to do, just to be more aggressive, not only shooting the ball, but being in the paint and making plays for himself and others," junior Devonte' Graham said after the victory. "I like how he played tonight, he's just gotta keep it up."
Podcast episode
After a 104-62 exhibition victory over Emporia State in the final tune-up before the regular season, Kansas basketball coach Bill Self discusses his team's rebounding edge, four-guard lineups and strong play from freshman Udoka Azubuike.
That last thought perfectly summed up the general takeaway from the team's final test before KU opens the season for real with back-to-back games against No. 11 Indiana and No. 1 Duke in a five-day span.
Displeased with the effort in the exhibition opener against Washburn last Tuesday night, Self was much more accepting of the team that took the floor on Sunday night.
What that means for Friday and how different this group will be when it faces the Hoosiers in Honolulu remains to be seen. But, if nothing else, Self was appreciative of the fact that his players responded to most of the challenges thrown at them during the past five days, from rebounding, effort, energy and defense to offense and avoiding foul trouble.
"I saw more today that would encourage me that we were better than we were last game," Self said. "If we were gonna play a crap game and a pretty decent one, I'm glad it went in the order that it did so you're leaving out of here on a better note."
The Jayhawks are scheduled to leave for Hawaii on Tuesday and will take Wednesday to tour some areas in and around Pearl Harbor before playing Indiana at 8 p.m. Friday at Stan Sheriff Center on campus of the University of Hawaii.
— See what people were saying about KU's matchup against Emporia State during KUsports.com's live coverage.
---
More news and notes from the exhibition win over Emporia State
---