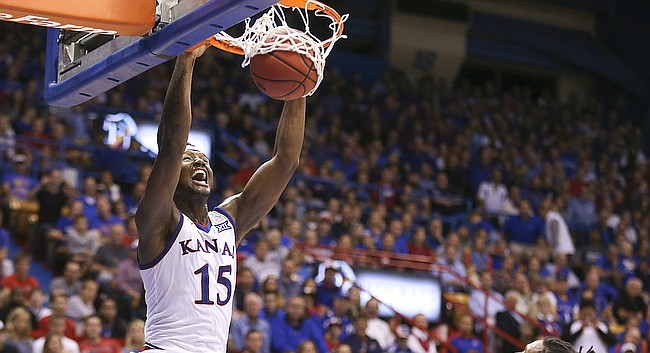 Five days before their season-opener against No. 11 Indiana, the Kansas basketball team played with the urgency of a group eagerly anticipating its nationally-televised debut in Honolulu, Hawaii.
Unfortunately for exhibition sparring partner Emporia State, that meant KU bought a regular-season level of intensity to Allen Fieldhouse Sunday night in a 104-62 rout.
No one looked more prepared for wins and losses and statistics to count than Jayhawks senior guard Frank Mason III. Instinctively intense, Mason again set the tone for KU on both ends of the floor, and though he didn't quite replicate his near triple-double from the first exhibition, he produced 17 points, three rebounds and five assists in the blowout.
Five other Jayhawks joined Mason with double-digit scoring nights. Junior reserve wing Svi Mykhailiuk again came through with easy offense off the bench, adding 16 points and three assists to the cause, while shooting 2-for-4 from three-point range.
Photo Gallery
Kansas basketball v. Emporia State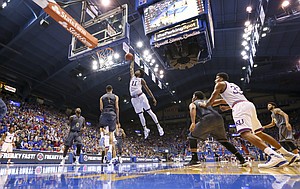 View a photo gallery from Sunday nights exhibition between the Jayhawks and Hornets at Allen Fieldhouse.
Freshman big man Udoka Azubuike made regular appearances at the rim on offense, dunking his way to 13 points in a reserve role, while chipping in seven boards, as well.
Freshman guard Josh Jackson (four first-half points) showed more life in the final 20 minutes offensively, highlighted by a driving one-handed jam and a three-pointer as KU's lead kept expanding. Jackson finished with 11 points, five assists and seven rebounds.
Junior guard Devonté Graham put up double figures, too, scoring all 10 in the first half, when he nailed two of three from beyond the arc.
Here's a quick look back at some of the action:
• The game turned when: The No. 3-ranked Jayhawks angered themselves earlier in the week.
Rarely does an in-state Division II program come to Lawrence for an exhibition with a chance to put a scare into the Jayhawks. And, really, Emporia State's odds of doing so dissipated when Washburn scrapped against Kansas five days earlier. Every player in a white adidas KU uniform — and head coach Bill Self — left that tune-up disappointed with the subpar effort.
Kansas took about six minutes to get firing in the first half, and once Mason and company started rolling, ESU couldn't match the Jayhawks bucket for bucket.
An 11-all tie became a 21-point Kansas lead over a 10-minute span in the first half that ended with Mykhailiuk scoring the final eight points of a 13-0 spurt.
• Offensive highlight: You knew this exhibition wouldn't come and go without some lobs for ferocious dunks. And Azubuike proved a willing target for his teammates.
Late in the first half, Graham spotted an opening in the open floor, and quickly positioned his dribble to ward off his defender as he pushed it up the court. In the meantime, Graham noticed his monstrous freshman center, Azubuike, running in front of him. Effortlessly, Graham floated a pass upward in the direction of the backboard, where the 7-footer's hands engulfed the ball before violently throwing it down for an alley-oop that gave Kansas a 29-point advantage late in the first half.
The 280-pound big man contributed plenty of nasty slams, but none were more violent.
• Defensive highlight: The stop wasn't the most jaw-dropping you'll come across at the fieldhouse this season, but there's just something about defense leading to easy offense.
Azubuike (three blocks) swatted Stephaun Limuel in the paint with the game tied at 11. A pass out to Mykhailiuk got the fast break rolling, and the junior wing from Ukraine whipped a behind-the-back pass to Mason for a transition layup.
• Key stat: Anything that happened inside. Self didn't enjoy the lack of toughness from his Jayhawks against Washburn and KU made up for it versus Emporia State. Kansas controlled the glass, 49-31, in this one after losing the rebounding battle to the Ichabods. Just as important, Kansas dominated the interior on offense, outscoring ESU 56-16 in the paint.
• Up next: The Jayhawks travel to Hawaii this week to take on Indiana in the Armed Forces Classic (approximately 8 p.m. Friday, ESPN).