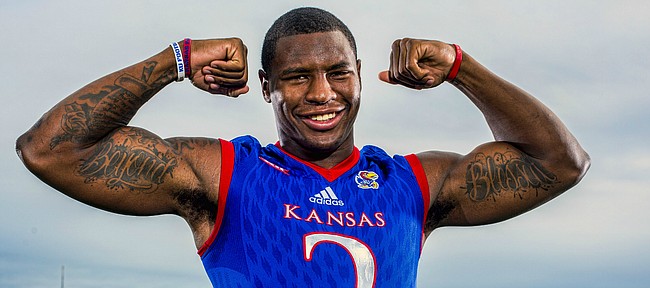 Dorance Armstrong Jr. hasn't thought about the particular preseason rep in months. Still, the sophomore defensive end remembers it well.
On the first day of August camp, just after the Kansas football coaches pitted offensive and defensive linemen against each other to simulate pass-rush situations, the cleat on Armstrong's right foot stuck in the practice-field grass as the rest of his body moved on without it. His competition on the drill, senior KU offensive lineman D'Andre Banks, unaware of Armstrong's dilemma, kept trying to push the 6-foot-4 rusher in front of him.
Armstrong felt a "tweak" in his right knee, and fell to the ground.
"The moment I did it, I didn't know what to think," KU's star defensive end recalled. "I was scared."
So were his teammates and the Kansas staff. Head coach David Beaty feared the worst, thinking Armstrong tore his anterior cruciate ligament and would miss the 2016 season. KU's medical staff ordered an MRI for that night and the promising lineman received the results the next day: he only suffered a minor ACL tear.
"It wasn't a bad, serious tear or sprain or anything," Armstrong said.
Recovering in time to make noise
Upon hearing that good news, his dread dissipated. Armstrong began attacking rehab like a backpedaling offensive lineman, as he chased his goal — returning to the lineup in time for KU's season opener.
The Jayhawks' head athletic trainer, Murphy Grant, instructed Armstrong to stay off his ailing knee for a few days until he could move it more fluidly. Then Armstrong began hitting the weight room with strength and conditioning coach Je'Ney Jackson, building up the strength in his right knee, upper body and core, while teammates carried on without him at preseason sessions.
Within a couple of weeks, Armstrong returned to practice. Though excited to be back prepping for the season, his recovering knee forced him to doubt his abilities, while trying to ease into his old routine.
"I didn't know how to actually play on it. I was kind of hesitant," Armstrong said. "The first few games, I didn't make any noise when I played. I was just out there playing."
To his point, Armstrong, who entered the season with a personal goal of at least six sacks in his sophomore season, didn't get one in either of the first two weeks. He made two solo tackles against Rhode Island in a victory and one the next week against Ohio, in defeat.
Beaty and the coaches could see the disappointment on the face of one of the program's best players during those couple of weeks. The head coach said they encouraged Armstrong, reminding him about the weeks' worth of practices he'd missed in August.
"Just get your wind back and continue doing what you're doing," Beaty shared of their message, "and the production will come for you."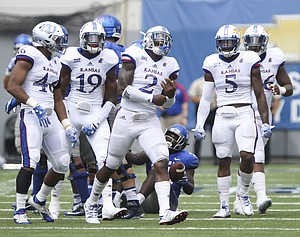 Back to sacks
Armstrong said he finally felt like himself again in Week 3, at Memphis, when he recorded two sacks, setting off a streak of games with at least one for the rusher that has yet to come to an end. As KU (1-7 overall, 0-5 Big 12) heads into Saturday's road matchup at No. 14 West Virginia (6-1, 3-1), Armstrong is tied with Kansas State senior end Jordan Willis for the conference lead in quarterback takedowns (eight).
Should he continue his sack-per-week pace through the conclusion of the schedule, Armstrong would finish with 12 — enough to make him the No. 2 single-season sack leader in program history.
The 243-pound end from Houston knows KU's all-time leader in his favorite category. Armstrong sees the name Ron Warner, the year 1997 and the sack total of 14.5 on display every day inside the defensive line's meeting room at Anderson Family Football Complex.
"I definitely want to beat it," Armstrong shared. "If I don't beat it this year, I'll beat it before I leave. That's my goal."
Armstrong 'always finds a way'
Who knows where the Kansas defense would be without its powerful, determined sack expert. Sophomore defensive tackle Daniel Wise, another nuisance for opposing offenses, said Armstrong's presence alone as an edge rusher does wonders for the defense.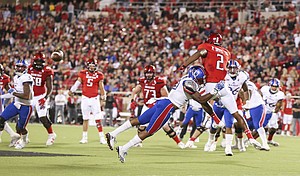 "They want to bring that running back out and chip somebody, or chip him, which is actually a compliment for us," Wise said of opponents' strategic approach to dealing with KU's explosive end. "…Or if somebody's trying to double-team you the whole game that means you're doing your job. Teams watch film and come out and try to stop you or block you, but (Armstrong) always finds a way to get to the quarterback, game in and game out."
Quarterbacks look over their shoulder, Wise added, when Armstrong is on the field. Defensive coordinator Clint Bowen said when Armstrong or Jayhawks such as Wise (one sack) and Cameron Rosser (four) consistently apply enough pressure to ensure the ball comes out of the QB's hand on time, it provides the secondary with a relatively easier time covering the Big 12's numerous talented receivers.
Beaty calls his havoc-creating lineman's recovery from his partial ACL tear "miraculous," and credits Armstrong's offseason weight-training for making him strong enough to endure what could have been a disastrous injury for the rebuilding program. The defensive end now considers the injury scare "a blessing," because he returned to the field even stronger than when the presumed setback occurred.
"I definitely think it's healed," Armstrong said. "I have no pains in neither one of my knees at all. I just feel normal playing now."