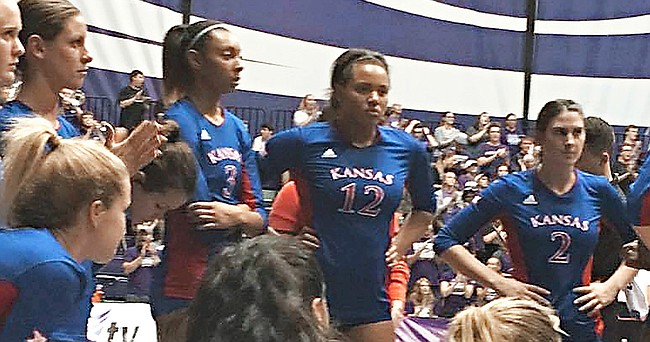 Manhattan — Win out and grab at least a share of the school's first Big 12 volleyball title. That has become the battle cry of a Kansas team that made its first Final Four last fall and is looking to make more history.
The battle cry still applies, but the Jayhawks had to sweat out a five-set victory Wednesday night in old Ahearn Field House, a mixture of modern seating, musty charm and hot, stuffy air.
"That was good old-fashion, hey, let's turn up the heat, get a bunch of people in here, sweat it out and play for a couple of hours," Kansas coach Ray Bechard said.
Kansas defeated Kansas State for the ninth time in the past 10 meetings, 25-18, 26-28, 25-22, 21-25, 15-11.
KU (21-2, 10-1, tied for first with Texas in the Big 12) came out in the fifth set on fire, taking a 9-2 lead, but in keeping with the theme of the night in that neither team died easily in any of the sets, Kansas State stormed back into contention.
The Wildcats (17-6, 6-4) stormed back to within 13-10 and ultimately lost on a service error.
In the eyes of some, making too much of the chance at a conference title might put too much pressure on a team, but nobody on the Jayhawks looks at it that way.
"They're pumped about it," Bechard said. "That's what they want to hear. We're going to own that. We're not going to shy away from that. We're not going to back away from that. We're going to own it and they're mature enough to do that."
Cassie Wait had 33 digs, including three in one fourth-set rally, two of the super-athletic variety. She explained why the players like keeping the conference-title talk going.
"It's a lot like playing the game of volleyball," Wait said. "You can't play not to lose. We have to talk about it. We have to be the aggressors day in and day out, and if we can look at each match like that, look at each point like that, it's going to carry over."
It has.
K-State had a raucous crowd, students expertly timing their noise-making antics, such as slamming seats, with KU's hits, but the Jayhawks, winners of nine consecutive matches, kept plugging away.
Kansas fell behind 10-4 in the second set and battled back to take the match into extra points. K-State was declared the winner when it won a challenge on a shot that originally was ruled out.
Kansas bounced back to win the third set, and in the fourth set battled from behind to tie the score, 20-20. K-State took command from there, scoring five of the final six points.
Kelsie Payne, reigning AVCA national player of the week, maintained her level of play and contributed 23 kills. Madison Rigdon (14 kills), Jada Burse (13 kills) and Tayler Soucie (11 kills, seven blocks) also had big nights.
"Kelsie got a lot of kills at the right time and I was really proud of Jada Burse, 13 kills, 37 swings, that's high volume for her," Bechard said.
Wait summed up the night well in saying, "Some really long rallies, just a battle of wits."
Kansas has five matches remaining on the Big 12 schedule, five more chances to keep the battle cry alive, the next coming on a road trip to Norman for an 8 p.m. first serve Saturday.