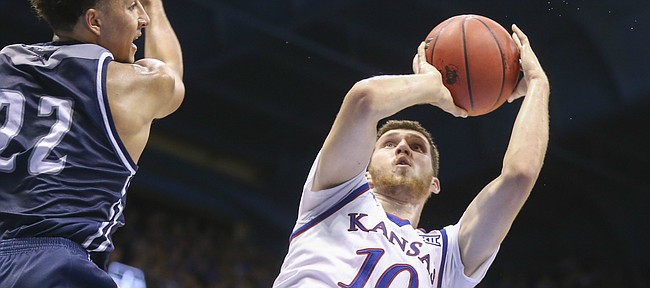 Consider Kansas shooting marksman Svi Mykhailiuk a fan of coach Bill Self's four-guard lineup experiments. The backup junior wing from Ukraine thrived as a scorer in the Jayhawks' exhibition debut Tuesday night at Allen Fieldhouse, scoring 16 points on 5-for-7 shooting.
Even though Mykhailiuk's first three-point try missed badly, he said he went on to make four of his final five long-range attempts due to the spacing created by sharing the court with KU's various talented guards.
"When we're playing four guards," Mykhailiuk said after the 92-74 win, "everybody had to drive the ball and just kick it. That's what opened up all the easy shots and easy drives."
Entering his third season at Kansas, Mykhailiuk drained three from deep in the final five minutes of the first half, helping the Jayhawks take a 50-34 advantage into intermission.
Photo Gallery
Kansas basketball v. Washburn (exhibition)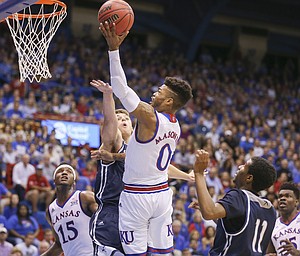 View a gallery of images from the Jayhawks' exhibition against Washburn on Tuesday, Nov. 1 at Allen Fieldhouse.
"We were pretty bad today," the reserve wing said, referring to not just a slow start to the first half, but the overall effort in the 18-point preseason win. "I just came in and just did my job."
Self, though, didn't think the 6-foot-8 scorer fulfilled all of his on-court responsibilities. While discussing which Jayhawks played well in the first half, when Mykhailiuk put up nine of his points, the coach only uttered the name "Svi" to say the Ukrainian "made shots."
Podcast episode
After a 92-74 victory in the team's first exhibition game against Washburn, Kansas men's basketball coach Bill Self discusses his disappointment with turnovers and rebounds.
Self wanted to see much more from one of his key backcourt players.
"You can't have guards that make five turnovers a game," Self said, referring to Mykhailiuk's four turnovers in 24 minutes.
Podcast episode
Kansas freshman Josh Jackson, senior Frank Mason III and junior Svi Mykhailiuk talk about their basketball team's 92-74 exhibition victory over Washburn. Jackson said he was nervous in the first half for his first unofficial game and Mason was disappointed by his team's play.
Between starting freshman swingman Josh Jackson and Mykhailiuk, KU only got one assist and nine turnovers out of its third guard spot.
"You can't have that," Self said. "I would rather guys not turn it over and miss shots, 'cause at least you still get a chance to score. But when you turn it over you don't have any chance to score. Just being so careless, that's the thing I think our guys need to improve on as much as anything else. And we will. We'll get better at that."
Indeed, Kansas turned the ball over 24 times as a team, with Mykhailiuk and Jackson the worst offenders. NCAA Division II Washburn scored 23 points off of the Jayhawks' mistakes.
Both Mykhailiuk and sophomore Lagerald Vick are expected to carry the load as backups on the perimeter this season. And while Mykhailiuk admitted the Jayhawks have much to work on, including rebounding — WU won the battle, 45-44, prompting Mykhailiuk to call the effort "awful" — he also sees the offensive benefits of playing with Vick, starting guards Devonté Graham and Frank Mason III and Jackson.
Mykhailiuk said when those four-guard combinations take the floor, they're all capable of driving and shooting.
"When you're playing like that, it's gonna be a lot of fun," Mykhailiuk added, "because people have got to help, and that's opening up three-point shots."
KU shot 10-for-22 from deep in the exhibition win. Self, though, left more concerned with the botched offensive possessions.
— See what people were saying about KU's matchup against Washburn during KUsports.com's live coverage.
---
More news and notes from the exhibition victory against Washburn
---