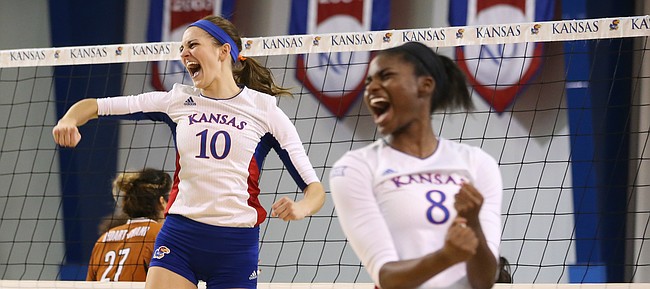 Another day, another honor for Kansas junior volleyball All-American Kelsie Payne.
One day after Payne was named Big 12 Offensive Player of the Year for the sixth time in her career, the American Volleyball Coaches Association selected her as National Player of the Week.
Payne had 21 kills Saturday in KU's five-set victory that broke a 25-match losing streak against Texas.
"When it comes to individual awards, it's not like we downplay it, we're very proud of it, but we focus on the team," Kansas coach Ray Bechard said. "I'll probably give her a fist-bump at practice, but she'll know that the biggest factor in why she won it was we beat a really good team."
The AVCA is the same organization that releases a weekly top 25, which shows Kansas at No. 4, one spot ahead of Texas.