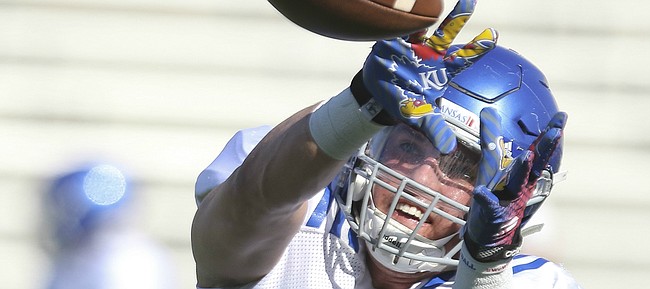 The longer Joe Dineen remained out of the Kansas football lineup the more inevitable the news seemed. Tuesday at David Beaty's weekly press conference, the Jayhawks' head coach made it official: Dineen, a junior linebacker who hasn't played for KU since a Week 3 loss at Memphis, will miss the remainder of the season.
Dineen, a 6-foot-2 starting linebacker and team captain from Lawrence, provided 16 total tackles, three tackles for loss, a pass breakup and a quarterback hurry for the Jayhawks before injuring his right hamstring in the first quarter against Memphis.
"It's not responding like we thought it would," Beaty said of Dineen's hamstring and the decision to shut him down with four games left on the schedule. "We don't feel like we have enough time to get him well enough to be able to get back in there and help us. And that really hurts us, because we really miss his leadership and we miss him. But the best thing for Joe right now is for us to shut him down and let it completely heal, because every time we try to push it, (the hamstring) starts to pull again."
The silver lining in this development, of course, is Kansas can apply for a medical redshirt for Dineen and get two more seasons out of him before he leaves the program.
Podcast episode
After a blowout loss against Oklahoma, David Beaty met with the media to discuss injury updates (Joe Dineen is out for the year), Montell Cozart's improvements at quarterback and a look ahead to West Virginia.
While defensive coordinator Clint Bowen credited senior linebacker Courtney Arnick (37 total tackles this year) for filling in well in Dineen's absence, the assistant coach said Dineen had the ability to make "special" plays — do things on the field that are out of the norm. So playing the previous five-plus games without the captain hurt the defense.
"But to flip the script, now you're gonna get a veteran linebacker back for two more years," Bowen said, "and allow Joe to develop and continue to progress as a player as well. It's not what we wanted, but we'll make the best of it."
Dineen seemed on the path to a quick recovery days after his injury, but his hamstring has failed to completely heal since. Still, Beaty said, at no point did Dineen, a former prep star at Free State High, approach this as a lost season.
"No, Joe, he was working feverishly to get back," Beaty said. "He wants to play. He cannot stand his life right now in football. And he is such a good kid, we call him 'The Mayor,' and we mess with him all the time. But, man, he loves this game, and it is killing him not to get on that field."
The head coach shared it's even a battle to keep Dineen from joining KU (1-7 overall, 0-5 Big 12) on its road trips. NCAA rules dictate a team can only take 70 players, and obviously Beaty and company need as many in uniform as possible.
"I mean, he had to come to grips with where we were when we went through the last set of tests," Beaty said.
As the competitive linebacker continued to miss games, he approached redshirt junior quarterback and fellow team captain Montell Cozart to pick his brain. In 2015, a shoulder injury cost Cozart the final eight games of the year. This past offseason, the QB was granted a hardship waiver and gained an extra year of eligibility.
Cozart told Dineen he used those weeks on the sideline not only to get stronger in the weight room, but also to watch games from more of a coach's perspective.
"Just seeing different things that the team needs," Cozart told Dineen of his approach during his injury, "and just different things that he may need to work on that'll help him as a player when he gets back out there."
As a sophomore a year ago, Dineen finished second on the team in total tackles with 86, and added 6.5 tackles for loss and 3.0 sacks. Barring an unforeseen snag, he will return to the field as a redshirt junior in 2017.
Said Beaty: "We're sad that we don't have him, because, man, he's a good player and we really need him, but from our standpoint, it is a positive looking forward to the future."
KU plays Saturday at No. 14 West Virginia (6-1, 3-1). The game in Morgantown, W.Va., kicks off at 6 p.m. and will air on ESPN2.