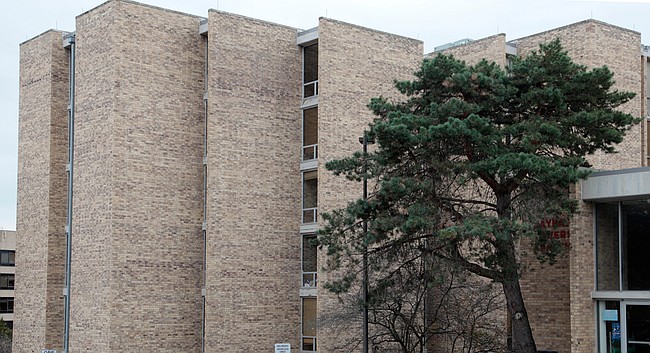 In its first legal response to a lawsuit by a former student who said a football player raped her in Jayhawker Towers, Kansas University said the incident was not the university's fault and the suit should be dismissed.
"That incident is tragic, but it is not one for which Title IX makes the university liable," KU wrote in its response.
The university is liable only when it is aware of ongoing peer-on-peer sexual harassment and remains "deliberately indifferent" to it, KU attorney Mike Leitch wrote in the university's motion to dismiss the suit, filed Friday in federal court. In Daisy Tackett's case, according to the document, there were no previous allegations of sexual assault by the same assailant at the time Tackett reported the alleged rape to KU, and KU also had an obligation to treat the accused man fairly.
"KU investigated the matter, provided Plaintiff an escort on campus, and expelled the assailant," KU wrote. "Those actions demonstrate KU's commitment to addressing cases of sexual violence — both in her case and others — while respecting the due process rights of students accused of such assaults."
Tackett's suit was first filed March 21 in Douglas County District Court and moved in May to U.S. District Court in Kansas City, Kan.
Tackett alleged that the football player raped her in Jayhawker Towers in fall 2014, while she was a freshman and a member of the KU rowing team. She reported the rape to KU approximately a year later, after another rowing team member told Tackett she too had been sexually assaulted by the same man. Tackett did not report the rape to law enforcement.
Tackett's suit accuses KU of failing to properly and swiftly investigate her report, as well as failing to protect her from retaliation by the man — specifically by not suspending him from campus upon her report — and her rowing coaches. She withdrew from KU early in the spring 2016 semester and now lives in Florida, where her parents are.
"I did not feel safe after my report," Tackett said in a public statement when the suit was filed. "KU did not protect me, and I was not able to be a student or an athlete there."
Title IX is the federal law that prohibits sex-based discrimination in education. It requires universities to investigate and take measures to prevent sexual harassment, including sexual violence, on their campuses.
KU's Office of Institutional Opportunity and Access investigation concluded the assailant had committed the sexual assault and as a result he was expelled, according to KU's court filing. KU IOA conclusions, unlike criminal proceedings, are based on a preponderance of the evidence — that is, the standard is "more likely than not" rather than "beyond a reasonable doubt."
KU argued in its motion that Tackett's allegations of being stared down twice on campus and being called a derogatory name by her attacker while the investigation was underway are not severe enough to deprive her of access to her education, as required under Title IX. The university said the length of the investigation — four months — was needed to "balance its ongoing commitment to support sexual assault victims … with the due process rights afforded to all students."
KU's motion also disputes that comments allegedly made by the rowing coach, and actions involving her participation on the team, are grounds for a lawsuit under Title IX.
"Athletes are generally expected to be in shape, and in the sport of competitive rowing, weight matters … even if this Division I coach did call some of the student-athletes 'fat' (which he denies), it does not constitute discrimination 'on the basis of sex,'" the motion said.
Tackett's is one of three related lawsuits filed against KU this spring. The two other suits remain pending in Douglas County court.
A fellow rowing team member — named in the lawsuit only as Jane Doe 7 — sued KU April 18, alleging the same football player also raped her in Jayhawker Towers in August 2015 and that KU failed to properly investigate and protect her from intimidation by the man and retaliation by her rowing coach.
Tackett's parents sued KU March 11 under the Kansas Consumer Protection Act, accusing the university of misleading the public by representing campus housing as safe.
Have a tip or story idea?
---
More stories