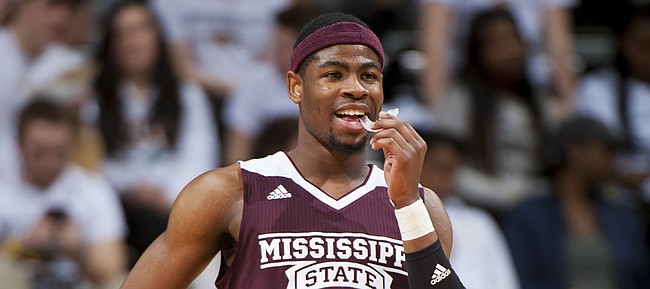 Malik Newman — Rivals.com's No. 8-ranked player in the recruiting Class of 2015 who ultimately chose his dad's alma mater, Mississippi State, over Kansas University and Kentucky — on Monday announced plans to transfer after one season at the SEC school.
The 6-foot-3 combo guard has not yet revealed a list of possible destinations, though the Clarion-Ledger newspaper reports, "Newman will take the summer to decide where he'll play next. He hasn't talked to any schools yet. The family hasn't placed a deadline on when a decision could be made."
Newman's dad, Horatio Webster, told the paper: "We haven't even gotten to that point. We're just at the point that he won't be going back to Mississippi State."
Newman declared for the NBA Draft after a freshman season in which he averaged 11.3 points a game off 39.1 percent shooting (37.9 percent from three, 68.7 from the line) for a 14-17 MSU team. He did not sign with an agent and withdrew from the draft last week after being told he was at best a late-first-round pick.
"He was just never in a happy place," Webster told the Clarion-Ledger. "People were proud he was going to Mississippi State. People knew Malik had the Magic Johnson smile and he was happy and basketball was his life. I think in a sense some of that was taken away. I'm not saying that Ben (Howland, coach) took it away. But I think some of it was taken away due to injuries, due to style of play, due to his immaturity. Everybody played a part in it."
Newman showed signs of greatness on various occasions, scoring 25 points off 7-of-10 three-point shooting against Mississippi. Newman played in Kansas City last season, scoring 18 points in a 71-67 loss at UMKC.
"I really hope his time at Mississippi State is going to help him moving forward in terms of the areas that's he's going to get better at to really help him reach his full potential as a player," Howland told The Clarion-Ledger. "Bottom line is Malik and his dad feel like it's better for him if they come back to school and attend elsewhere."
Newman is one of three former high school standouts looking for a new home. Derryck Thornton, a 6-2 point guard who left Duke after one season, has visited KU, Miami, Washington and USC. Marcus Lee, a 6-9 former Kentucky player, is to visit California today and likely to commit, CBSsports.com reports. All has been quiet regarding high school senior forward Jarrett Allen, who has yet to announce for KU, Texas or Houston.
NBA workouts: Former KU wing Brannen Greene, who turned pro after three seasons at KU, was one of six players to work out for the Philadelphia 76ers on Monday. The others: Texas' Isaiah Taylor, Boise State's James Webb, LSU's Tim Quarterman , Weber State's Joel Bolomboy and Texas A&M;'s Danuel House. Sixers' center Joel Embiid, a teammate of Greene's at KU, watched the workout. Comcast Sports Net reports the 6-7 Greene will work out for the Toronto Raptors today and later the New York Knicks, Chicago Bulls, Denver Nuggets and Atlanta Hawks.
Former KU forward Perry Ellis was one of 12 to work out for the Phoenix Suns on Monday. Others included Kentucky's Tyler Ulis and Alex Poythress, Vanderbilt's Damian Jones and Thon Maker, who did not attend college.
More like this story on KUsports.com