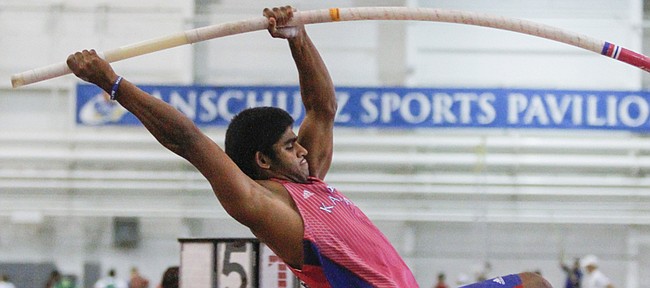 Kansas University sophomore Sharon Lokedi was planning on competing in the NCAA West Preliminaries 10,000-meter run at 9 p.m., on Thursday at Rock Chalk Park.
Mother Nature had different ideas, however, washing out the first day and night's action, forcing her to reschedule/regroup for 8 a.m., Friday.
That's correct. Instead of running a few hours before bedtime, her challenge was to place in the top 12 and qualify for NCAAs just a few hours after waking up.
"It was so tough mentally, but it was for everybody. I went home and got ready for the big race," Lokedi, a 5-foot-6 sensation from Eldoret, Kenya, said. "It was a good thing and a bad thing. It was good to race early in the morning. I wanted to get it done."
Lokedi, KU's school record holder in the 10,000 who placed first at the recent Big 12 championships, completed Friday morning's race in 34:31.38, good for a 10th-place finish and much-coveted spot in the NCAA championships, set for June 8-11 in Eugene, Ore.
Top 12 in the event advanced to nationals. Arkansas senior Dominique Scott won the qualifier in 34:20.35.
"I just wanted to qualify and get ready for the the big meet coming up. You run but at the same time you are careful," Lokedi said of strategy in a qualifier.
Lokedi is off to a stellar start in her KU career. She won the 5,000 meters at the 2016 Big 12 Indoor, and she had a 10th-place showing at the NCAA cross country championships as a freshman.
"I love running for the Jayhawks," she said. "I try to do whatever I can for my team, make sure I do something good for my team."
Here's a look at some Jayhawks who did not advance to Eugene.
Laura Taylor placed 14th in the pole vault (13-6 1/4), missing by two qualifying spots.
Daina Levy, who did not qualify in the hammer after scratching on her three throws, leads the weather-delayed discus two rounds into the second flight with a season-best toss of 173-11.
Evan Landes placed 23rd in the 10,000 (30:26.77). Oregon's Edward Cheserek was first in 29:45.41.
Whitney Adams placed 17th in the 800 (2:08.09), missing a qualifying spot by 1.2 seconds. Zainab Sanni placed 14th in the 100 (11:53), missing a qualifying spot by .01.
Ben Burchstead was 17th in the steeplechase (9:00.49) and Dylan Hodgson 22nd (9:06.5). Nick Maestretti (17-3 3/4) and Nick Meyer (16-10) were 13th and 16th in the pole vault respectively.
Track events run from 10 a.m. to 3 p.m. today at Rock Chalk Park.
NCAA West Preliminaries
Friday at Rock Chalk Park
Kansas Women
100 Meters — 14. Zainab Sanni, 11.53
400 Meters — 30. Adriana Newell, 55.35
800 Meters — 17. Whitney Adams, 2:08.09
10,000 Meters — 10. Sharon Lokedi, 34:38.31q (advances to NCAA Championship)
3,000-Meter Steeplechase — 24. Kelli McKenna, 10:33.43; 44. Courtney Coppinger, 11:08.60
Pole Vault — t14. Laura Taylor, 4.12m (13'6¼")
Javelin — 35. Shaylyn Stallbaumer, 44.27m (145'3")
Kansas Men
400 Meters — 26. Ivan Henry. 47.29; 46. Drew Matthews, 48.61
800 Meters — 30. Strymar Livingston, 1:51.11
10,000 Meters — 23. Evan Landes, 30:26.77
400m Hurdles — 26. Alex Wilson, 52.47
3,000m Steeplechase — 17. Ben Burchstead, 9:00.49; 22. Dylan Hodgson, 9:06.50
Pole Vault — T-13. Nick Maestretti, 5.28m (17'3¾"); T-16. Nick Meyer, 5.13m (16'10"); T-16. Paulo Benavides, 5.13m (16'10"); 29. Hussain Al Hizam, 5.13m (16'10")