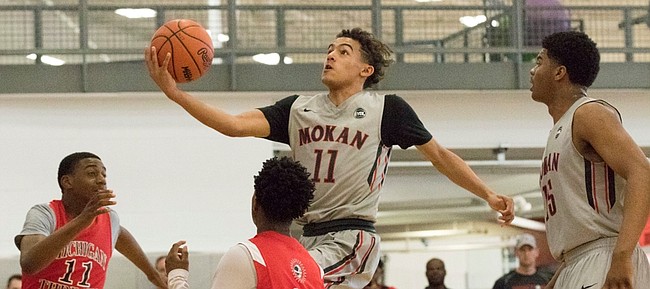 Before he announces his college choice, blue-chip basketball prospect Trae Young still has to announce where he'll be playing his senior year of high school.
Young, a 6-foot-1 point guard who led Norman (Okla.) North High to a Class 6A state runner-up finish as a junior, has said for more than a year now he might play his senior season at a place like Findlay Prep in Henderson, Nev., or Montverde Academy in Orlando, Fla.
"(I'll probably decide) by the end of the month," Kansas University recruiting target Young said Saturday at Lawrence Sports Pavilion after dishing 16 assists and scoring 17 points for MoKan Elite in a win over Michigan Threat.
Those close to the team believe he has already decided to remain at Norman North, where he averaged 33.4 points a game his junior season. He may be waiting to tell his hometown newspaper, which has had various updates on the situation.
Young, the son of former Texas Tech standout Rayford Young, set an Oklahoma Class 6A record by scoring 60 points against Yukon last Feb. 15. He had 51 points versus El Reno and 50 versus Stillwater. His team went 24-4.
Young — he is considering KU, Kentucky, Duke, Oklahoma, Oklahoma State, Texas and others — has been pursued by KU a long time. In fact, the Oklahoman newspaper said KU was the first team outside of the state to start recruiting Young heavily.
The Jayhawks reportedly have had somebody on the coaching staff at every one of MoKan's games this spring — at least the ones in which coaches have been allowed to attend in accordance with NCAA rules.
"I definitely see that," Young said Saturday of KU's coaches attending his games. "I definitely see every game and every live period coach (Bill) Self and the other coaches sitting right underneath the basket. I definitely notice that. I definitely see that."
Rivals.com's No. 13-rated player still would like to be a package deal with No. 2-ranked Michael Porter, 6-8 from Tolton Catholic in Columbia Mo. That would be fine with KU, which has been recruiting Porter for years.
However, Porter's dad, Michael Sr., recently took a job with University of Washington, making the Huskies heavy favorites to land Porter. In fact, Rivals.com's Eric Bossi predicts Porter ultimately will select Washington, and Young will choose Kentucky.
Of Young, Bossi wrote: "At times this spring, Young has tried to shoot his way through pressure and been prone to some silly decisions. In Hampton (two weeks ago at EYBL event in which he scored 105 points in 103 minutes played), he really started to move the ball and took smarter shots. Young still has to limit turnovers, but he was easily one of the session's premier players averaging 25.8 points, 6.3 rebounds and 8.8 assists per game."
Greene thanks fans: Former KU guard Brannen Greene, who was passenger in a car accident in New York on Friday night, took to Twitter on Sunday to tell everybody he's OK.
"Everything happens for a reason. I'm all good and healthy! Back to playing ball already. Thank you everyone for the love and support!" Greene wrote. "God is great. Love, bro," he added in a Tweet to former KU football player Ben Heeney, who noted to Greene, "Crazy story bro. I had a similar scare about two months ago. God is good!"
Greene had an individual workout with the Sacramento Kings last Thursday. He has also worked out with Golden State and reportedly had a workout with the Los Angeles Lakers earlier Friday.
Diallo a first-rounder, CBS says: CBSsports.com released its post-NBA Combine player rankings on Saturday. KU freshman Cheick Diallo checked in at No. 30 overall, meaning if those projections are correct, he'd be the final pick of Round One of the June 23 draft.
"Cheick Diallo had a superb combine and could go higher than No. 30," writes Sam Vecenie of the website. KU's Wayne Selden Jr. is listed as No. 51 and Perry Ellis No. 60 overall prospect. Brannen Greene is No. 129.
Riley to visit KU: Cody Riley, a 6-7 junior power forward from Sierra Canyon High in Chatsworth, Calif., who is ranked No. 26 in the Class of 2017 by Rivals.com, tells the website he will visit KU, USC, UCLA, Oklahoma and UConn.
Of KU and OU, he said: "I'm a big guy on relationships with coaches. I need to know that I have somebody I can trust. As far as talking to them (coaches of both schools), I feel I have that comfort with them. I've been talking to Kansas for a longer period of time — since I was a freshman. That would be the only reason I would have a better relationship with coach (Kurtis) Townsend over there."
Jamison fundraiser coming: The Hoops for Hope celebrity basketball game to benefit former KU forward Alonzo Jamison will be held at 5 p.m., June 4, at Avila University. Jamison, a diabetic, is in total kidney failure and in need of a transplant. His dialysis costs run up to $10,000 per week. Participants will include former KU players as well as former Chiefs, Royals and Kansas State athletes. Some Harlem Globetrotters will perform at halftime. Avila is located at 11901 Wornall Road, Kansas City, Mo., 64145.
Randall, Gueldner camp info: Former KU players Mark Randall and Jeff Gueldner will hold the second-annual Kansas Old School Basketball camp for boys and girls ages 6-14, July 18-21 at Mill Valley High. For information contact Gueldner at jgueldner@comcast.net.
Concussion session approaches: "Teamwork Makes the Dream Work: Athletes, Parents, Coaches and Doctors Discuss Concussion" will be held from 5:30 to 9:30 p.m., June 10 at KU Edwards BEST Conference Center, 123610 Quivira Road, Overland Park, 66213. Cost is $10. One can register at HeadsUpKC.org.
More like this story on KUsports.com