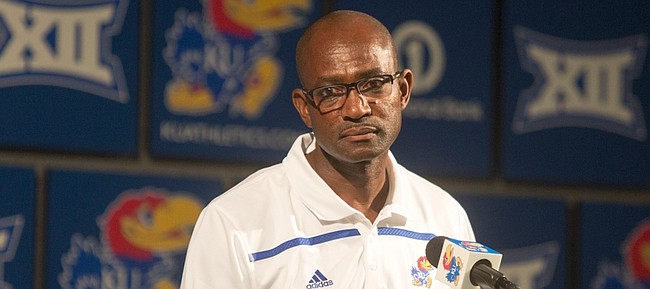 Kansas University track and field coach Stanley Redwine has been selected as the 2016 men's Big 12 Coach of the Year by the league's coaches, it was announced by the conference office Thursday. The honor marked the fourth Big 12 Coach of the Year honor for Redwine. On Sunday, the KU men's team claimed a runner-up finish at the outdoor conference championship, the program's highest finish at a league meet since 1983.
"I'm excited about this honor and very thankful for it," said Redwine, now in his 16th year at Kansas. "But this award is just an indication of how hard everyone, from the assistant coaches and athletes to the support staff, has worked. This is as much an honor for the entire team as it is for myself."
The KU men's team is ranked among the top-25 in the NCAA, checking in this week at 25th. The team features five athletes and a relay team that rank inside the nation's top-25 in their events. Last weekend at the Big 12 Championships, the men's squad tallied three individual league titles as well as six top-three finishes en route to a second-place team finish. The performance was the team's highest finish at a conference meet in 33 years.
On Thursday, Kansas saw 16 individuals as well as its 4x400-meter relay accepted to the NCAA West Preliminary, which will be hosted at Rock Chalk Park May 26-28.
In his first 15 seasons at the helm at KU, Redwine has had 16 of his Jayhawks claim individual NCAA titles, 164 All-Americans and five Olympians. Two of Redwine's KU teams have already been inducted to the Kansas Athletics Hall of Fame; the 2001 and 2002 men's teams after each finished eighth at the NCAA Outdoor Championships.
Redwine was selected to be Team USA's head coach for the 2007 Pan Am Games in Rio, was an assistant on Team USA's coaching staff for the 2009 IAAF World Championships in Berlin and recently was an assistant coach for American contingent at the 2015 Pan Am Games in Toronto.
Since 2011, Redwine's male and female athletes have earned a combined 52 indoor and outdoor individual conference titles and 82 first- or second-team All-America honors.