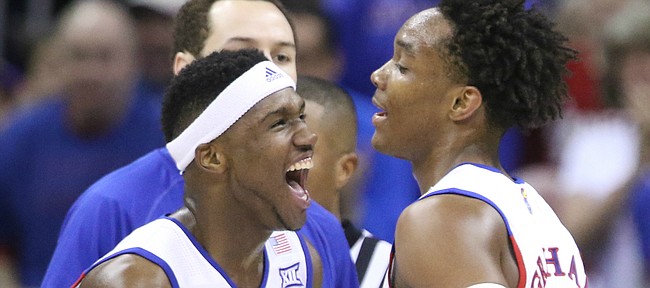 Three teams that participated in the 2016 NIT, including tourney champion George Washington University, will join Kansas University in the 2016 CBE Hall of Fame Classic, Nov. 21-22, in Sprint Center, the National Association of Basketball Coaches announced Tuesday.
Pairings and game times involving KU, GWU, Georgia and Alabama-Birmingham will be announced at a later date.
KU will be competing in the event for the third time since the inception of the event in 2001. The Jayhawks won the 2012 title with victories over Washington State and St. Louis. KU placed second in 2008, beating Washington and falling to Syracuse in overtime.
George Washington, which went 28-10 last season (11-7 in Atlantic 10), is led by senior forward Tyler Cavanaugh, who averaged 16.8 points a game. Coach Mike Lonergan's Colonials defeated San Diego State and Valparaiso to take the postseason NIT crown in New York.
Former KU guard Jerod Haase recently accepted the head-coaching job at Stanford, thus won't be coaching UAB in the CBE tourney. His assistant, Robert Ehsan, is first-year head coach of the Blazers, who went 26-7 a year ago (16-2 in C-USA). The Blazers are led by junior forwards Chris Cokley (13.1 ppg) and William Lee (10.6 ppg).
Georgia, which went 20-14 a year ago (10-8 in SEC), is led by senior guard J.J. Frazier (16.9 ppg) and junior forward Yante Maten (16.5 ppg). Coach is Mark Fox.
KU, of course, won both the Big 12 regular-season and postseason titles last season and reached the Elite Eight of the NCAAs. Freshman Josh Jackson joins a squad that includes returning starters Devonté Graham, Frank Mason III and Landen Lucas.
"The CBE Hall of Fame Classic has a solid field, and this event is a great way to showcase the College Basketball Hall of Fame ceremonies in Kansas City (Nov. 18 induction ceremony)," KU coach Bill Self said. "UAB, Georgia and George Washington are all great programs. Sprint Center is a second home for us, and we hope to have that continued support in November."
Tickets will be available starting at 10 a.m., Aug. 6, through axs.com, cbehalloffameclassic.com, by calling 1-888-929-7849 or at the Sprint Center box office.
TBT info: Former KU forwards Marcus and Markieff Morris have teamed with ex-Jayhawk forward Thomas Robinson and guard Mario Little to form a team for the upcoming The Basketball Tournament, which awards winner-take-all-prize-money of $2 million to players on the championship team.
Team FOE will consist of the Morris twins, Robinson, Little, former St. John's player Sean Evans and former Drexel player Scott Rodgers.
Former KU guard Josh Selby has also entered a team named TeamBDB. Members: Selby, John Wall (Washington Wizards, Kentucky) Lacedarius Dunn (Baylor), Kris Clark (Utah State), Justin Jackson (Cincinnati), Travis Hyman (Bowie State), Yancy Gates (Cincinnati), Daishon Knight (Illinois State), Cleveland Melvin (DePaul), Durant Scott (Miami), Andre Oupoh (Texas State). To learn about the tourney and how to vote for Team FOE and BDB (teams need a certain amount of fan votes to assure entry), go to https://www.thetournament.com/about
Happy Birthday: Former KU phenom Danny Manning, head coach at Wake Forest, on Tuesday celebrated his 50th birthday.
Big men available: Texas prep big men Jarrett Allen and Marques Bolden remain uncommitted, with the late signing period ticketed to end at 11:59 p.m. today. Bolden, a 6-10 senior center from DeSoto (Texas) High, says he will announce for Kentucky or Duke on Thursday afternoon. Bolden, ranked No. 11 nationally by Rivals.com, always could sign a letter-of-intent with both schools before the deadline and send in paperwork to the winner. Meanwhile, Allen, a 6-9 senior from St. Stephens Episcopal School in Austin, Texas, has yet to say when he will choose between KU, Texas and Houston. He recently cut Kentucky, North Carolina and Notre Dame from his list. Recruiting analysts believe Texas is the leader for the No. 15-rated Allen simply because Jai Lucas has been promoted to full-time Longhorn assistant. Allen trains with Lucas' dad, John, when in Houston.
"The word is and always has been that it would be quite the chore to lure the 6-foot-10 big man away from the Lone Star State, and our most recent intel suggests that Texas is strong with Allen," writes Jason Jordan of USA Today. "As the top-ranked center in the ESPN 100, Allen is a gifted rebounder, shot blocker and finisher who consistently has improved year-to-year. He has maintained that the biggest factor that will go into his decision is how well coaches develop their bigs."
That's the confusing part of the equation, as KU is known as a school that plays through its big men and develops its big men perhaps better than any other squad nationally.