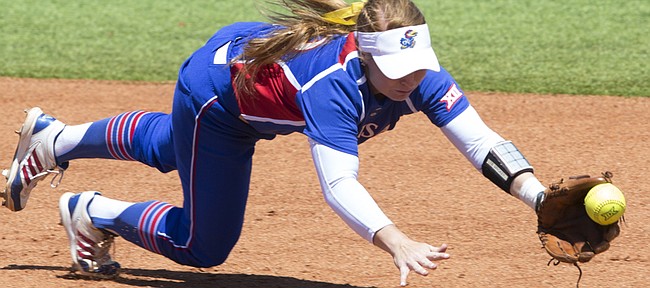 Kansas University shortstop Chaley Brickey first set foot on the KU campus as a 17-year-old freshman four years ago. On Saturday, during KU's 11-1, 8-0 doubleheader sweep of Iowa State at Arrocha Ballpark, Brickey played her final home game for the Jayhawks.
Between that first moment as a wide-eyed rookie and that final out before the tears began to flow, Brickey put together one of the best careers in Kansas softball history.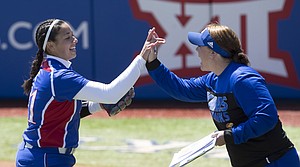 Dubbed by some within the program as The Pint-Sized Powerhouse, Brickey leaves Kansas with the all-time record in career walks (143), runs scored (172) and RBIs (155) and ranks second all-time with a .362 career batting average, 39 career home runs and 54 career doubles.
Numbers like those made her 1-for-3, three-run, two-RBI performance during Saturday's sweep seem a little underwhelming. But the way her team dominated the Cyclones during her final series as a Jayhawk was the perfect ending to a stellar career.
"It's a sad day for our team," KU coach Megan Smith said of Brickey's finale. "She's one of the best players to ever play at Kansas, and she's also one of the best players in the country right now. You can't replace her."
Brickey's decision to graduate high school a year early to get her college softball career going started as a joke. But after looking into it and discovering she actually could do it, the 5-foot-1 infielder from Haltom City, Texas, pursued it tenaciously.
Although tears — from her and her mother — spilled down her face during the postgame ceremony that honored KU's five seniors, Brickey quickly found the smile that was so often present as she helped lead KU softball to a 143-74 record and two NCAA Tournament appearances during the past four years. Brickey, who recently was drafted by the Pennsylvania Rebellion of the National Pro Fastpitch League, will return to KU next season in a coaching role. That fact made Saturday's send-off easier to handle. But it did nothing to keep the tears at bay.
"It was like saying goodbye to another mom, like saying goodbye to family," Brickey said of Smith and her teammates. "Thankfully, I'll be back next year, so I'm not actually saying goodbye, I just won't be playing under her any more. But I couldn't have asked for a better senior class to go out with. They're all great people and are gonna do great things in the future."
Brickey joined seniors Briana Evans, Kylee Kennedy, Shannon McGinley and Monique Wesley in playing the final games of their KU careers Saturday, and Smith said the back-to-back, run-rule-shortened victories were a beautiful tribute to the senior class.
"It's one thing to beat them three times," Smith said. "It's another thing to be dominant in all three games, and we were dominant in all three games. That's the best way to send your seniors out. This year, all five seniors played and contributed. They're fighters, they're hard workers, they've got grit and great character."
As for the specifics of Saturday's sweep, KU benefitted from three monster innings. Behind strong pitching from Game One winner Alexis Reid (5-6) and Wesley (6-5), who started and won Game Two, the Jayhawks scored five runs in the second inning and six more in the fourth to take the opener, and added a six-run fourth in the nightcap to complete the sweep.
KU scored 19 runs on just 11 hits.
The Jayhawks (31-20 overall, 8-9 Big 12) will learn their postseason fate when the NCAA Tournament field is announced tonight. Many believe the Jayhawks will be left on the outside looking in, but their fourth-place finish in the No. 3-rated RPI conference and 26th-ranked strength of schedule gives them reason to watch the selection show, slated for a 9 p.m. start on ESPNU.
"Thirty wins in a season is nothing to be ashamed of," Smith said. "And I'm proud of the girls and proud of how they finished this weekend. We had some breaks that didn't go our way this year, and last year every break went our way."
If Saturday was the end, Brickey said she would walk away from her incredible career most proud of one thing.
"Just helping this program become what it is today," she said.
Game One
Iowa State 000 10 — 1 4 2
Kansas 050 6x — 11 6 0
W — Alexis Reid, 5-6. L — Brianna Weilbacher, 0-2.
2B — Daniella Chavez, Jessie Roane, KU.
KU highlights — Alexis Reid 5 IP 4 H 1 ER 4 K; Chaley Brickey 1-for-2, 2 R, RBI; Daniella Chavez 1-for-1, 4 RBIs; Harli Ridling 1-for-3, R, 2 RBIs; Kylee Kennedy 1-for-2, R, 2 RBIs; Taylor McElhaney 1-for-2, R, RBI.
Game Two
Iowa State 000 00 — 0 2 2
Kansas 200 6X — 8 5 0
W — Monique Wesley, 6-5. L — Savannah Sanders, 8-18.
2B — Daniella Chavez, Kylee Kennedy, KU.
KU highlights — Monique Wesley 5 IP 2 H 0 ER 5 K; Daniella Chavez 1-for-3, 2B, 2 RBIs; Harli Ridling 1-for-2, RBI; Kylee Kennedy 1-for-2, 2B, R, RBI; Taylor McElhaney 1-for-2, R, RBI; Shannon McGinley 2 R; Briana Evans R; Emily Bermel R.
More like this story on KUsports.com