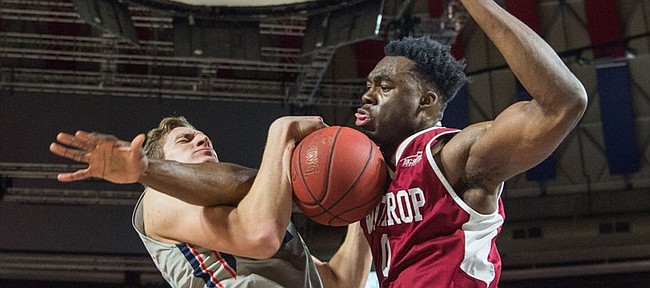 Future Kansas University basketball center Evan Maxwell never had to worry about losing his competitive edge — or his conditioning — during breaks in the school calendar the past two years at Liberty University.
Trips from the campus in Lynchburg, Va., back to his hometown of Clarks Summit, Pa. (eight miles from Scranton in the northeast part of the state) usually resulted in some ferocious pick-up games with Maxwell family members.
"I have two other 7-foot brothers. I'm playing casual 2-on-2 and have two 7-footers at the rim every single time. Not many people get that opportunity to work like that," said the 6-foot-10, 245-pound Maxwell, who on Friday night announced plans to transfer from Liberty to KU.
"It helps with my touch around the rim. I can score over bigger defenders. It's good for my younger brother, too, he added of Seth, a 7-foot senior to be at Abington Heights High, Evan's alma mater. Evan's older brothers with small-college experience are Travis, a 7-footer, and Brandon, who stands 6-4.
Meanwhile, his sister, Alyssa, who also played high school and small-college ball, can hold her own at 5-foot-10, while mom Andréa is 5-11, and dad Brian is 6-6.
"It's awesome because it's what we love to do," Evan Maxwell added of playing hoops. "Obviously it's competitive with three 7-footers on the floor."
'He wants it bad'
Evan's winding up at KU — he chose the Jayhawks over Virginia Tech, Baylor, Arizona and Cincinnati — appears to be a testament to the hard work he has put in since getting serious about the sport in ninth grade.
"He's my (favorite) guy," said John Bucci of JB Hoops, who has trained Evan since his freshman year of high school. "Evan lifted every day for four years. He lifted when he was supposed to for four years. The best part of him is, he wants it bad. He has that lunch-pail mentality. He gets it done. He gets it done."
Though Maxwell went from "awkward" in ninth grade, as Bucci put it, to accomplished by the end of his high school career, he was only recruited by mid-majors Liberty and Monmouth. At Liberty, he averaged 2.1 points and 1.1 rebounds a game his freshman year , upping that to 10.0 points and 4.8 boards his sophomore season. He hit 63.7 percent of his shots (128 of 201) and 63 of 99 free throws (63.6) in 2015-16, totaling six blocks, 10 steals, 17 assists, 68 turnovers in 21.5 minutes per game.
His coach at (13-19) Liberty this past season was Ritchie McKay, who took over in 2015-16 after working as associate head coach at Virginia from 2009-15.
"I think KU is getting a really good prospect," McKay said Saturday. "He has a good touch. He wants contact down there. When I was at Virginia, we had post players who operated at a high level.
"Typically, he is in that equation," McKay added of Maxwell, who scored 22 points and grabbed eight boards against Princeton and went for 15 points and eight boards vs. Notre Dame.
"The staff at Kansas … how good they are at developing bigs will really help Evan. He's a terrific kid, someone most people will be endeared to. He's not cocky, not about himself. He's a quality person who is hungry and devoted to improvement," McKay added.
'Best programin the country'
Maxwell decided to ask for his release after the final game of the season to attack his goal of playing major-college ball.
"I visited Virginia Tech and Baylor. I had visits scheduled for Arizona and Cincinnati, but ended up canceling them after the Virginia Tech visit because I liked that so much," said Maxwell, who will sit out next season in accordance with NCAA rules, then have two years of eligibility remaining starting in 2017-18. "Kansas came into the picture, and it seemed like a very good fit. They came in a little bit late in the process. They did a good job getting to know me as quickly as possible. I took my visit (last week, mid week), and just being there, I knew it was the place for me. I knew it was the right people. Everything down to my parents and the way they were with the whole (coaching) staff and their wives. Every little part of it seemed the perfect fit. It was kind of a God thing. I didn't think it would be right because I didn't know them (before visiting). I prayed a lot. He made it clear to me. That's what it was. I was there, felt it and knew it.
"I'm honored to say I belong to the best basketball program in the country. It's a pretty cool opportunity," Maxwell added.
Maxwell had a busy, productive campus visit.
"I got to meet all the guys. It was finals week, so I didn't get to spend a lot of time with them. They are great guys," Maxwell said. "I got to spend time with the staff. I got to know each one of them individually a little bit.
"I want to be around them and learn from them. I feel they could help me grow as a basketball player and help me become the man I want to become. My role is basically up to me. I think I could either sit the bench two years or I could start for two years. It's up to me and how hard I work. The biggest part of it is the fact they believe in me, and I know they believe in me, and I believe in them. With that right there, we can make anything happen.
"They know I'm coming to work. I know they won't be easy on me. They will push me to be at the absolute best I can be. Since I want to be the best I can be, it's a perfect match. I have a long way to go and a lot of growth. They know that. I know that. They are willing to help me get to that point. We both want the same thing for my future and the future of Kansas basketball."
And little bro, too?
In a perfect world, Evan would be playing college ball with his brother, Seth, in two seasons at KU. Seth is a 7-foot senior-to-be at Abington Heights.
"A lot of A-10 schools and Ivy League schools, Patriot League schools," Evan said of which schools are recruiting his brother. "I know his recruiting is going to pick up when he goes to the next AAU circuit (this summer) and all that. I know a lot of good schools, American Conference and Big 12 and Big 10 schools are planning to go watch him next circuit. We don't know if that (playing together) is in the future. I think that's all up to God's plan what he has for us. We see it working out that way possibly. It's something we want to make happen. We have different strengths. We could play well together with the bigs system at Kansas. If it happens, it happens. This whole decision (to attend KU) was not based on that, obviously."
Maxwell, who Bucci said developed a jump hook with both hands and range out to 17 feet at Liberty, will attend both sessions of summer school as he begins with the Jayhawks weight and conditioning program.
"He likes to be physical. He will actually learn how to be physical now, going against 6-11, 7-foot in practice all the time," AAU coach Bucci said of his pupil.
For sure, Maxwell can't wait for this new chapter to begin.
"Ritchie McKay and the whole staff there … they were fantastic at Liberty, and I'm very thankful," Maxwell said. "Coming out of high school, I knew I needed to go there and grow as a man and get my life together, find out where I want to go and what direction I want to head in life. My time there was exactly what I needed to do. I grew up, got stronger as a person and man. Physically and mentally, I am prepared for what's next. I am not surprised. It's not something where I'm like, 'Oh, man, I didn't know I could play at Kansas.' I knew ever since high school I could play wherever. Obviously, everyone's path has to be different. This is a fantastic opportunity. It couldn't have worked out better. I'm very thankful."