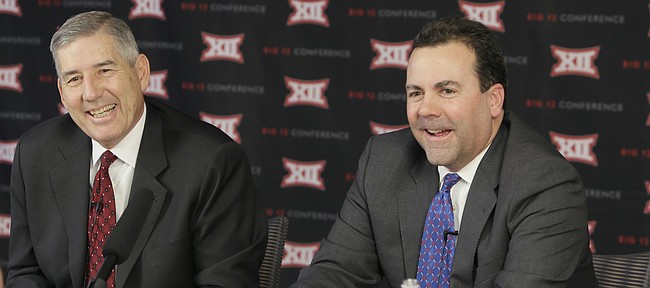 It will take expanding all the way to 16-member conferences for power brokers in college athletics to realize that the size that makes most sense is cutting that number in half.
An eight-team conference in which every school plays the other once in football and twice in basketball allows for more nonconference scheduling flexibility and ensures that no school has a scheduling advantage over another.
Eight is enough, the perfect number, really.
For instance, Kansas University could schedule five stiffs in football and pull off one upset in conference play and gain bowl-eligibility. In basketball, the Jayhawks could use the extra two games either to add a home date or schedule an annual home-and-home with a fellow blue blood.
Since the days of power brokers coming to their senses are decades, maybe centuries, in the distance, no point in spending any more time fantasizing about the efficiency of eight-member conferences.
Back to reality: Big 12 expansion talk buzz has returned in the wake of feedback from a consultant, Navigate Research, hired to conclude whether expansion from 10 to 12 would increase the conference's chances of landing in the four-team college football playoff.
Doing so, the consultant concluded, would increase chances by 4 or 5 percent. OK, so that's once in every 20 years.
Two questions: 1. Is that worth expansion for the sake of expansion? Of course not. 2. Does anyone really believe that the playoff won't expand to eight teams within the next decade? Not anyone who knows how to follow the money trail.
Still, expansion will be discussed when Big 12 presidents/chancellors meet May 31 in Irving, Texas. Granting entrance to another member requires approval from a super-majority (75 percent). Obviously, if one school were allowed in, a second must follow.
It's a lot of fun to discuss which schools make the most sense in the event of expansion. It's also beside the point, because what's best for the conference does not necessarily coincide with what has the best chance of gaining approval from eight of the 10 members.
For example, the University of Houston is so committed to football that it extended coach Tom Herman's contract five years to the tune of $2.8 million per season. It ranks 10th among the nation's television markets, per Nielsen. The city brims with outstanding football and basketball prospects.
All of that explains why Texas, and to a lesser extent Baylor and TCU, would not want anything to do with elevating Houston's profile to the extent the schools begin losing recruits to the Cougars. The Longhorns are big in Houston and want to keep it that way.
Many suggest that Cincinnati would make a nice geographic partner for West Virginia. True enough, so that's one vote in favor of the Bearcats. Why should any other school care about easing the travel burden for the Mountaineers, an excellent Big 12 fit in every way except geography?
Brigham Young? Nice national audience. Strong football tradition. The Cougars don't compete on Sundays, which throws scheduling for baseball and some other sports into disarray.
Colorado State? That heightens the Rams' profile big-time and does the opposite for the profile of the Big 12, which lost Colorado to the Pac-12.
UConn and Central Florida have reason to want to join the Big 12. FedEx long has been known to want to help Memphis join the Big 12. Reporting from ESPN's Jake Trotter put some meat on those bones. FedEx chairman Fred Smith promised in a letter that was part of Memphis' lobbying for memberships that his company would sponsor Big 12 football and basketball if Memphis were allowed to join, Trotter reported.
Memphis has as strong a case as any of the prospective members. Still, the addition of any of the interested schools would dilute the prestige of the Big 12, which already took a hit when Colorado, Missouri, Nebraska and Texas A&M; bolted for more dollars.
Staying at 10 members seems the smart play for the conference.
Naturally, I would prefer what's best for me to what's best for the Big 12. I want to welcome Colorado State and UConn to the Big 12 so that the four Texas and two Oklahoma schools would form the South. Under that scenario, KU's competitors in the North become Colorado State, Connecticut, Iowa State, Kansas State and West Virginia. In football, Kansas plays five schools per year from the North, three a year from the South, and schedules four nonconference games. It would soften the brutal schedule a bit. The Jayhawks lost their Big 12 games by an average margin of 35.7 points a year ago. That's not as enjoyable to cover as a schedule that would add a weak nonconference opponent and cut in half the number of games against the six heavyweights from the South.
So I think expansion would be bad for the Big 12 and good for me, which is why I wholeheartedly endorse it.
More like this story on KUsports.com