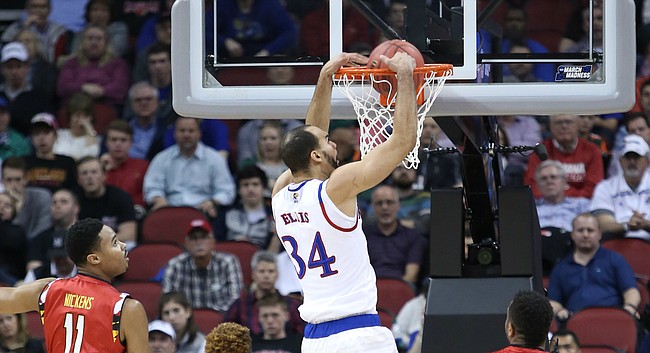 Kansas University senior forward Perry Ellis had the fourth lowest body fat of all players tested Wednesday at the 2016 NBA Combine in Chicago as reported by NBA.com.
The 6-foot-8 Wichita native has 4.60 percent body fat. Oregon State's Gary Payton II led the way at 3.95 percent, followed by North Carolina's Marcus Paige (4.30) and North Carolina State's Cat Barber (4.50).
KU freshman Cheick Diallo was measured to have a 7-foot-41⁄2 wingspan, second longest of all players at the Combine. China's Zhou Qi had a wingspan of 7-73⁄4. Vanderbilt's Damian Jones had third longest at 7-33⁄4, and Purdue's Caleb Swanigan checked in at fourth at 7-31⁄2.
The complete NBA measurements and testing results have not yet been released. About 70 players are at the Combine for testing.
Selden's No. 7: KU's Wayne Selden Jr. is listed as the seventh-best shooting guard in the draft by NBA.com's David Aldridge. Aldridge has Selden being selected "late first round."
The top shooting guard in the draft is Oklahoma senior Buddy Hield, followed by Denzel Valentine, Timothe Luwaru, Malik Beasley, Furkan Korkmaz and Patrick McCaw.
Of Selden, one NBA Eastern Conference scout told Aldridge: "His shot is still kind of all over the place. I thought he had gotten a little more accurate."
Another scout said of Selden: "He tapered off as the season went on but when he gets to our level and can commit to being a 3-and-D player, he's got great size. He's tough. He'll fill a spot on the bench fairly well."
Aldridge noted that Selden "raised his draft stock this year by shooting almost 40 percent behind the arc. The second-team All-Big 12 selection now has to show it wasn't a one-year fluke."
Honorable mention: Ellis is listed as honorable mention on the list of top power forward prospects by NBA expert Aldridge. He was the 12th power forward listed overall. Diallo was grouped in the "some scouts like" category by Aldridge.
"He (Ellis) has become something of a specialty player," one scout told Aldridge. "Perry's shown that he can shoot the three so that helps him a little bit. It depends on the staff and the coaches and what they want from him. I think people are going to see he may be able to become a Danny Green type — hit a spot-up three and be able to guard a three."
Another scout said: "What he is is just solid. You know what you're going to get every day. There's a beauty in that to coaches. Year after year he's consistent to what he does well. The game getting smaller is helpful to him."
Off to the pros: Iowa State has lost Australian junior college power forward Emmanuel Malou to the NBA Draft. ISU announced that the incoming 6-9 forward will bypass his college eligibility for the pros. He sat out the 2015-16 season concentrating solely on academics.
"I know that it is going to require a huge amount of work, but I am motivated and excited for the challenges that lie ahead," Malou told the AP on Wednesday. "I would like to thank all the staff at Iowa State for all that they have done for me."
More like this story on KUsports.com