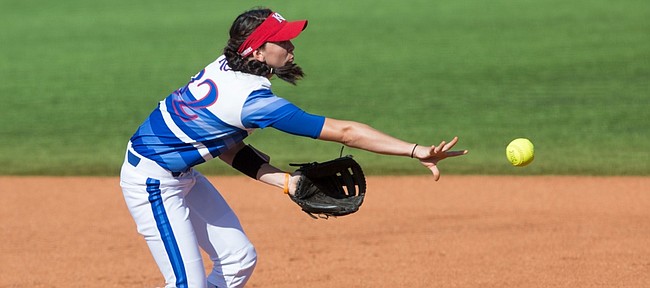 Kansas University's softball team broke open a tight ballgame with a six-run sixth inning Thursday to defeat Iowa State, 11-5, at Arrocha Ballpark.
The Jayhawks scratched out three runs in the first inning on two errors, singles by Chaley Brickey and Daniella Chavez and a sacrifice fly by Harli Ridling.
Iowa State answered with a run in the top of the third, matched by Kansas in the bottom half of the inning.
The Cyclones chased KU starter Andie Formby and took a 5-4 lead in the fourth before the Jayhawks tied the game on Briana Evans' double, which brought home Kylee Kennedy.
Chavez started Kansas' big sixth inning with a solo home run. Taylor Dodson followed with a two-run shot, Shannon McGinley hit a two-run double and Ridling closed the scoring with a single that scored McGinley.
Monique Wesley (5-5) got the win in relief of Formby.
The two team resume their series at 5 p.m. today at Arrocha Ballpark.
Iowa State 001 400 0 — 5 10 3
Kansas 301 160 x — 11 7 1
W — Monique Wesley, (5-5). L — Savannah Sanders, (8-16).
2B — Aly Cappaert, Kaila Konz, Iowa State; Briana Evans, Shannon McGinley, Kansas. HR — Daniella Chavez, Taylor Dodson, Kansas.
KU Highlights — Daniella Chavez, 2-for-2, 2 BB, run, RBI; Shannon McGinley, 1-for-2, 2 runs, 2 RBI; Briana Evans, 1-for-3, BB, 2 runs, RBI; Chaley Brickey, 1-for-2, 2 BB, 2 runs, RBI; Monique Wesley, 3.1 IP, 3H, 0R.
More like this story on KUsports.com