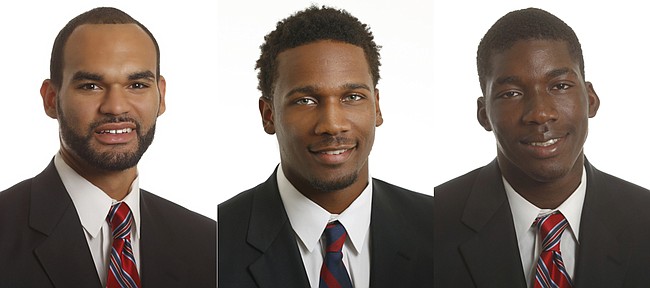 Kansas University's Perry Ellis, Wayne Selden Jr. and Cheick Diallo will attend the 2016 NBA Combine, today through Sunday in Chicago.
CBSsports.com ranks Diallo No. 21 of 117 underclassmen who declared for the draft. Selden and Brannen Greene, who was not invited to the Combine but will work out for individual NBA teams in coming weeks, were ranked Nos. 29 and 64 respectively.
The Fort Wayne (Ind.) News-Sentinel explains the combine drills will include "spot up shooting (from high school, NBA and college three-point lines), on-the-move-shooting (from 15 to 18 feet), off-the-dribble shooting (15-18 feet), lane agility, shuttle run and bench press. Players will be measured for hand size, feet size, wingspan, height, weight and percentage of body fat. There will be scrimmages with players divided into teams."
The three KU players figure to participate in the scrimmages since none are currently assured first-round status.
TCU's Dixon on hunt: New TCU coach Jamie Dixon is serious about attracting blue-chip basketball players to the Fort Worth, Texas, school, which has not fared well in hoops since joining the Big 12.
Last week, Jaylen Fisher, a 6-foot-2 senior point guard from Bolton High in Memphis, Tenn., who is ranked No. 55 in the Class of 2016 by Rivals.com, switched his commitment from UNLV to TCU. Former UNLV assistant Ryan Miller recently joined Dixon's Frogs' coaching staff.
Dixon, who is a TCU graduate, has also hired Corey Barker, the first cousin of Jarred Vanderbilt, a 6-8 power forward from Victory Prep in Houston, who is ranked No. 11 in the Class of 2017. Vanderbilt, who is said to be favoring Kentucky — yes, KU is on his list of schools — figures to listen closely to the recruiting pitch of a family member.
Dixon, who had a great 13-year run at Pitt, has hired David Patrick as a third assistant. Patrick recruited phenom Ben Simmons to LSU and according to CBSsports.com's Jon Rothstein has "the Horned Frogs in prime position to land Ohio State transfer Daniel Giddens."
Giddens, a 6-10, 230-pound freshman from Mableton, Ga., has decided to leave OSU after one season. He was ranked No. 51 in the Class of 2015.
ISU lands transfer: Iowa State, which had good luck attracting transfers in the Fred Hoiberg era, has landed a graduate student transfer in Merrill Holden, a 6-8, 215-pound forward out of Louisiana Tech. Holden averaged 8.1 points and 5.0 rebounds last year "and should plug an immediate hole for the Cyclones up front following the losses of both Georges Niang and Jameel McKay," CBSsports.com's Rothstein writes.
Young ponders prep school: Trae Young, a 6-1 junior point guard from Norman (Okla.) North who averaged 33.6 points and 4.6 assists a game last season, is considering transferring to a prep school for his senior year, the Norman Transcript reports.
"It's a big decision. I have to work through it all with my family to decide what's best. I'm planning to make a decision by the end of May," Young, the son of former Texas Tech standout Rayford Young, tells the Transcript.
One of the prep schools under consideration is Montverde Academy in Orlando, Fla.
"About 80 percent of the coaches who are recruiting Trae have told him to stay home," Rayford Young told the Transcript. "Trae wants to bring a gold ball to Norman North, something that's never been done there and he's been going back and forth on his decision since the season ended."
Rivals.com's No. 13-rated player has KU, Kentucky, Duke, Oklahoma and others on his list of schools. He's talked a lot about being a package deal with No. 2-rated Michael Porter, 6-8 from Columbia, Mo., whose dad recently was hired as a men's assistant at Washington.
Barry picks Florida: Canyon Barry, the 6-6 brother of former KU guard Scooter Barry, had chosen Florida as his graduate transfer destination, ESPN.com reported Monday. Barry, who averaged 19.7 points and 3.4 rebounds a game last season at Charleston, will be immediately eligible to play in games. He chose Florida over Miami and Northwestern.