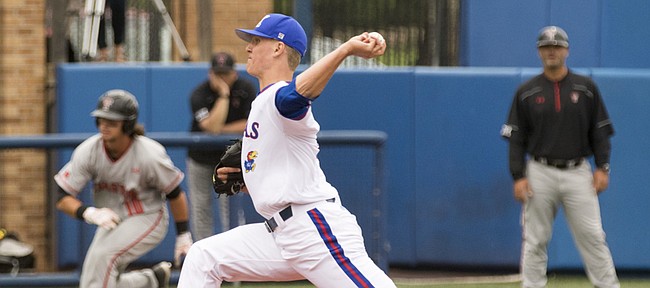 When Kansas University baseball coach Ritch Price handed the ball to closer Stephen Villines to start the fourth inning of Sunday's series finale with No. 8 Texas Tech, the Jayhawks trailed by four runs, and the idea was that Villines would shut the Red Raiders down the rest of the way and give Kansas a chance.
Hurling season-highs of 80 pitches and six innings, Villines did just that, limiting Tech to two hits and striking out four batters the rest of the way.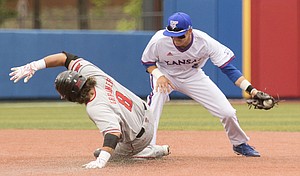 Unfortunately for the Jayhawks (19-29-1 overall, 5-12 Big 12), the offense managed just one run — an RBI single from senior Colby Wright — during that time, and Tech completed the sweep, 6-3, at Hoglund Ballpark, handing KU its sixth consecutive loss.
"They're one of the top offensive clubs and best all-around teams in the nation," Villines said of the Red Raiders (37-13, 17-4), on the verge of clinching the Big 12 regular-season title. "So you gotta embrace the challenge. That's what we play for. You play to play the big dogs and go out there compete and give it everything you've got."
After not pitching in the first two games of the series, Villines said he received fair warning from pitching coach Ryan Graves that he might receive extended action Sunday, but Price said he never considered starting his closer.
"It's not something I wouldn't do," Price said. "So I can understand the question, and it's a valid question as much as we've struggled on Saturday and Sunday. We just felt like if we could get through three or four innings, we could turn the ball over to him, and he could close it out."
Villines said his last start came during his junior year of high school and added that it might not be time for Kansas to panic just yet.
"I'll do whatever it comes down to," he said. "But our starters are good, and we're confident in them."
Sunday starter Blake Weiman (2-6) threw up a zero in the first inning and limited the Red Raiders to two runs in the second but was touched for four in the third, including back-to-back home runs from Hunter Hargrove and Eric Gutierrez.
That turned out to be all the Red Raiders needed to complete the sweep, and the Jayhawks head into next weekend's series at Kansas State and the season finale at Oklahoma State the following weekend needing a strong finish to keep alive their hopes of qualifying for the Big 12 Championship, May 25-29 in Oklahoma City.
"They played like they were the No. 8 team in the country all three days," Price said of Texas Tech. "Their starting pitching was fabulous, their bullpen was even better, and, offensively, they are really good. There's seven legitimate Div. I hitters in that lineup."
KU junior Michael Tinsley, the Big 12's leading hitter, added two more hits to his season tally — his 25th multi-hit game of the season — and upped his batting average to .402. Tinsley is competing to become the first KU player to finish a season above .400 since 1997.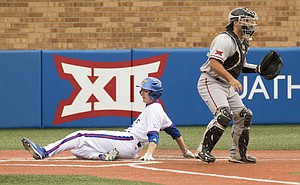 With no mid-week games scheduled this week, Price said the team's focus shifts fully to the Sunflower Showdown and a do-or-die mentality.
"It's close," he said. "There's no doubt. This is a tough week for both schools, because we're right in the middle of finals. So we'll give 'em Monday and Tuesday off and let 'em focus on academics, then we'll practice Wednesday and Thursday and go see what we can do in Manhattan."
Texas Tech 024 000 000 — 6 11 0
Kansas 110 000 100 — 3 10 1
W — Ryan Moseley, 5-4. L — Blake Weiman, 2-6.
2B — Tommy Mirabelli, KU; Tanner Gardner, Stephen Smith, Hunter Hargrove, TTU. HR: Hunter Hargrove, Eric Gutierrez, TTU.
Kansas highlights — Stephen Villines 6 IP, 2 H, 0 ER, 4 K; Matt McLaughlin 2-for-5; Michael Tinsley 2-for-4, R; Colby Wright 2-for-3, 2 RBIs; Ryan Pidhaichuk 1-for-3, R; Tommy Mirabelli 2-for-4, 2B.
More like this story on KUsports.com