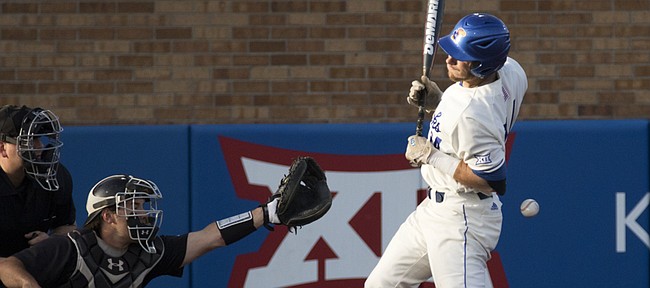 Over nine innings, 54 outs and more than three hours, there are a lot of factors that go into determining the outcome of a baseball game.
Every once in a while, though, one play, one hop, one pitch can decide an entire game. That was the case Friday night at Hoglund Ballpark, where Kansas University lost 10-3 to No. 8 Texas Tech, and that game-defining moment came in the sixth inning, with the Jayhawks (19-27-1 overall, 5-10 Big 12) trailing 3-2 and mounting a comeback.
With runners at first and second, nobody out and one run already in, junior outfielder Joven Afenir smoked a ball up the middle that TTU pitcher Hayden Howard stabbed out of mid-air. Howard, on the mound in relief of freshman starter Davis Martin (8-0), fired to second base to double off Kansas catcher Michael Tinsley, who had broken toward third before Afenir made contact. Instead of Kansas roaring toward a monster inning, the Red Raiders (35-13, 15-4) maintained control and never again faced a serious KU threat.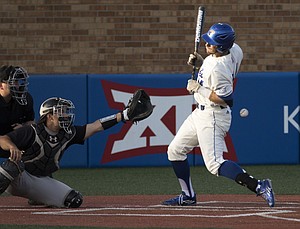 "That was the big game-changer," KU freshman left fielder Devin Foyle said of Afenir's bad-break out. "If they didn't catch that, that was probably two runs that would've scored, and that could've completely affected the momentum."
Added KU coach Ritch Price: "We could've tied it, scored again and had the lead going to the seventh."
Instead, the Jayhawks quietly exited the sixth and then watched the Red Raiders add a run in the seventh, three in the eighth and three more in the ninth off the overmatched Kansas bullpen.
KU starter Ben Krauth (4-5) gave up just three runs and pitched into the sixth inning. Price said Krauth's pitch count was the reason he pulled his ace with two outs in the sixth, and the KU coach lamented his defense's inability to keep Krauth from being overworked. Of course, Price also said the Red Raiders had something to do with that.
"I gotta give their hitters credit," he said. "They worked him to 119 pitches through six innings. The fact that we weren't able to have any quick, efficient innings ran his pitch count up there higher than we wanted it to be. ... We needed Ben to get deeper into the game in order to have a chance to win."
KU's offense got strong performances from a red-hot Tinsley, who pounded out two more hits and is batting .396, and Foyle, who snapped out of a six-game slump with a 2-for-4 night at the plate.
"I was just kind of getting in my head," Foyle said of the slump. "And today I was more relaxed and tried to forget about everything. After I got that first hit, I felt really calm and then just kept going."
KU now heads into the final two games of the series facing a familiar scene, needing to catch a break or two to find a way to salvage a victory against a good baseball team.
After winning its first Big 12 series of the season last weekend against Oklahoma, the Jayhawks have lost four in a row — the finale vs. the Sooners, a pair of mid-week games at No. 19 Minnesota and Friday's series opener.
First pitch for Game 2 of the KU-TTU series is set for 2 p.m. today.
Texas Tech 000 102 133 — 10 12 1
Kansas 000 101 010 — 3 9 0
W — Davis Martin, 8-0. L — Ben Krauth, 4-5.
2B — Ryan Pidhaichuk, Marcus Wheeler, KU; Tanner Gardner, Tyler Nelsony, Eric Gutierrez, Davis Martin, TTU.
KU highlights — Ben Krauth 5.2 IP, 5 H, 3 ER, 6 K; Devin Foyle 2-for-4, 2 runs; Michael Tinsley 2-for-4, run, SB; Colby Wright 1-for-3, 2 RBI.
More like this story on KUsports.com