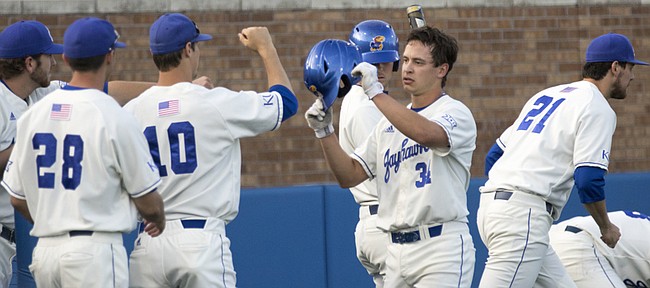 In the grand scheme of things, Kansas University junior Michael Tinsley's triple in the bottom of the ninth inning of Saturday's 9-2 loss to No. 8 Texas Tech at Hoglund Ballpark meant very little.
But for Tinsley himself, one of the handful of bright spots in an otherwise rough and frustrating season for the Jayhawks, the hit was very meaningful.
Not only was the one-out line drive to center field the Menlo Park, Calif., native's second triple of the season, but it also raised his batting average to an even .400. Seventy-four hits in 185 at-bats, which puts him at the top of the Big 12 Conference, more than 10 points ahead of the next closest hitter.
"Nice," Tinsley exclaimed after the game when asked about reaching .400. "I knew I was close, but I didn't know if I had reached it or not."
The hit was the second of the day for Tinsley, who has been on an absolute terror for the past six weeks. Since finishing 0-for-2 against Missouri State on March 29, Tinsley has left the park hitless just twice in 26 games. He has recorded 16 multi-hit games during that stretch and has had two or more hits in exactly half of Kansas' 48 games this season.
"We've had some really good players here," said KU coach Ritch Price. "And he's swinging the bat, right now, as well as anybody I've coached in my 37 years in the game."
It wasn't always that way for KU's 2014 rookie of the year. In fact, after hitting .338 as a sophomore, Tinsley struggled to open the season and went back to the cages looking for answers.
"It was really just getting down to the basics," Tinsley said. "Just bringing my approach back to what it should be and it's made it a lot easier. Ever since then it's just been pedal to the metal."
Two weeks ago, senior second baseman Colby Wright matter-of-factly mentioned after one KU game that "Michael Tinsley is going to do what Michael Tinsley does," and other teammates have regularly marveled at the KU catcher's consistent production. Price is right there with them.
"The reason he's such a good hitter and the reason he's hitting .400 is he uses the whole field," Price said of his 2015 second-team all-conference hitter.
Price continued by sharing a story about KU's series at Texas this season, when the Longhorns trotted out starting pitchers who hit 94-97 mph on the radar gun both Friday night and again on Saturday.
"He had three hits Friday, three hits Saturday and two hits Sunday," Price recalled. "He's as good a fastball hitter as I've ever coached."
That skill, along with his continued growth and development, has made Tinsley an intriguing prospect during his first season of draft eligibility since high school. The weight of knowing that scouts were watching a little closer this season initially wore on him and was something Price noticed when the Jayhawks played Stanford in Palo Alto, Calif., back in mid-March.
Tinsley was pressing, his family was buzzing and the combination of the two led to a stressful series.
"I actually talked to Michael after that series and he said that everybody who was calling him was asking him about the draft and things like that," Price said. "I just talked to him about playing. If you play, the draft takes care of itself. One other thing I did was I called up his dad, Randy, who's as cool of a dude as you'll ever meet and I asked him to send an email or a text to Michael's family that basically said, 'If you want to call Michael and pump him up and support him, go ahead. But there can be no more discussion about the draft.' And Randy did that. Randy and his family handled it right and that's allowed Michael to handle it right."
With just eight guaranteed games remaining in his junior season and the Jayhawks fighting for their life to earn that eighth and final spot in the Big 12 Championship in Oklahoma City, Tinsley and Price both know they need their leading hitter to stay hot. If he does that, Tinsley will finish as the first Jayhawk since Joe DeMarco in 1997 to hit .400 in a season and just the seventh since 1971.
The Jayhawks (19-28-1 overall, 5-11 Big 12) and Red Raiders (36-13, 16-4) will play the series finale at 10 a.m. today.
Texas Tech 006 030 000 — 9 9 0
Kansas 000 000 002 — 2 7 1
W – Steven Gingery, 4-1. L – Jackson Goddard, 2-5.
2B: Tanner Gardner, Eric Gutierrez, Davis Martin, Stephen Smith, TTU. 3B: Michael Tinsley, KU. HR: Tyler Nelsony, Eric Gutierrez, TTU.
KU highlights: Michael Tinsley 2-for-3, 3B, run; Joven Afenir 2-for-4, RBI; Ryan Pidhaichuk 1-or-2, RBI.
More like this story on KUsports.com