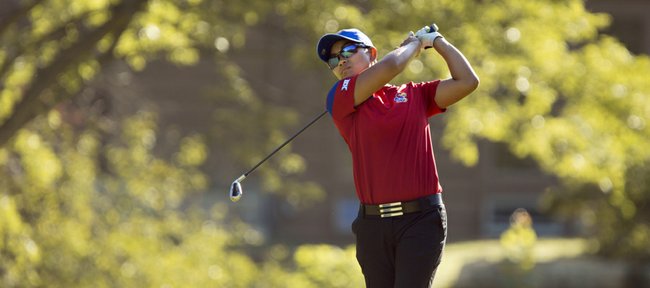 Winning golfers never stop learning, forever turn bad experiences into growth opportunities. Watch Jordan Spieth next April at Augusta eat up No. 12, the hole that ate him up last month in the Masters. If it takes him more than one Masters to conquer that demon of a par 3, so be it. He'll never stop embracing the challenge.
For Yupaporn "Mook" Kawinpakorn, the final day of an NCAA regional last spring in San Antonio equated to Spieth's 12th hole on the final day of the Masters, although it was a more subtle disappointment.
"I was leading the first day," Mook said of the three-round tournament, "and I'm not going to lie to you, I was a little bit nervous. I got too excited. I didn't play as well the last day. I shot 3-over."
And she fell one shot short of joining a playoff for the final spot that would have sent her onto match play and a shot at the individual championship.
"I wasn't aggressive enough on the last day. I was playing too protective," Mook said. "I didn't make a lot of birdies. I didn't go for anything and it didn't work."
As do all golfers when they come up short, Mook remembers the particulars of the bogey.
"Oh my God, the second shot I told myself just hit it on the green," she recalled. "I missed it on the right. It was a downhill chip. I left myself I think 5 feet by and I didn't make it. It was sad but it was a good lesson to learn."
She summed up that lesson in two words: "Stay aggressive."
Mook gets another shot in this week's regional, playing at Shoal Creek on Thursday, Friday and Saturday. For the first time in KU women's golf history, more than one golfer qualified as an individual in a year the Jayhawks didn't qualify as a team.
Pornvipa "Faii" Sakdee earned the sixth and final seed at the Shoal Creek regional in Alabama. Mook is the top seed among individuals from non-qualifying schools. Both Kawinpakorn, a senior, and Sakdee, a junior, came to KU from Thailand.
Kansas qualified as a team two years ago, so this isn't Faii's first exposure to the ultimate college tournament.
"It was stressful a little bit, but I think I can apply that experience to this year because I've been there before," Faii said. "It's good to have Mook there. We can support each other and she's my best leader and friend."
Assistant coach Katy Nahm walks with Mook for all of her rounds and head coach Erin O'Neil will walk with Faii and sometimes might walk ahead to scout how certain troublesome holes are playing on a particular day.
Both Mook and Faii will play Shoal Creek for the first time in today's practice round.
"That's the most beautiful thing about golf," Mook said. "You go and play in different tournaments on different courses and everything is different. We have to learn how to adjust to playing on a different course with different grass and different conditions. That's very exciting."
O'Neil stated the opinion that Shoal Creek is the toughest course and will have the deepest field of the four regionals.
Here's guessing Mook will be up for the challenge. And it can't hurt Faii's chances that she barely made the field. She's playing with the house's money, never a bad thing.
While the two golfers are trying to advance beyond the Shoal Creek regional, former KU golfer Gary Woodland will try to carry momentum from his strong performance in the rain-shortened Zurich Classic, in which he tied for 20th with Rickie Fowler and nine others. Woodland will compete in the Wells Fargo Championship at Quail Hollow Club in Charlotte, N.C., Thursday through Sunday.
More like this story on KUsports.com