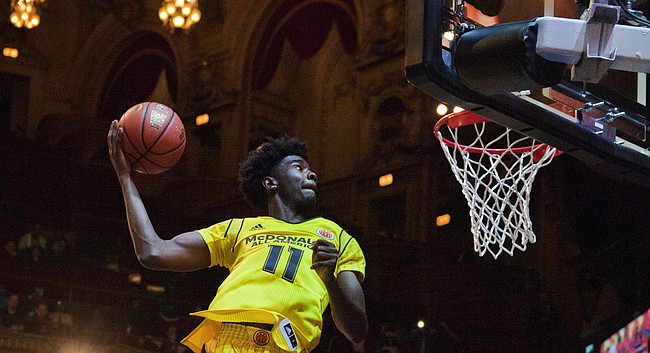 Bill Self, who knows a special prospect when he sees one, does not spend any time scouring the rankings of individual high school players when he's evaluating talent on the recruiting trail.
Kansas University's 13th-year basketball coach will nod his head in agreement with the dot.com scouts from time to time, however, as is the case with his signing the No. 1 prospect in the Class of 2016 — Josh Jackson.
"Josh has been a guy that is so respected in all high school circles the last four years," Self said Tuesday in announcing the signing of Jackson, who orally committed to KU on April 11. He's ranked No. 1 by Rivals.com and 247sports.com and No. 2 behind Duke's Harry Giles by ESPN.
"He is probably as highly thought of as any recent player to come out of high school because of his competitive nature. He is very similar to Andrew Wiggins. He's a tall guard that can do a lot of everything," Self added of the 6-8, 205-pound senior at Prolific Prep in Napa, Calif., originally from Detroit's Consortium High.
"We feel his impact on our program next year will be as much as any freshman will have on any college program. He's extremely athletic but more importantly extremely competitive. We have a very competitive culture at Kansas but I think it just got improved with the signing of Josh. He's a guy that everybody enjoys playing with because he is so unselfish but also a guy that can take a game over."
Self called the recruitment of Jackson, who chose KU over Michigan State, Arizona and many others, "fierce and deservedly so. Coach Townsend (Kurtis, assistant) has done such a good job for a long period of time making sure Josh and Apples (Jones, Jackson's mom who played at Allen County CC and UTEP) were both comfortable and educated on our situation and how Kansas could be a good fit for them," Self added.
KU assistant Townsend also was lead recruiter on Wiggins, who played at KU a year as the No. 1 prep player in the Class of 2013.
Townsend told the Journal-World about the first time he saw Jackson play.
"His freshman year ... It was a lot like when I saw 'Wiggs' as a freshman. I thought 'Wiggs' was like Kobe (Bryant). No different when I saw Josh," Townsend said. "I said, 'Golly this guy is incredible for his age.'
"He had length. What set him apart was he tries so hard. It was a joke. Even at that age. His mom told me the reason he plays like that is she told him, 'If you ever step between these lines you are there to do one thing — it's serious business,''' Townsend added. "She said he takes that to heart. He did that at the McDonald's game. NBA scouts who were there said he changed that culture. He was playing to win."
Jackson, who averaged 26.9 points, 13.1 rebounds and 6.3 assists a game his senior season, earned co-MVP honors after scoring 19 points and leading his West team to victory in the McDonald's game. He's also 20-0 in games played for USA Basketball in his career.
"The first time I thought, 'Wow he really is special,' was the summer after his freshman year playing in a tournament in Vegas (for 1Nation). Everybody was there watching. He had 29 at the half and ended the game with 43," Townsend said.
"Last summer there was a big tournament in Vegas. He just dominated. He rebounded, guarded the whole tournament. Every game he played he did everything he could. His will to win was the reason they won. I watched some of his high school games. He'd get 38, 40 and looked dominant. He's a terrific player."
Townsend recruited Jason Kidd and Lamond Murray for Cal and Jamal Crawford to Michigan as well as Brandon Rush, Darrell Arthur, Sherron Collins, Ben McLemore, Julian Wright, Josh Selby to KU.
"It's not very often you get a special talent like that," Townsend said. "Wiggs is up there for sure. How often do you get a guy who is No. 1 pick in the draft (like Wiggins)? I mean Josh has goals. He has the potential to be a terrific NBA player and all-star in the NBA. He could guard 1 through 4 and maybe 1 through 5. Josh is able to switch on anybody. He's quick, has a little over a 6-9 wingspan, is quick twitch and can jump. His basketball IQ is incredible.
"He is a competitive joker. Sherron was close (in high school). Russell (Robinson) was a competitive dude. We've had a lot of 'em here. Josh is right up there I'm sure. You'll see that when he gets here."
KU in November announced the signing of 6-8 Mitch Lightfoot, the Arizona Gatorade Player of the Year who averaged 22.6 points and 11.9 rebounds in leading Gilbert Christian to a 21-6 record his senior season. Lightfoot, who is ranked No. 67 by ESPN, scored 32 points in the Ballislife All-America game last Saturday in California.
"Mitch is going to be a guy that nobody can sleep on," Self said. "Give him a little bit of time and he is going to continue to grow and get stronger. He's going to be a guy that will help us win games as a freshman but could be a big contributor as moves forward in his career."
KU also has received a commitment from Udoka Azubuike, a 6-11, 270-pound senior center from Potter's House Christian in Jacksonville, Fla. He's ranked No. 27 nationally by Rivals.com.
Thornton here on visit: Derryck Thornton, a 6-2 freshman who recently announced plans to leave Duke, begins his official visit to KU today after visiting USC last weekend. He has trips planned to Washington (Sunday) and Miami (May 15). Thornton must sit out one season in accordance with NCAA rules. Originally from Chatsworth, Calif., Thornton — who played two years of high school ball at Findlay Prep in Nevada — averaged 7.1 points and 2.6 assists while logging 26 minutes a game in Duke's 36 games. He hit 39 percent of his shots, including 32.5 percent of his threes and 69 percent of his free throws. He had 93 assists versus 59 turnovers with 27 steals.