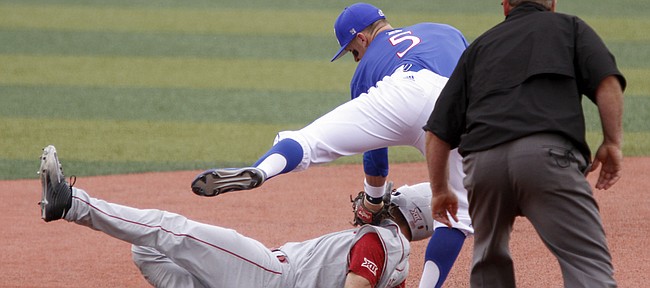 For two innings of Sunday's baseball series finale against Oklahoma at Hoglund Ballpark, it looked as if Kansas University were poised to finish off a sweep.
But there were signs of cracks that foreshadowed what was to come during a 17-6 loss to the Sooners that was shortened to seven innings via the Sunday mercy rule.
Freshman starting pitcher Jackson Goddard managed to get through the first two innings without giving up a run, but the Sooners (21-22-1 overall, 7-11 Big 12) picked up a pair of hits and drew three walks, leaving the bases loaded in the top of the first and stranding two more runners in the top of the second.
In full grind mode, Goddard coerced OU into three groundouts, two fly-outs and a strikeout in the first two innings. But that success was short-lived.
OU broke through for three runs in the third — including a pair of home runs — four more in the fourth and six in the fifth to turn Sunday's game into a one-sided affair.
Goddard was pulled after getting just one out in the fourth, and the next three Kansas pitchers combined to give up 11 runs on five hits and six walks. All 17 of OU's runs were earned and served as a reminder of just how impressive KU's doubleheader sweep on Saturday really was.
"It's so hard to sweep in our league," KU coach Ritch Price said. "The coaching is so good, and the players are so good, you see it done very, very rarely."
After junior catcher Michael Tinsley kept his red-hot season rolling with a two-run single in the bottom of the first, the Jayhawks (19-24-1, 5-9) led 2-0 through two innings. Even after OU's big third inning, KU responded with two runs in the bottom of the inning on another two-RBI single from Tinsley and led 4-3 heading into the fourth. But the Sooners outscored the Jayhawks 14-2 over the next four innings, with KU's only other runs coming in the bottom of the seventh with the game out of reach.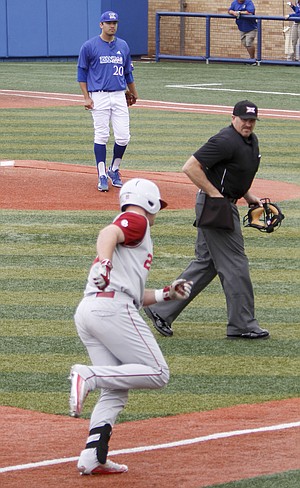 Tinsley finished the series 8-for-11, with a double, six RBIs and four runs scored and is now batting .393 on the season, putting him in the top three in the conference.
Senior second baseman Colby Wright and junior center fielder Joven Afenir picked up RBIs in the seventh to add to what was a productive series for both players.
Despite the lopsided loss, the Jayhawks picked up their first Big 12 series victory of the season and head into the homestretch with a little confidence. After games at Minnesota on Tuesday and Wednesday, the Jayhawks have three conference showdowns remaining, at home against Texas Tech next weekend and at Kansas State and Oklahoma State to close out the regular season.
KU, OU, Baylor and K-State are fighting for the final three spots in the Big 12 Championship, May 25-29 in Oklahoma City.
"It's important to me that I get this team there," Price said. "I gotta get (staff ace Ben) Krauth seen by the advanced scouts and the cross-checkers, and I gotta get Tinsley there to try to improve his draft status. On top of that, my young players need to experience it so that when they're healthy next year we know what to expect when we go in."
Oklahoma 003 460 4 — 17 15 0
Kansas 202 000 2 — 6 11 0
W — Jake Irvin, 3-1. L — Jackson Goddard, 2-4.
2B — Michael Tinsley, Joven Afenir, KU; Steele Walker, Austin O'Brien, OU. 3B — Jack Flansburg, OU. HR — Sheldon Neuse, Cody Thomas, OU.
Kansas highlights — Joe Moroney 1-for-2, 2 R; Matt McLaughlin 2-for-3, 2 R; Michael Tinsley 3-for-3, 4 RBIs, R; Colby Wright, 1-for-3, RBI; Joven Afenir 1-for-4, RBI.
More like this story on KUsports.com