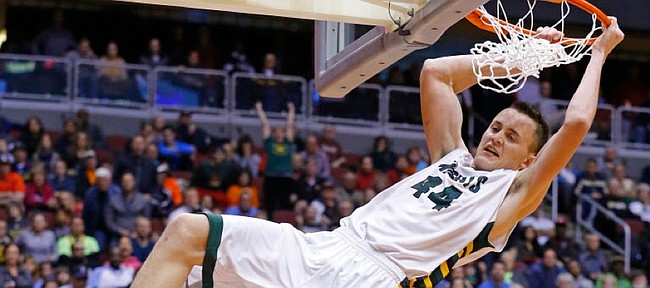 Future Kansas University forward Mitch Lightfoot erupted for 32 points to lead all scorers in Saturday's Ballislife All-America game at Long Beach (Calif.) City College.
Lightfoot, a 6-foot-8, 210-pound senior from Gilbert (Ariz.) Christian High, combined with future Auburn guard Mustapha Heron (31 points) to lift Team Elite to a 152-134 victory over Team Future. Heron was voted MVP of Team Elite on a night Lightfoot, who had 27 points the second half, racked up the second-most points in the six-year history of the event.
Stanley Johnson scored 39 in 2014.
"I realized I had five points, and I'm going to Kansas. That doesn't cut it. I had to put the ball in the hole more, so I did," Lightfoot said in a Sunday night phone conversation with the Journal-World.
He also had six rebounds for the winners in a game that became pretty sloppy the second half, with breakaway layups and dunks the norm.
"Obviously, there is going to be a lack of defense in an all-star game. No one is trying to go hard (on defense). That's my key. I like to go hard as often as I can. I was trying to help my guys crank it up. It's so hard to have a competitive spirit (in all-star games). You are letting people get layups. That's not for me, obviously," added Lightfoot, known for his intensity on the court.
Future UCLA guard Lonzo Ball was MVP of Team Future after collecting 17 points, 15 assists and eight rebounds. Future Michigan State forward Miles Bridges scored 25 points and incoming Arizona guard Rawle Alkins 20 for the losing team. Andrew Jones, a future University of Texas guard, had 21 points for the winning team.
Future Arizona guard Terrance Ferguson won the dunk contest and Marquette guard Markus Howard the three-point shootout.
"From my personal experience I've never seen someone jump like that. That kid can fly," Lightfoot said of Ferguson, a 6-6 senior from Dallas Advanced Prep. Like Michael Jordan, he dunked after taking off from the free-throw line. He also did a 360 spin while catching the ball off the side of the backboard and finishing.
"Put your head on the rim. You don't see that often," Lightfoot said.
Howard, a 5-11 senior from Findlay Prep in Henderson, Nev., converted 16 of 20 shots in the final round. He made his last eight tries. ,
Lightfoot, Arizona's Gatorade Player of the Year finished the season as ESPN.com's No. 67-rated player nationally. He's ranked No. 118 by Rivals.com, which is expected to release its final rankings soon. The J-W will have more of its late-night conversation with Lightfoot in coming days.
Pierce undecided: Former KU forward Paul Pierce, who has two years and $7 million remaining on his three-year deal with the Los Angeles Clippers, has not yet decided whether he'll return for a 19th NBA season.
He told ESPN he's "50/50" on whether he will return after averaging a career-low 6.1 points a game off 36 percent shooting in 18.1 minutes per contest.
"Each and every year for the last couple years, I've thought long and hard about walking away from the game," Pierce told the Orange County Register after the Clippers were eliminated Friday in their first-round series with Portland. "The process is going to continue this summer, as I think long and hard, step closer to getting older in age. (It's) seeing how my body feels, talk to my family. I just don't want to make an emotional decision right now.
Trent likes KU: Gary Trent, a 6-4 junior guard from Apple Valley (Minn.) High who is ranked No. 15 in the recruiting Class of 2017 by Rivals.com, told Jayhawkslant.com at last weekend's Jayhawk Invitational that KU is on his list of schools. Others: Michigan State, Ohio State, Kentucky, Duke, UCLA and Minnesota.
"Just the tradition and how they win," he said of what he liked about KU. "They are always successful, take players to the next level. A lot of things they do are great." He said he planned to trim his list this summer.
More like this story on KUsports.com