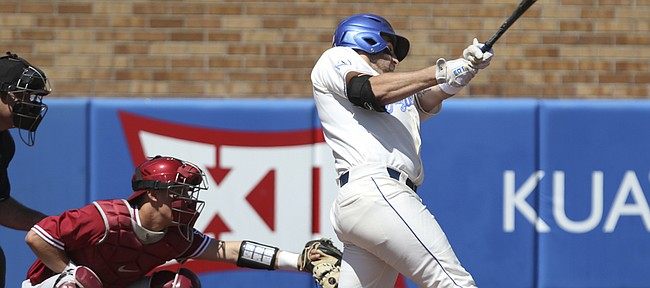 All season, despite dealing with more losses than anyone expected or would care to count, the Kansas University baseball team continued to preach that its offense was among the best in the Big 12 Conference.
Saturday, the Jayhawks proved it with a 16-run explosion and doubleheader sweep of Oklahoma at Hoglund Ballpark.
The Jayhawks (19-23-1 overall, 5-8 Big 12) dictated the way both games were played and forced the Sooners (20-22-1, 6-11) to play catch-up all afternoon en route to the 7-2 and 9-8 victories.
Ace Ben Krauth pitched a gem in the opener, lasting into the seventh inning and striking out seven Sooners to pick up his fourth victory. But that part was hardly a surprise. Kansas is now 4-1 in the opening games of its Big 12 series this season, with the lone loss coming in a 1-0 setback to West Virginia.
As he was Saturday, in a game that was originally scheduled for Friday night but pushed back because of rain, Krauth was masterful in all five of those games.
Photo Gallery
Kansas baseball v. Oklahoma
Images from the first of two home games between the Jayhawks and Sooners on Saturday, April 30, 2016
The Jayhawks' inability to follow up their strong Friday night showings on Saturday or Sunday is what put them at the bottom of the Big 12 standings heading into Saturday's doubleheader, and that's why the celebration looked more like a postseason clincher than a regular-season victory when senior Colby Wright crossed home in the bottom of the ninth of Game Two with the walk-off winning run after a sacrifice fly by third baseman Tommy Mirabelli.
"This is one of the most frustrating years I've ever had in coaching," KU coach Ritch Price said after Saturday's second win. "When you're 4-1 on Friday night but 0-7 on Saturday and Sunday because you've got three guys injured and sitting in your dugout who should be pitching those games, that's an unbelievably tough grind to go through. But one compliment I'll give these guys is we've been competitive every day. It was just nice to see them get rewarded for once."
Saturday's sweep locked up KU's first Big 12 series victory and first weekend series victory of the season.
"It was obviously good to finally get that out of the way," said Wright, who finished the day 2-for-6 with five runs scored, including a three-run home run in Game 2. "It has huge implications for that last spot in the Big 12 tournament, and, confidence-wise, I think it helped our pitchers more than anything. It shows them that our bats are going to be there all the time, so if you give up a single or a home run, it's fine, just don't set the table for that big inning and we'll be fine. The formula is there."
It certainly was in the second game on Saturday. After watching Oklahoma tie the game at 7 in the top of the seventh with a three-run home run from catcher Domenic DeRenzo, the Jayhawks bounced back in the bottom of the inning and reclaimed the lead when Wright scored on a throwing error that gave KU an 8-7 advantage.
A half inning later, Oklahoma closer and clean-up hitter Sheldon Neuse tied the game again with a solo home run.
That forced the Jayhawks' offense to dig just a little deeper, and after reliever Jeremy Kravetz coerced the Sooners into a 1-2-3 ninth inning, the Jayhawks found a way to grind out one more run and the win.
Wright started it off by getting hit by a pitch from Neuse, who has been known to reach 96 mph on the radar gun. Joven Afenir followed with a crafty walk, and first baseman Ryan Pidhaichuk reached on a fielder's choice, when Neuse elected to try to cut down the lead runner at third on a perfectly placed bunt by Pidhaichuk. Wright beat the throw by a toenail, and, two batters later, Mirabelli's fly ball to left field ended the game.
Although 10 Big 12 games remain in KU's regular season — a home series with Texas Tech next weekend and road trips to K-State and Oklahoma State to close the year — Saturday's result vaulted Kansas from ninth to sixth in the Big 12 standings, which are determined by winning percentage.
And the talk in the clubhouse after the game was about finishing strong and picking up the sweep at 1 p.m. today.
"It's so hard to sweep in our league, and we have a chance to do something special," Price said. "We can make up for some of the tough losses we had early in our season and put ourselves back in position to get to Oklahoma City."
Added Wright: "I think we'll definitely come back loose. We've won the series and that's something we needed to do. With a confident offense and Sunday pitching, there should be some runs up there. If we throw strikes there's no reason we can't get a sweep and keep it rolling into the last three series and not even get the 8 seed but maybe get the 5, 6 or 7 seed."
Kansas 7, Oklahoma 2
Oklahoma 100 001 000 — 2 10 1
Kansas 103 000 30x — 7 10 0
W — Ben Krauth, 4-4. L — Chris Andritsos, 4-4.
2B — Joven Afenir, Ryan Pidhaichuk, KU; Ben Hollas, Austin O'Brien, OU. HR — Joe Maroney, KU.
Kansas highlights — Ben Krauth 6 1/3 IP, 9 H, 2 ER, 7 K; Steven Villines 2 IP, 0 H, 0 ER, 1 K; Sam Gilbert 2/3 IP, 0 H, 0 ER, 0 K; Joe Moroney 1-for-4, HR, RBI, run; Joven Afenir 3-for-4, 2B, 3 RBIs; Michael Tinsley 2-for-3, 2 runs; Colby Wright 1-for-3, 2 runs; Ryan Pidhaichuk 2-for-3, 2B, 2 RBIs; Matt McLaughlin 1-for-4; Taylor Owen 0-for-3, RBI; Tommy Mirabelli SB.
Kansas 9, Oklahoma 8
Oklahoma 210 001 310 — 8 9 2
Kansas 421 000 101 — 9 11 0
W — Jeremy Kravetz, 1-0. L — JB Olson.
HR — Colby Wright, KU. Sheldon Neuse, OU, Domenic DeRenzo, OU.
Kansas highlights — Jeremy Kravetz 2 IP, 1 H, 0 ER, 1 K; Matt McLaughlin 2-for-4, 2 runs, RBI; Michael Tinsley 3-for-5, run, 2 RBIs; Colby Wright 1-for-3, HR, 3 runs, 3 RBIs; Joven Afenir 2-for-3, run; Tommy Mirabelli 2-for-3, run, RBI.
More like this story on KUsports.com