Kansas University's basketball team has not made it out of the first weekend of the NCAA Tournament in each of the last two seasons.
Obviously, the Jayhawks hope for better results this year, specifically today in a 6:45 p.m., South Regional contest against UConn in Wells Fargo Arena. Winner advances to the Sweet 16 on Thursday in Louisville. Loser's season is over.
Photo Gallery
Kansas and UConn press conferences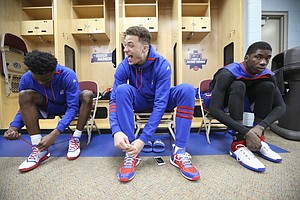 The Jayhawks and Huskies talk with media members before their matchup in the round of 32.
Podcast episode
Kansas basketball coach Bill Self answers questions from reporters as his top-seeded Jayhawks prepare to face Connecticut with a spot in the Sweet 16 on the line. Self gets into the Huskies' strengths, KU's progress and much more.
Podcast episode
Kansas basketball players Perry Ellis and Devonté Graham meet with media members the day before the Jayhawks' second-round meeting with Connecticut in the NCAA Tournament. The Jayhawks discuss avoiding another second-round letdown and other topics.
"We know this is the game we've been sent home on the last couple years," KU junior forward Landen Lucas said. "We'll be extra focused for it, make sure we don't take anything for granted and play hard every possession. It's a fun game coming up against a great program historically. We're looking forward to it. We'll be fine."
KU coach Bill Self said losses to Wichita State and Stanford the past two years aren't prime motivating factors.
"We're not going to run from it," Self said. "We have lost in the second round the last two years. But certainly I'm not going to use that as motivation, dwelling on the negative. I do think that when you get to the second round, everybody is capable of beating everybody without question. But the last two years, we haven't been whole going into the tournament, obviously, and when you're losing starters and things like that, after you played a certain way all year long, a lot of times you're not the same team that you were the vast majority of the season.
"And I really think that was the case with us," he added. "Not an excuse, but it's the reality of it. This year, I mean, knock on wood, we've been healthier. We're more whole. Roles are defined. When you got a guy hurt (Perry Ellis last year) going into the tournament, roles are changed. So I think the guys are more confident the way we've been doing it this year in large part because we haven't had to change midstream."
Greene update: KU junior Brannen Greene has been suffering from back spasms.
"It's all right. It's doing better," he said of his back. "I was getting (spasms) yesterday. I've still got 'em today, not as bad. My hip is fine. It feels great," added the player who had offseason hip surgery. "I haven't had trouble with my hip pretty much all year."
They considered UConn: Greene and Wayne Selden Jr. were recruited by UConn during their high school years.
"I was honestly pretty sold on UConn until I decided to take a visit to Kansas," Greene said. "When I took a visit to Kansas and factored in the fact coach (Jim) Calhoun was going to leave (retire), I was pretty much dead-set on Kansas. I fell in love with the university."
Selden said: "They were recruiting me when I was 15, 16. I took an unofficial (visit) a couple times. You could tell those big basketball tradition schools, how (impressive) it is."
Friends: Selden is a good buddy of UConn freshman Jalen Adams. Both are from Roxbury, Mass.
"We grew up together, have known each other since I was 8, 9 years old," Selden said. "We played football together, basketball together. My grandmother is his mother's godmother. We're really close. He's like a little brother. We talked after he hit the shot (a 65-footer against Cincinnati to force a fourth overtime in UConn conference tournament win). We'll talk after the game."
NBA rule could be controversial: Self spoke on the new rule that allows underclassmen to declare for the draft after the season to see if they are worthy of being invited to the NBA combine. New college rules allow players to attend the combine and one workout with an NBA team in an attempt to learn their draft status.
The combine is not until May.
Summer school normally starts the last week of May, meaning KU could have the futures of several players in limbo until right before summer school.
"I was actually part of the talks with the NBA with that, and it's not perfect," Self said. "We were told it was a really good first step, to getting to an end result that would be one in which everybody, NBA and college would be more pleased.
"I'm going to hold my opinion until after this year, because we may be a team that's affected by that as much as anybody in the country. We have a lot of good players, but we don't have the high lottery picks. The lottery picks are going to go anyway, 19 out of 20 or nine out of 10. It's the ones that are mid-second round or maybe projected not to get drafted. We put our name in and then how do we approach it after we put our name in?
"I think in theory it's good because it gives the players and family more accurate information to make a decision based on what they're hearing from NBA people as opposed to what they're hearing from people that maybe aren't connected to the NBA, whether it be agents or whoever, or third parties. I hope it is good for our game. This is a weird year to have that be the first year because everybody is saying the draft isn't as strong this year.
"So there will be more kids that make an attempt to probably look into it and when you look — the key is it's okay to look, but when you look, do you jeopardize your amateurism? And if kids are smart and families are smart enough to stay on campus and not jeopardize your amateurism, then I think it could be a good rule.
"But if you have all these kids that apply for the draft thinking they're going to be one in the combine or one of the 60 that are going to be drafted or whatnot and they give up their chance to come back to school (it would not be good). I hope that people use the rule to their advantage as opposed to using the rule as an opportunity to let's investigate more with really no solid game plan, in that it's just an investigation, and by the investigation we'll determine what we do. I'm just nervous kids are going to eliminate the opportunity to come back if they're not smart (and sign with agents while waiting to see if they are invited to combine)."
Svi on uptick: Sophomore Svi Mykhailiuk scored 23 points Thursday against Austin Peay.
"We think he's doing great. We think he loves it here. He tells us he does. All indications are that he's very, very happy," Self said. "I think frustration does set in when you don't play as much as you want to or play as well as you know you can, when you get opportunities.
"He's the youngest player on our team, and I think he's the second-youngest player in the Big 12, and he's a sophomore. So when you evaluate him, you should evaluate him as a freshman out there. He came when he was 16 years old, so you should evaluate him as a freshman, and if you're able to do that, then you say, 'Wow!'
"At times he can look a certain way and look great, but he's been a little bit inconsistent. I think that's pretty apparent, but I think a lot that's just youth."
Self added: "I think as much as anything, it's a prime example of keep grinding. You keep grinding, you don't know when your number will be called, and although his number is called every game, but that could have been a totally different feeling game if he hadn't played like he played. So I think if there is a lesson to be learned, it's stay positive, keep grinding and when the opportunity knocks you gotta be ready to take advantage of it."
Self on freshman Carlton Bragg Jr.: "He's confident right now, scoring the ball and I think he's got a chance to be a really good player. You know, to me, he's just strength away and a little bit of experience away from being one of the better big guys that we've had at Kansas."
Self on UConn coach Kevin Ollie: "Well, obviously, he's got great poise on the sideline or they wouldn't experience the success that they've already experienced in his short tenure there. Seems like to me that his players really care about each other, and he has a good relationship with his players. I think that's pretty evident. I think he does a great job of getting after them and drilling them and really pushing them."
---
---
---
More like this story on KUsports.com