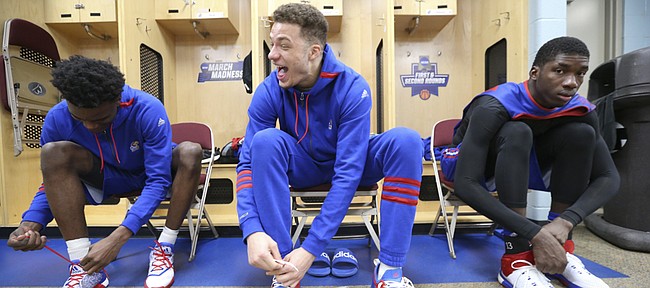 Des Moines, Iowa — There's something No. 9 seed UConn does better than (overall) No. 1 seed Kansas University — as well as all other teams in the country.
That's shoot free throws.
The Huskies (25-10) have converted a nation's best 79.3 percent of their charities entering today's second-round NCAA Tournament South Regional contest against KU (31-4). Tip is approximately 6:45 p.m. in Wells Fargo Arena. The Jayhawks counter with a 70.8 percent mark, which ranks sixth in the Big 12 and No. 138 overall.
Photo Gallery
Kansas and UConn press conferences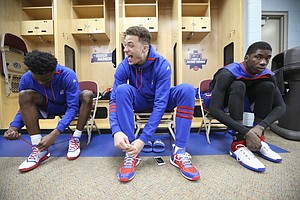 The Jayhawks and Huskies talk with media members before their matchup in the round of 32.
Podcast episode
Kansas basketball coach Bill Self answers questions from reporters as his top-seeded Jayhawks prepare to face Connecticut with a spot in the Sweet 16 on the line. Self gets into the Huskies' strengths, KU's progress and much more.
Podcast episode
Kansas basketball players Perry Ellis and Devonté Graham meet with media members the day before the Jayhawks' second-round meeting with Connecticut in the NCAA Tournament. The Jayhawks discuss avoiding another second-round letdown and other topics.
UConn, which hit 22 of 23 free throws in a 74-67, first-round win over Colorado, has seven players — six regulars — shooting better than 80 percent. KU has one player over 80, and that's Brannen Greene, who has limited sample size (42-of-50 for .840).
KU's top starter is Perry Ellis, whose .782 mark is solid, but worse than the Huskies' entire team combined.
"Honestly, that's crazy. That's big-time for them, actually," said KU junior guard Greene, well aware of UConn's numbers. "We know if we foul like we did yesterday (in 105-79 first-round win over Austin Peay, in which the Governors made 25 of 37 free throws), we know we'll be in for a long day."
Inquiring minds in the media sought reasons for the Huskies' accuracy from the foul stripe during Friday's mandatory media sessions.
"At the end of the practices, sometimes I make the guys make 11 in a row, 12 in a row," said fourth-year UConn coach Kevin Ollie, who directed UConn to the 2014 national title "And if they do it on the first time, the coaches run. We never ran this whole season, so they didn't make it on the first one. But that's kind of their goal, and they get real, real mad when they don't make 11 in a row. But it spurs them on, and they like it and get a kick out of it."
The Jayhawk players can see how that would work.
"That's a pretty unique thing to do. I think that kinda helps them out with their free throws. They probably concentrate on making it more, but I definitely think we could make 11 in a row if we had to watch the coaches run," said sophomore guard Devonté Graham, a 74.7 percent free thrower who did not score, but had six assists, no turnovers in KU's win over Austin Peay.
"I agree that would be cool to do, just a motivation factor, try to knock those down just to see them do that (run)," said KU senior Ellis, who takes a 16.8 scoring average into today's game, coming off a 21-point outing vs. the Governors.
The Jayhawks, who hope to advance to Thursday's Sweet 16 in Louisville, realize a key factor in advancing could be foul shooting.
"We have to be smart on defense, try to keep them off the line as much as possible," Ellis said. "They are knocking those shots down. It's obvious it's something they have a lot of confidence in. They have great focus at the line."
Greene, who has been suffering from back spasms lately and didn't score versus Austin Peay but had four assists and three steals in 11 minutes, acknowledged, "UConn is a great driving team, so it will be tough (to avoid fouling). We will pick up a couple tick-tack fouls. They are really good drivers, really good guards. It's about being focused, locked in shrinking the floor, making sure they can't drive and get in the lane so Perry doesn't have to pick up those fouls and Landen (Lucas) doesn't have to pick up those fouls."
Lucas, who had 16 points, eight boards and just two fouls against Peay, said, "If we get in foul trouble like yesterday, and the refs are calling it close, we have to make sure we do something to adjust. They will step up to the line and knock things down. If they can do that and control the pace of the game, that could hurt us."
Noted junior Wayne Selden Jr.: "You can't put them at the foul line early. We've got to guard, see how the refs call it then adjust."
KU coach Bill Self realizes UConn can win a game at the stripe.
"Based on how we fouled yesterday, that wouldn't bode well tomorrow for success," Self said. "We fouled 27 times yesterday, and certainly when you foul a team that shoots like that ... we've got to play good defensively. We've got to play aggressive, but we've got to play with our head and our feet and keep them off the free-throw line.
"Certainly we know that's a big part of their offense because they do drive it as well as anybody probably we played against all year. West Virginia would probably be a comparable-type team to look at when you look at their perimeter players and how well they drove it, and I think UConn's players do the same thing."
The Huskies have four players averaging between 12 and 12.7 points a game, including guards Rodney Purvis (6-foot-4 junior, 12.7), Sterling Gibbs (6-2 senior, 12.0) and guard/forward Daniel Hamilton (6-7 soph, 12.6).
The Huskies are also strong defensively, applying some full-court pressure. UConn is fourth in the country in field-goal percentage defense (.383, to 27th-ranked KU's .398 mark).
"I think it's different than West Virginia's pressure. I think with West Virginia, they go trap a rebound. I think that UConn does it differently," Self said. "But I also think that they do it soundly, too. I don't think they give up a lot of easy baskets by their pressure. So not that West Virginia did, but it was just a totally different mind-set," Self said. "I think UConn's half-court defense is really good, and their stats back it up, their field goal percentage defense and everything backs it up. But they've got some guys, and especially Daniel Hamilton, his arms are so long and, you know, as far as seems like to me they pick somebody every game.
Yesterday, you know, in that game, I don't want to say Colorado had control but, you know, it turned on a dime when the pressure was ratcheted up. So we certainly have to be prepared for that."
---
---
---
More like this story on KUsports.com