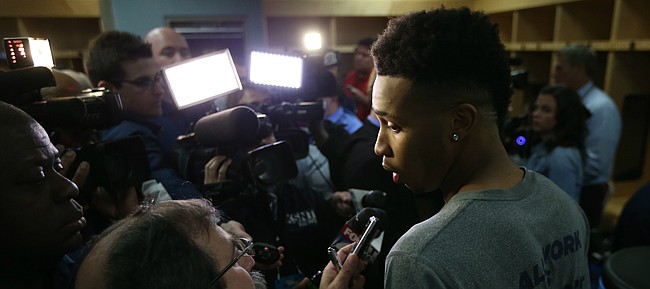 Des Moines, Iowa — On paper, tonight's second-round NCAA Tournament matchup between Kansas University and UConn looks like a showdown between giants.
But there are those inside the Connecticut locker room who feel that the Huskies historically have not been given the same respect as blue-blood programs like Kansas, Kentucky, Duke and North Carolina.
"I don't think we get the same kind of love," UConn freshman Steven Enoch said. "But that doesn't matter. We like being the underdog, and we want to go out and prove it because it's always fun to prove people wrong."
Photo Gallery
Kansas and UConn press conferences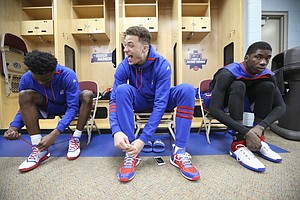 The Jayhawks and Huskies talk with media members before their matchup in the round of 32.
Podcast episode
Kansas basketball coach Bill Self answers questions from reporters as his top-seeded Jayhawks prepare to face Connecticut with a spot in the Sweet 16 on the line. Self gets into the Huskies' strengths, KU's progress and much more.
Podcast episode
Kansas basketball players Perry Ellis and Devonté Graham meet with media members the day before the Jayhawks' second-round meeting with Connecticut in the NCAA Tournament. The Jayhawks discuss avoiding another second-round letdown and other topics.
Added junior guard Rodney Purvis: "We kind of don't, but it is what it is. You can go back to whenever you want and do all the research you want, and everything is even, if not better."
The Huskies (25-10) may have a point.
They have won the most national titles in the past 17 seasons — 1999, 2004, 2011 and 2014; three under former coach Jim Calhoun and one under current coach Kevin Ollie.
That number also ranks sixth all-time — one spot ahead of Kansas' three — and the Huskies entered the 2015-16 season ranked 27th in all-time victories with 1,641. Kentucky was first (2,178), Kansas second (2,153), UNC third (2,140) and Duke fourth (2,062).
However, much of Connecticut's most notable success has come in recent years. Therefore, the program has not been able to sit at the same poker table when the playing cards being used feature faces belonging to James Naismith, Adolph Rupp, Dean Smith, Roy Williams and Coach K.
But it's not as if UConn has been playing basketball for fewer seasons than those same powerhouse programs. In fact, UConn's first college basketball season came in 1901, just two years after KU's first game and before Kentucky (1903), Duke (1906) and North Carolina (1911) ever tipped off their first seasons.
Therein lies the fight that the Huskies are facing.
National titles are nice, and they're a huge part of college basketball.
But, unlike those other programs, UConn has suffered through some lean seasons and even stretches during its storied century of college hoops.
Take a recent example as the best proof. After winning the national title in 2014, with Ollie and point guard Shabazz Napier leading the way, the Huskies followed that up by losing in the first round of the NIT in 2015.
And, even though they appear to be primed for tonight's clash with Kansas (31-4), they entered this year's tournament as a No. 9 seed and were a first-round underdog to a Colorado program making just its 13th appearance in the NCAA Tournament.
"You can't do nothing about that," Purvis said. "Just like you can't take away the lottery picks that we have, the national championships that we have. You can't take away the Kemba Walkers, the Shabazz Napiers, none of that. That's what you get with UConn."
Perhaps understandably, UConn's players tend to focus on recent history.
Take senior Omar Calhoun, for example. Asked Friday if he knew much about the history of Kansas basketball, the 6-foot-6 guard from Brooklyn offered an immediate answer. But his sound bite did not have anything to do with the game's inventor, Wilt Chamberlain or even Danny Manning.
"As kids, watching college basketball growing up, we know the history, from watching Mario Chalmers hitting big shots and stuff like that," Calhoun said. "There's a lot of history on both sides, so it should be a great game.
"We're gonna try to show tomorrow that UConn's definitely one of the great teams, along with Kansas, Kentucky and those other great schools. UConn's definitely in that mix."
---
---
---
---
More like this story on KUsports.com